These Buttermilk Potatoes made in a slow cooker are a creamy, comforting dish that's sure to win hearts at your dinner table! This recipe transforms Yukon Gold potatoes into a rich, buttery, and fluffy masterpiece. Serve with Crispy Oven Fried Chicken, Smothered Pork Chops, Smothered Steak and Air Fryer Ham.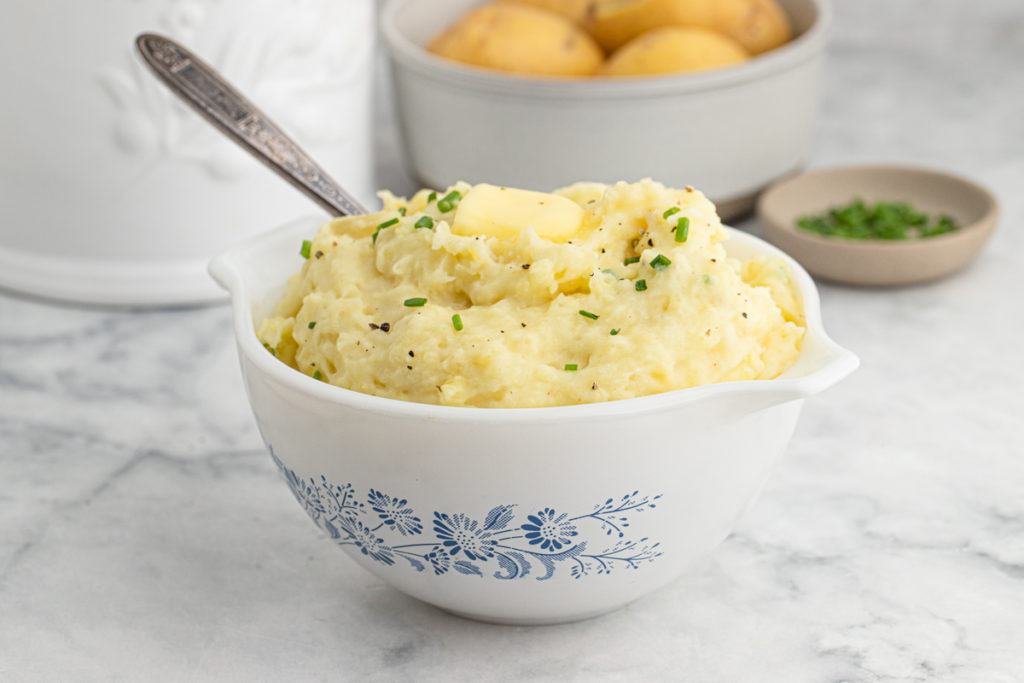 I love comfort food more than the next person, and mashed potatoes are one of my favorites! Whether it's Christmas, Thanksgiving, or just a Sunday dinner, you can bet mashed potatoes are on my table.
The reason I love this recipe so much is that the slow cooker does all the hard work for me! I can focus on other important tasks in the kitchen, like enjoying a glass of wine, making it a perfect dish for those weekdays when you wish you could press pause on time.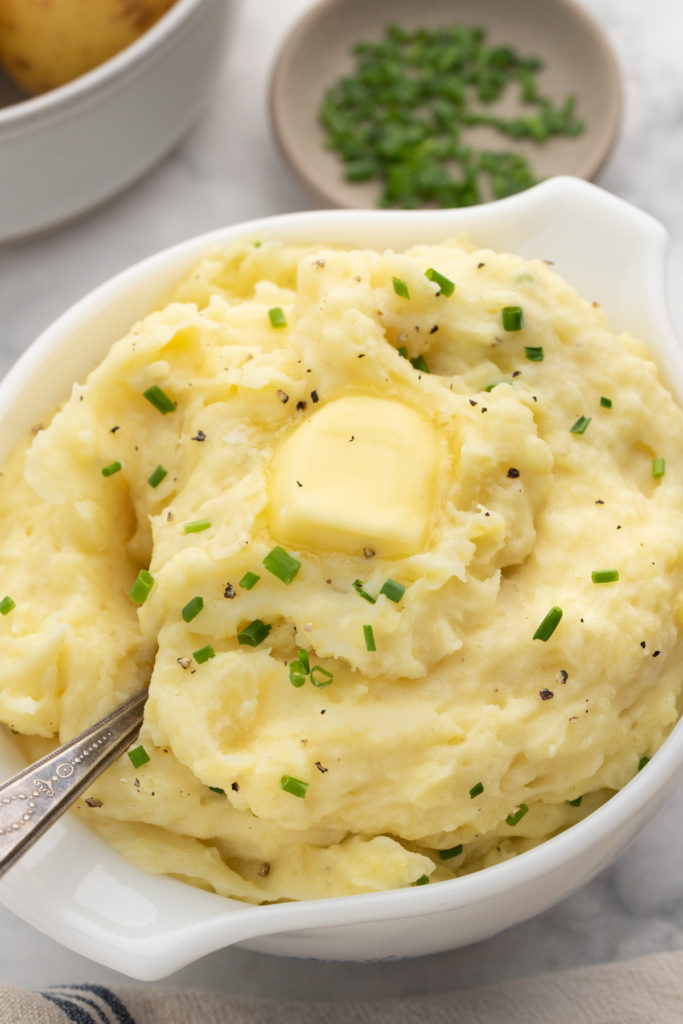 What are buttermilk mashed potatoes?
Buttermilk potatoes are the epitome of comfort food! This dish transforms simple Yukon Gold potatoes into a creamy, rich, and hearty side that's perfect for all your dinner needs.
The buttermilk mashed potatoes are slow-cooked until fork-tender, soaking up all the flavors from the chicken stock and salt. With the addition of buttermilk, heavy cream, and butter, this dish has a rich, tangy, creamy texture that's seriously addicting, y'all!
I suggest serving them warm alongside proteins like Smothered Chicken and Slow Cooker Turkey. The rustic creaminess of the potatoes balances the savory flavors perfectly!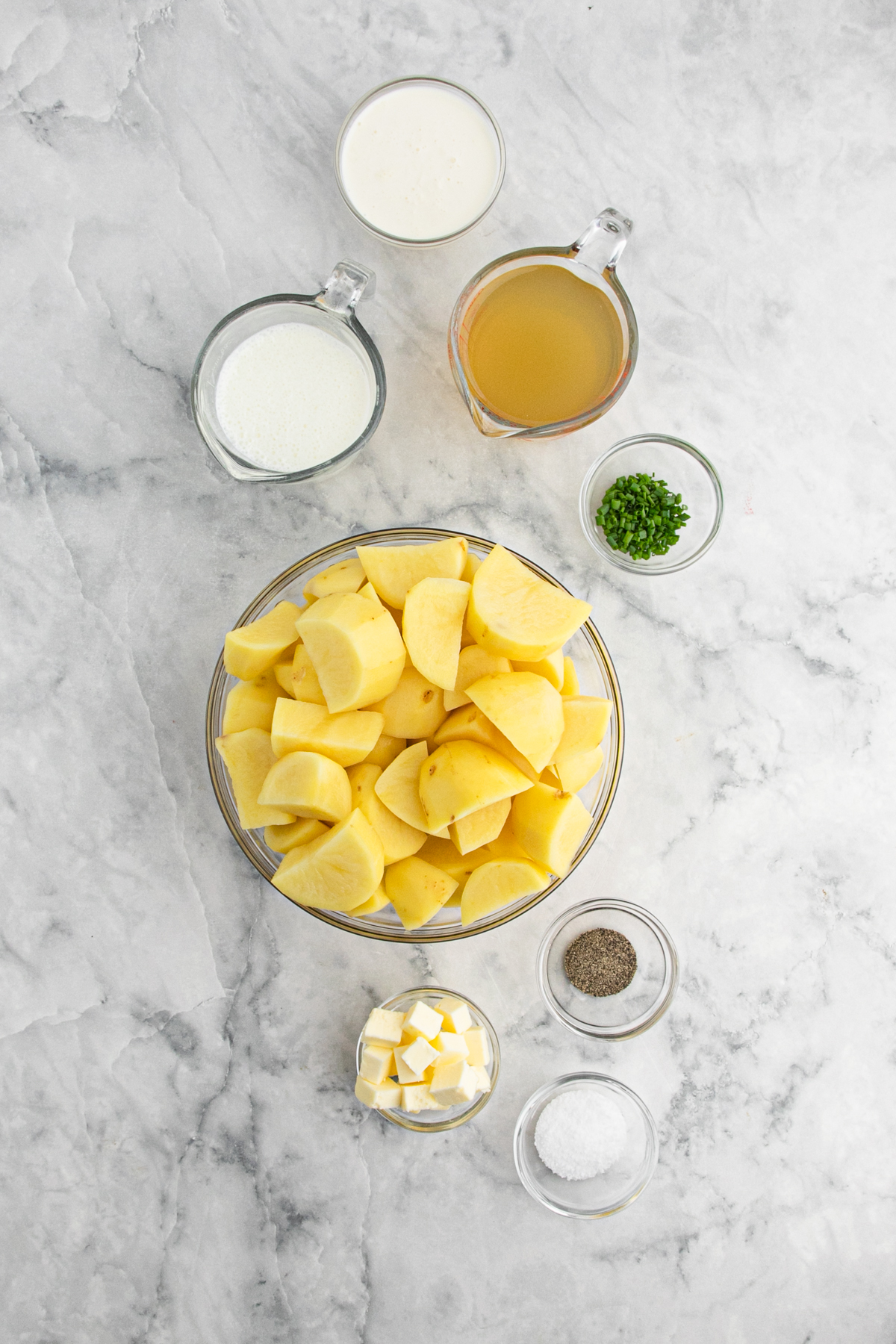 Ingredients & substitutions
Yukon Gold potatoes: These potatoes have a buttery flavor and a creamy texture that's perfect for mashing. If Yukon Golds are unavailable, russet potatoes also work great.
Chicken stock: Adds depth to the flavor of the potatoes. Use store-bought or homemade, or swap it for vegetable stock for a vegetarian version.
Kosher salt: Balances the flavors in the dish. Don't be afraid to be generous with the salt as potatoes can use it.
Black pepper: Adds a touch of heat and rounds out the savoriness of the potatoes.
Buttermilk: If you don't have buttermilk, you can make your own by adding one tablespoon of lemon juice or vinegar to a cup of milk.
Heavy cream: I recommend heavy cream for an ultra-creamy potato consistency. Half-and-half or whole milk can be used, but the result will be less rich.
Butter: Adds richness and a savory flavor. You can use unsalted or salted, but just remember to adjust the added salt accordingly.
Chives: Provides a mild onion flavor and a pop of color. No chives on hand? Use green onions or parsley as alternatives.
How to make buttermilk mashed potatoes in a slow cooker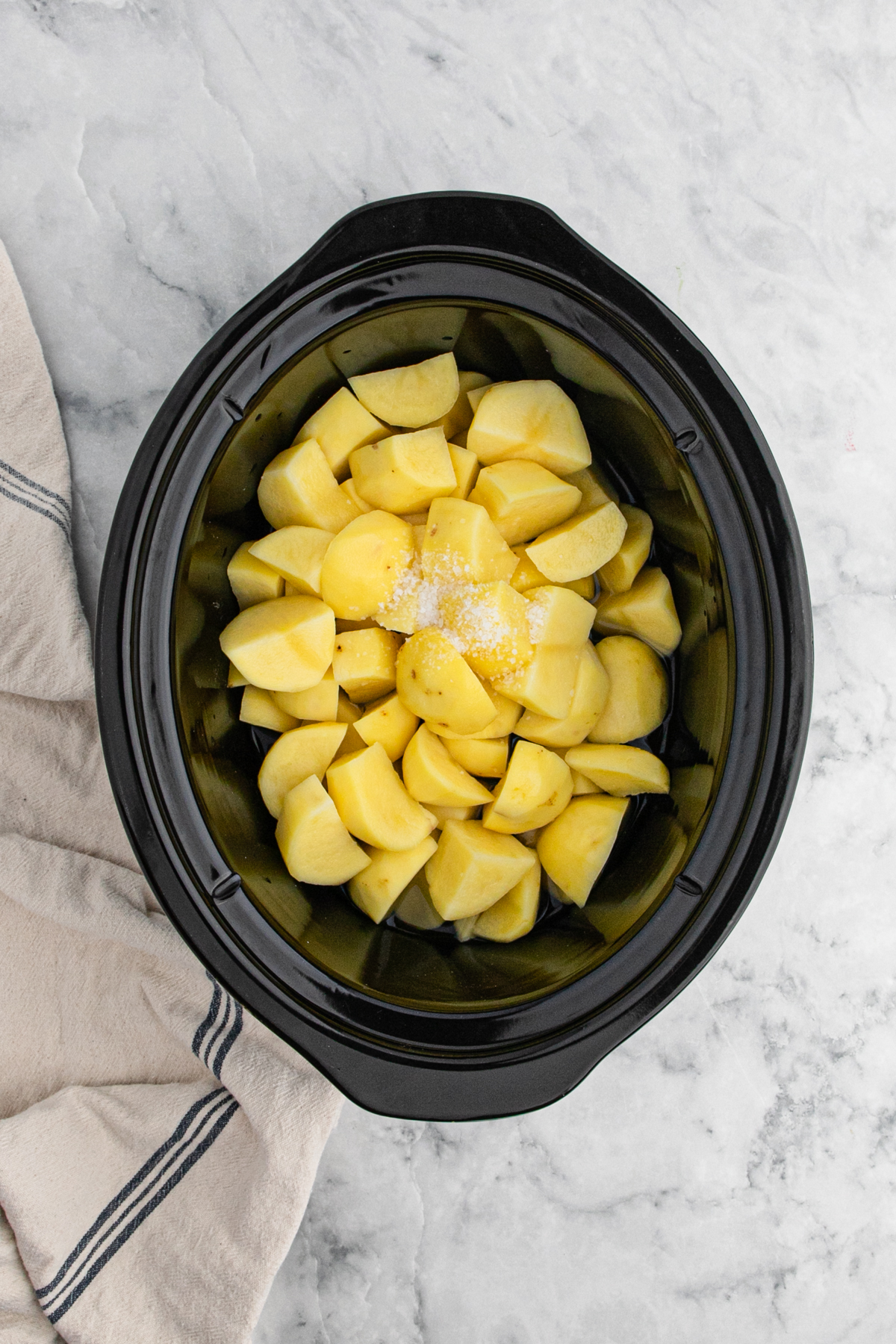 Step 1: Slow cook the potatoes
Start by peeling and dicing your Yukon Gold potatoes. Place them in a 5-quart slow cooker, pour in the chicken stock, and sprinkle everything with a teaspoon of kosher salt. Let them cook on medium for about 2 ½ hours. The goal here is to get them nice and tender.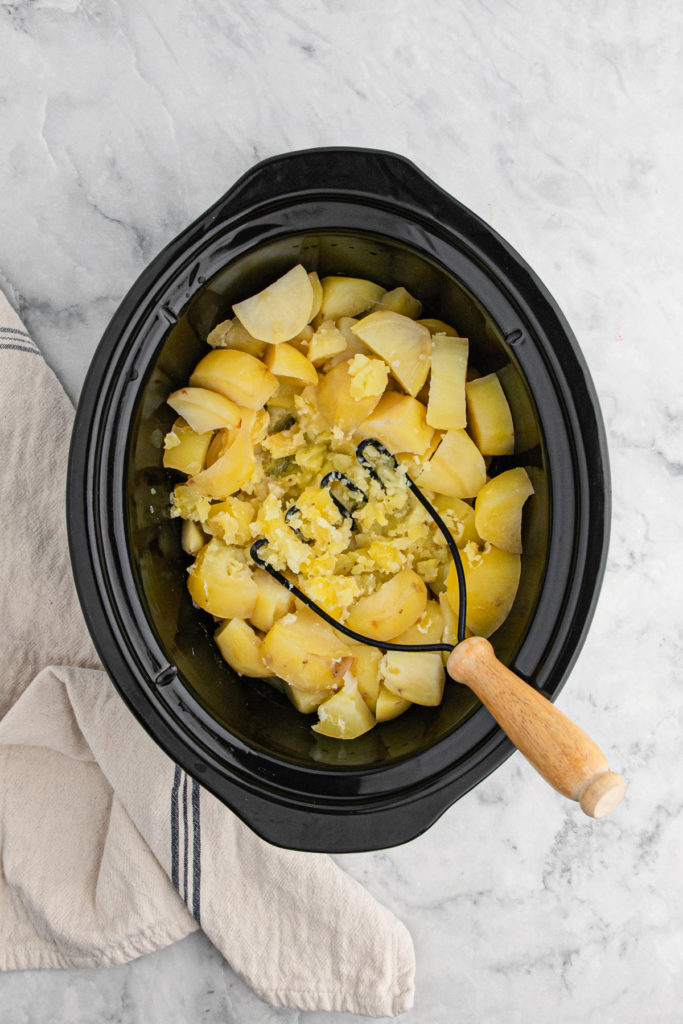 Step 2: Mash the potatoes
Once the potatoes are fork-tender, turn off the slow cooker and mash them potato masher or sturdy whisk. Don't worry about getting the buttermilk mashed potatoes perfectly smooth — a few lumps add to the rustic charm of the dish.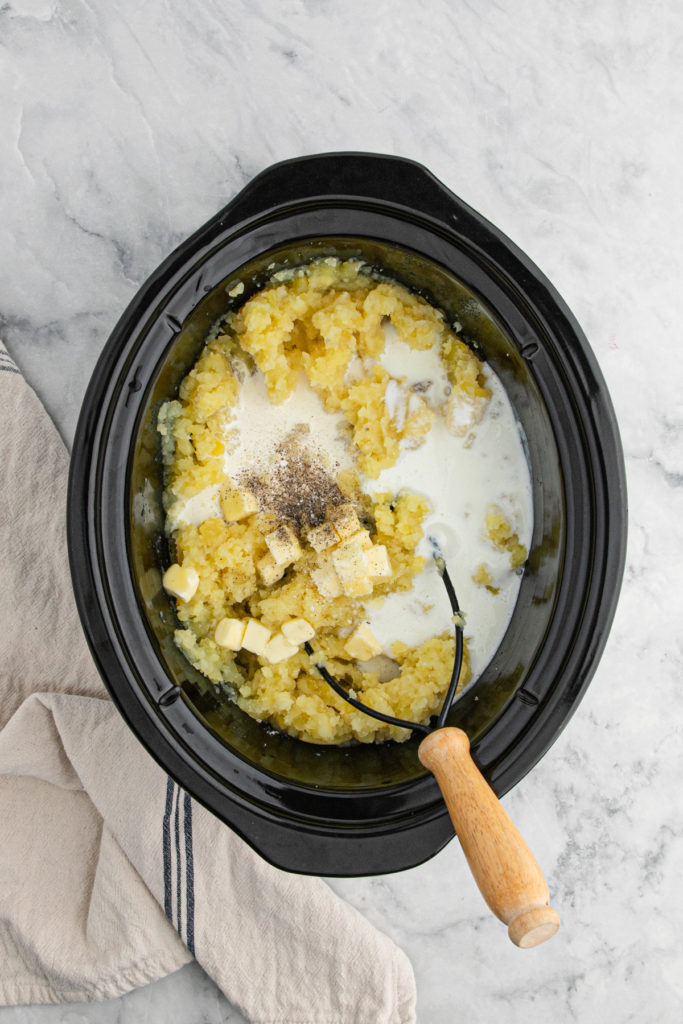 Step 3: Make it creamy
Add in the remaining salt, a good amount of black pepper, buttermilk, heavy cream, and butter. Stir until everything is well mixed and you're left with a creamy, dreamy pot of potatoes.
Finish off the dish with a sprinkling of minced chives. These potatoes are best served immediately, but they can be kept warm for about two hours if you're not ready to eat right away.
Tips and tricks
Even pieces: Cut your potatoes into similar-sized pieces to ensure they finish cooking at the same time.
Smooth: If you prefer a smoother mashed potato texture, use a hand blender instead of a manual potato masher.
Heat the ingredients: For an extra creamy texture, heat the buttermilk, heavy cream, and butter before adding them to the potatoes.
Fork tender: Make sure your potatoes are fully cooked before mashing. Remember, they should be fork-tender.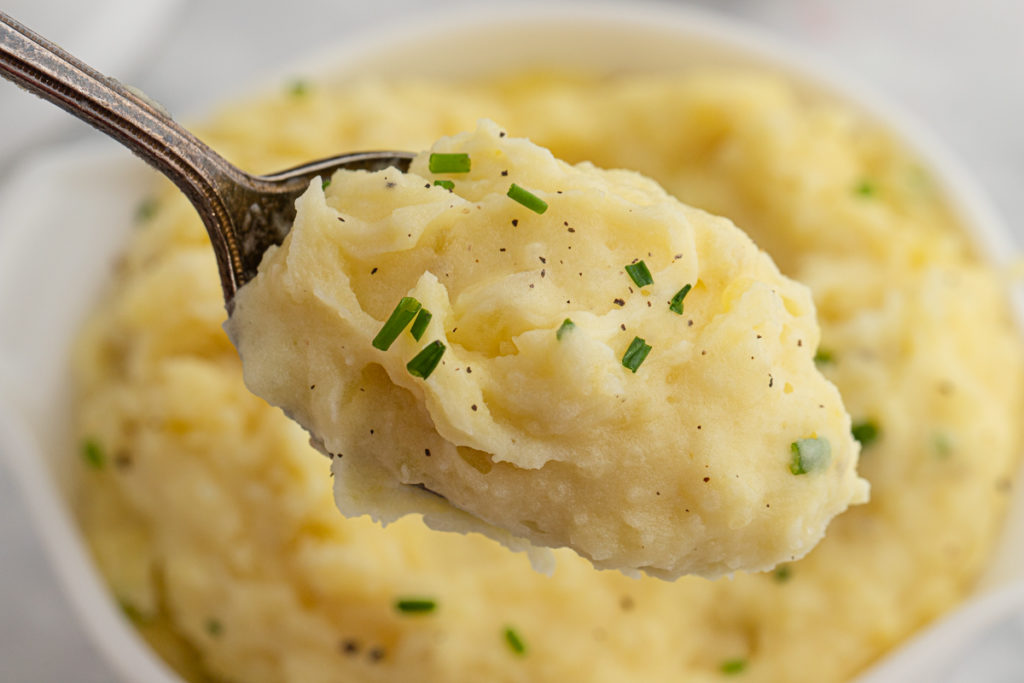 What to do with leftovers
If you have any leftover slow cooker buttermilk potatoes, follow these simple storage tips:
Fridge: Store the potatoes in an airtight container for up to 3 days once they've completely cooled.
Freezer: You can freeze leftover potatoes in airtight containers for up to 3 months. Thaw them overnight in the fridge before reheating.
Reheating: Warm the potatoes in the microwave or on the stove over medium heat, stirring occasionally. To make them extra creamy, add a little milk or cream to the pot.
Buttermilk Mashed Potatoes
These Buttermilk Potatoes made in a slow cooker are a creamy, comforting dish that's sure to win hearts at your dinner table! This recipe transforms Yukon Gold potatoes into a rich, buttery, and fluffy masterpiece.
Ingredients
2 1/2

lbs

Yukon Gold potatoes

peeled and medium diced

3/4

cup

chicken stock

2 1/2

tsp

kosher salt

3/4

tsp

black pepper

1

cup

buttermilk

1/2

cup

heavy cream

4

tbsp

unsalted butter

cut into small pieces

2

tbsp

chives

minced
Instructions
In a 5-quart slow cooker, place potatoes, chicken stock and 1 teaspoon salt. Cover and set to medium for 2 ½ hours, until potatoes are cooked through and fork tender.

Turn off slow cooker and mash potatoes with potato masher or sturdy whisk.

Add in remaining salt, black pepper, buttermilk, heavy cream, and butter, stirring until well mixed.

Garnish with chives and serve warm. Potatoes can be held for two hours on warm.
Notes
*You may leave skins on potatoes for more texture, if you like. They may take about 20 minutes longer to cook.