One of the creamiest mixtures of gooey sour and sweet, this Southern buttermilk pie, like this Buttermilk Pound Cake, is a family staple meant for every dinner gathering and holiday. If your heart beats crazy for creamy pies, have a look at my Kool-Aid Pie, Atlantic Beach Pie, and Southern Egg Pie!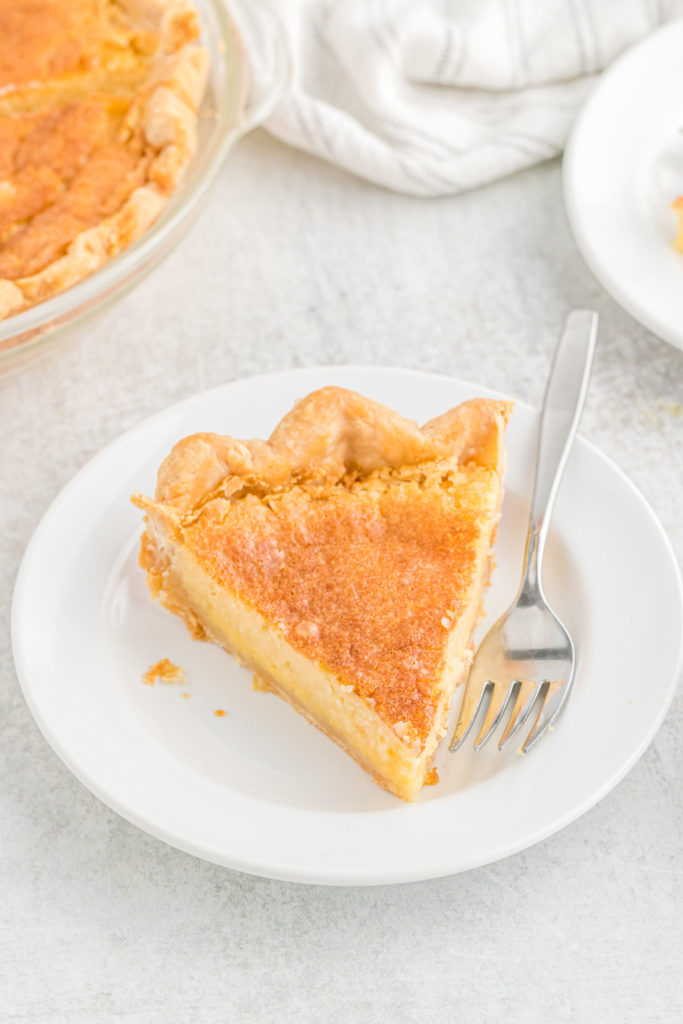 What is the History of Southern Buttermilk Pie?
Would y'all believe me if I said that this creamy, filling pastry was a result of barren fruit trees, random pantry items, and improvising? Now, I love fruit just as much as the next girl (which you can probably tell with my Apple Pie and Banana Pudding Pie, and various others) but thank goodness, there was no fruit in the season when this pie was created!
Smart southern settlers and farmers often used common, everyday ingredients to stretch recipes with less waste. Buttermilk happened to be one of those victorious ingredients lying around in abundance, especially in states like Texas.
Toss a well-known, distinctly flavored ingredient like buttermilk into a regular run-of-the-mill flaky pie and there you have it. A southern classic for the ages born overnight.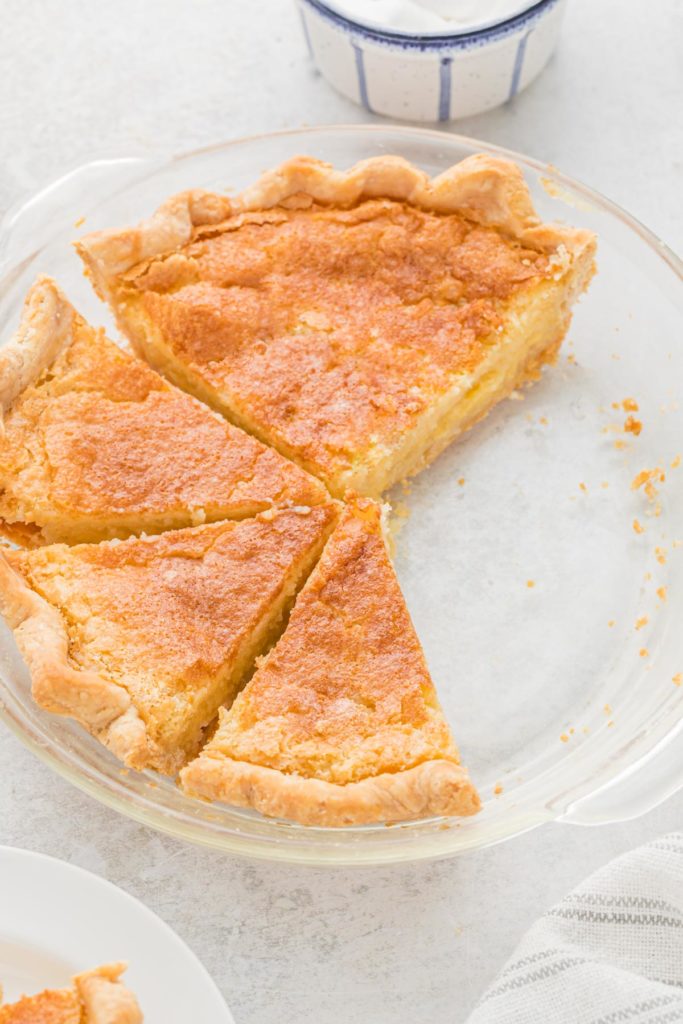 What is Buttermilk and Why is It Used?
If you've never heard of buttermilk, you're probably reading this and saying to yourself, 'Forget the history of buttermilk pie…what the heck even is buttermilk, to begin with??'
My Southern sisters and brothers that know their way around a kitchen already understand the answer to this and can probably throw down a couple of buttermilk recipes on the spot too!
(I can definitely teach you a thing or two about my Buttermilk Waffles and Buttermilk Fried Chicken!)
But everyone has to walk the walk in learning new things before they can talk the talk- so I'm happy to school y'all anyways!
Let's get one thing noted: buttermilk is not like regular milk. It's not supposed to be, it wasn't meant to be, it never will be. We all love our milk (or vegan dairy choices) but there's a time and a place for traditional milk. That place is not here in a buttermilk pie.
You can tell when you are gulping down a glass of buttermilk by its thick, buttery, and tart flavor. You read that right. This milk gets a little bit tangy.
But, why in the world would anyone want to add sour-tasting milk to their recipes let alone a pie?
Just let me tell you about the wonders of buttermilk pie.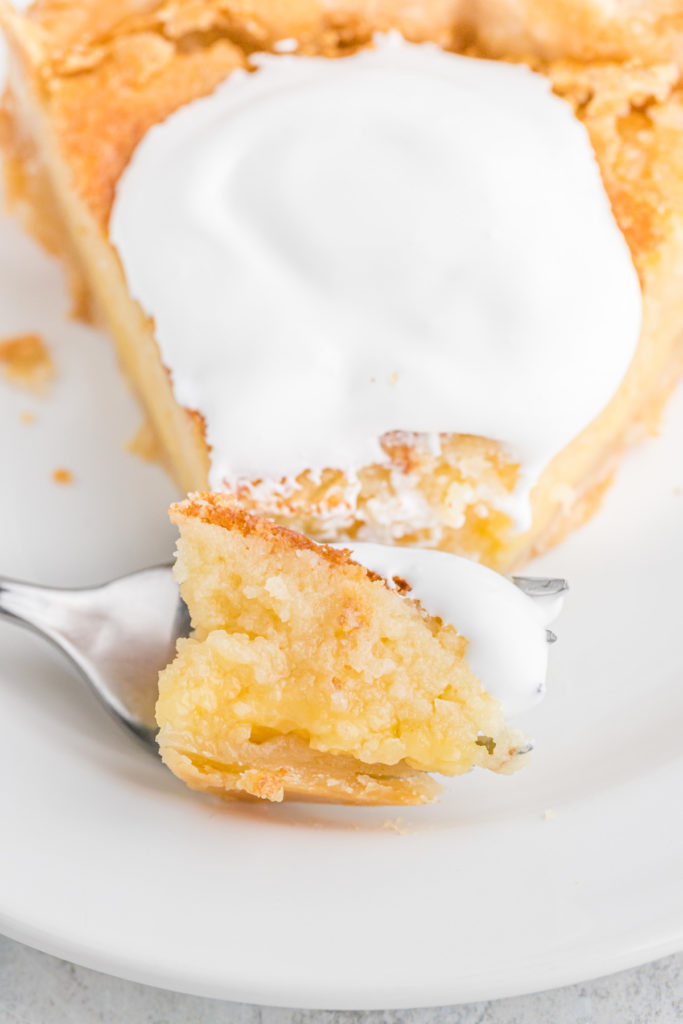 What Does A Buttermilk Pie Taste Like?
When I say perfection on a plate, I mean perfection on a plate! Within this one pie you will experience a harmonious combination of delicate sweetness with tender tartness. Rich, creamy custard fillings couple perfectly upon golden, flaky crusts to deliver sensations of buttery goodness!
This pie not only tastes good from a physical space on your tongue, it also tastes good historically. Buttermilk pie is a family recipe passed down from generation to generation. The refreshing taste of ancestral pride and community coming together to inspire the next line of children and grandchildren is simply beautiful.
There's nothing more nourishing than cherishing a classic recipe with people you love.
How to Make Southern Buttermilk Pie
To start the recipe, we begin with creaming butter and sugar together. This is very similar to the beginnings of making a cake.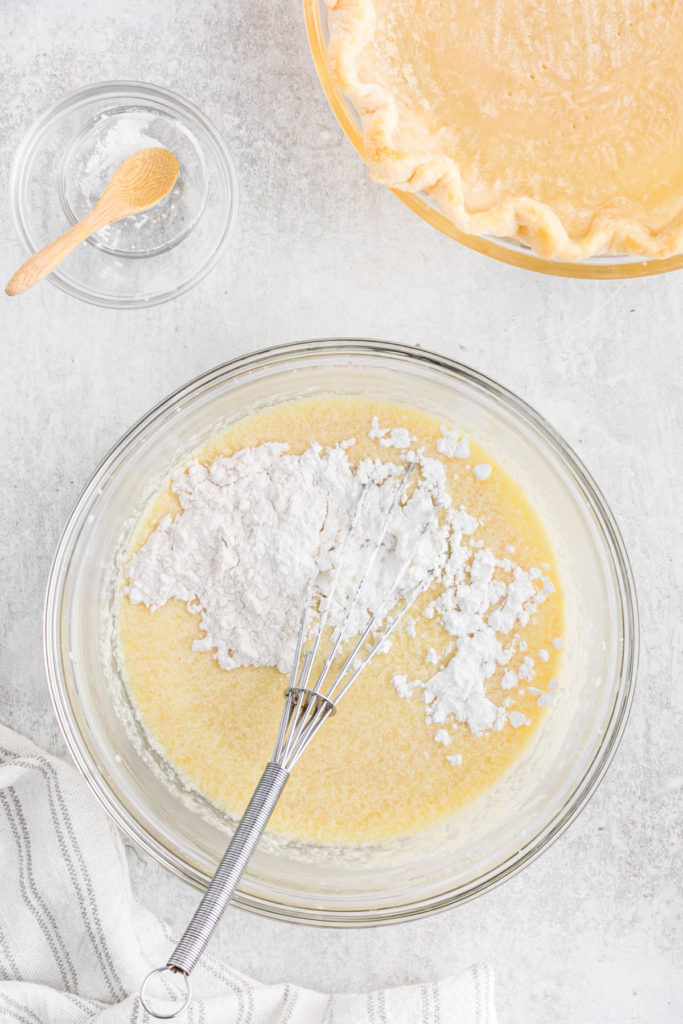 However the next step involves adding room temperature ingredients to set up a custard type base. From eggs to buttermilk, those are the liquids that are involved. It may seem like a lot of liquid but it will set up if everything comes together correctly.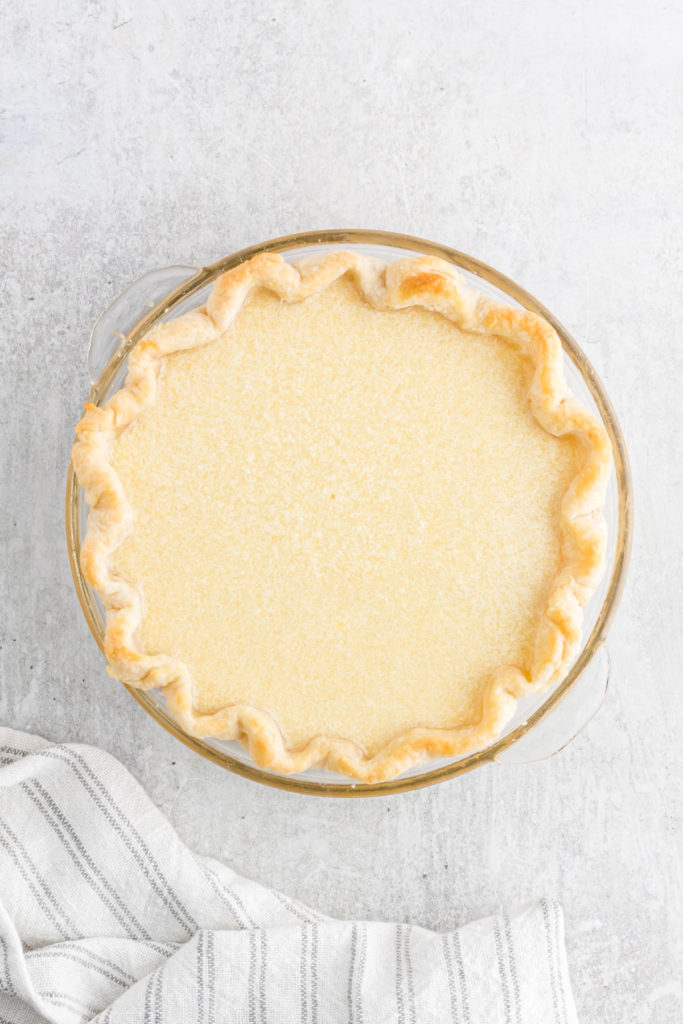 To help thicken the custard, we are using flour and cornstarch. While it will still appear pretty runny, once in the oven it will set up wonderfully.
What is the Difference Between Southern Buttermilk Pie and Chess Pie?
Oh. My. Goodness.
This question is constantly asked by people all over the states trying to pinpoint the difference between buttermilk pie and chess pie.
Do they look very similar? Yes.
Are they both custard-based pies? You betcha.
Do they taste somewhat the same? In a way.
Are they the same recipe with different names? Absolutely not!!
The presence of buttermilk is what gives buttermilk pie its unique flavor and makeup.
Chess pie, on the other hand, prides itself in using cornmeal for its rich filling. Two very different ingredients with two very different outcomes.
Super sweetness within a Chess Pie and tangy zest amongst a Buttermilk Pie.
When it comes to pie, it's hard for me to discriminate. Both my Vanilla Buttermilk Pie and Chess Pie are some of my favorite pie recipes to date!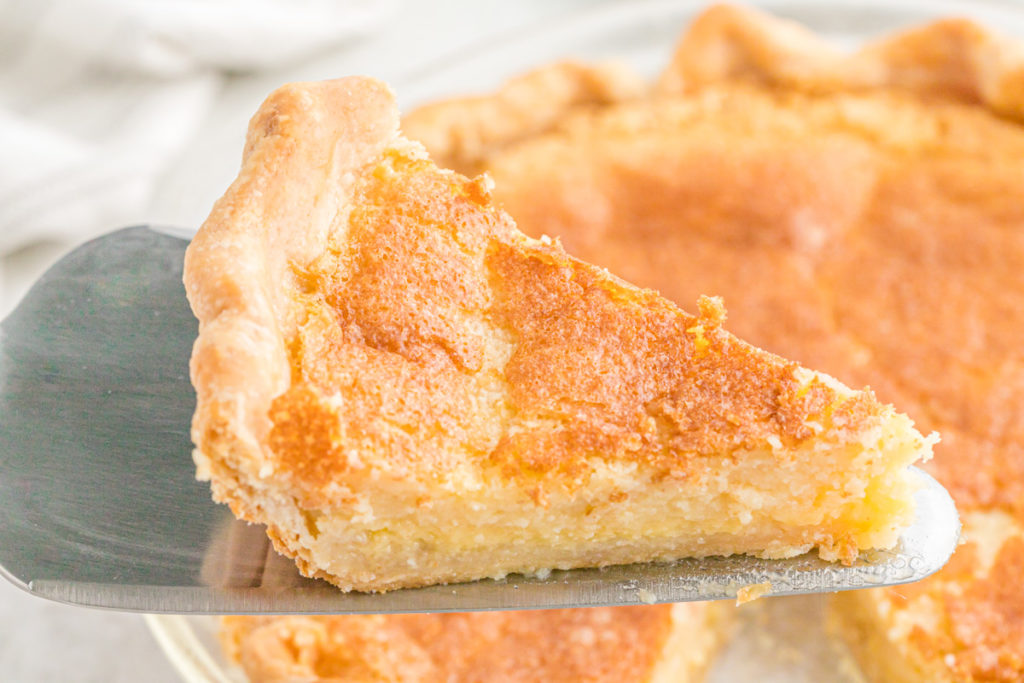 What Can I Substitute for Pie Crust?
Some people may find pies without fruity fillings to be a bit more mundane. I think those people are bonkers but to each their own.
Now I know you reading this aren't bonkers, but you may be serving this pie up for the first time for people who don't believe in its goodness. If that's the case, you can definitely get creative with the pie crusts!
It's always good to start at the beginning and learn how to make a pie crust.
But after you get cozy with that, you can make all sorts of the crust using doughs, cookies, crackers- the possibilities are endless! I personally love to make Graham Cracker pie crust and use it for some of my best pies!
After you've set out to make your delicious crust and jumped into whisking the thick buttermilk filling together with eggs, butter, and sugar, you'll eventually have a mini-masterpiece of your own that you can serve at any gathering!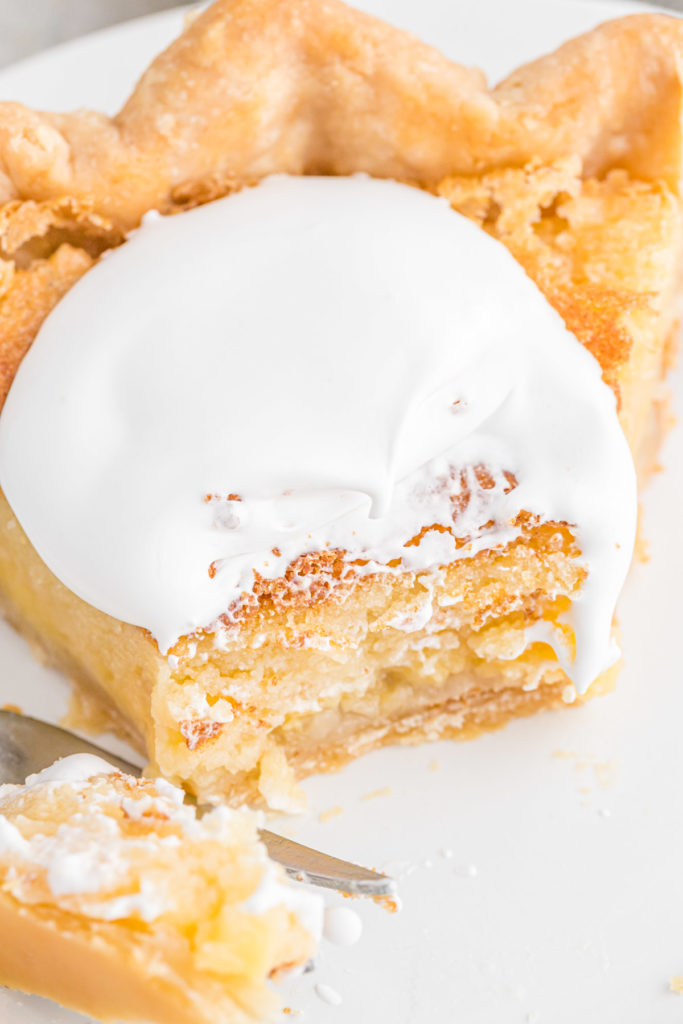 Do You Have to Refrigerate Southern Buttermilk Pie?
YES. Anytime a pie is made with dairy ingredients that can build up bacteria such as eggs, milk, or creams, it needs to be refrigerated.
You should be fine leaving a freshly baked buttermilk pie out at room temperature for a few hours. But I wouldn't go past a day of letting it sit out. The easiest way to store it in the fridge is either inside an airtight container or with plastic foil lightly covering the top.
Your pie should last around 2-3 days in the fridge after being safely stored.
Southern Buttermilk Pie
One of the creamiest mixtures of gooey sour and sweet, this Southern buttermilk pie is a family staple meant for every dinner gathering and holiday.
Ingredients
1/2

cup

unsalted butter

melted

1 1/2

cups

granulated sugar

3

large eggs

room temperature and beaten

2

tsp

vanilla extract

2

tbsp

all purpose flour

1

tbsp

cornstarch

1/2

tsp

salt

1

cup

buttermilk

room temperature

1

8 inch pie crust
Instructions
Add butter and sugar to bowl of your stand mixer and beat together until light on medium speed for about 5-6 minutes.

Add the eggs and vanilla paste in increments and mix together until incorporated.

Next add flour, cornstarch and salt then buttermilk and mix until well combined.

If using a pie crust recipe, roll one of the disks out into the pie plate then use a fork to poke holes along the sides and bottom of the pie crust. Line the pie crust with parchment paper. Fill with pie weights, making sure the weights are evenly distributed around the pie dish. Pre-bake the crust for 10 minutes. Carefully remove the parchment paper/pie weights. If you would like, you can brush some egg wash on the outside of the crust as well (just take 1 egg and whisk together with a teaspoon of water).

Pour pie filling into pie crust shell and bake at 400F for 10 minutes, reduce heat to 350F and bake for 60-70 additional minutes then turn off the oven and allow to sit in oven for 30 minutes. Pie should turn a nice golden brown and a knife inserted should come out clean. If you find that the crust is browning too quickly, add a pie shield or foil on the outside halfway through the bake.
Notes
It is essential that all of your ingredients are room temp so that the pie sets up properly.
Nutrition
Serving:
1
g
|
Calories:
400
kcal
|
Carbohydrates:
52
g
|
Protein:
4
g
|
Fat:
19
g
|
Saturated Fat:
10
g
|
Sugar:
40
g