This BBQ spice rub will add sweetness, heat, and flavor to all your favorite barbecued foods. Make a batch and find out why it's called Magic Dust!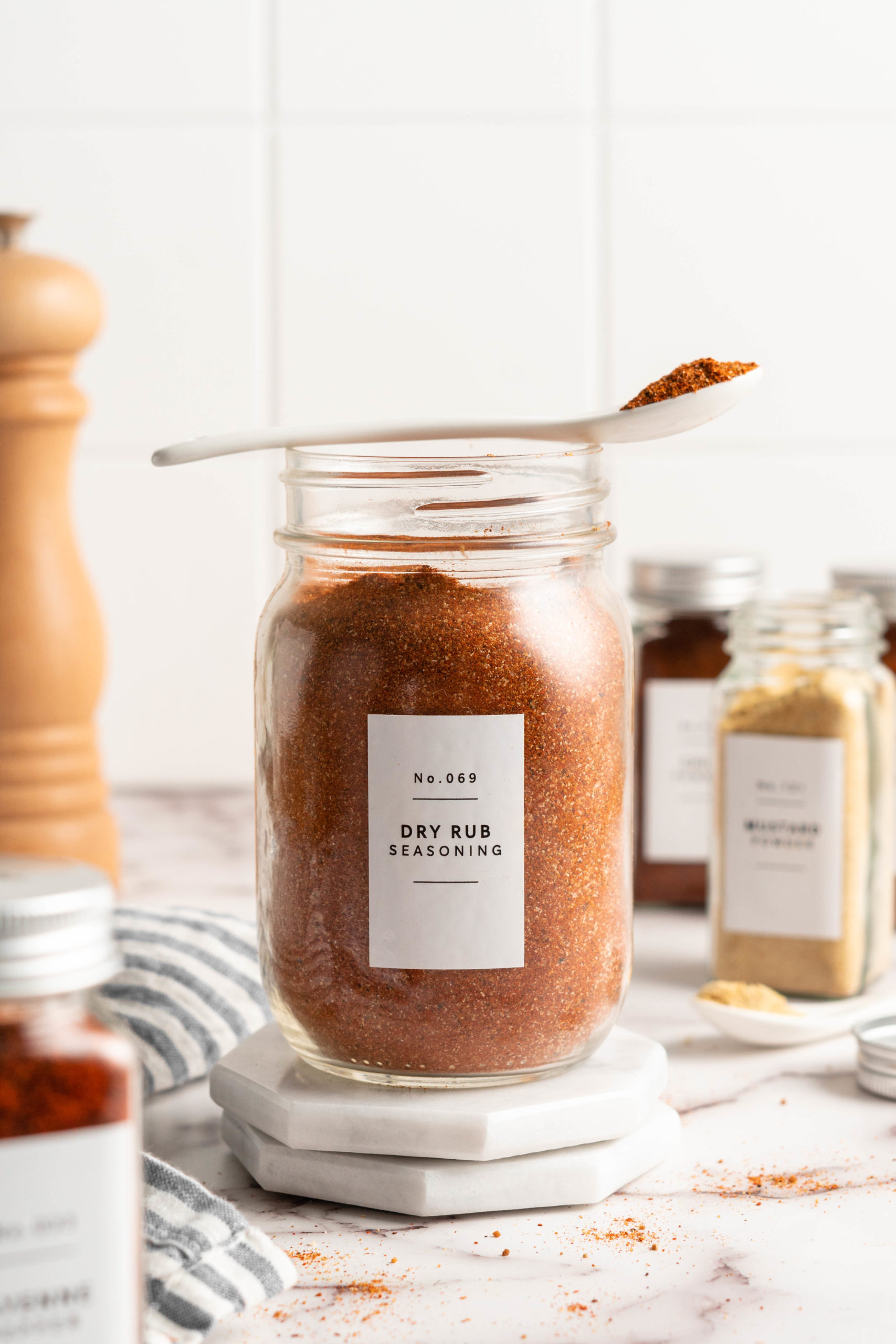 This isn't the kind of magic dust that transforms a pumpkin into a carriage, but it is the kind of magic dust that transforms an ordinary meal into one packed with flavor and sweet heat.
Magic dust also has a way of making things disappear — add it to sweet potato fries, roasted veggies, or your favorite meat, and POOF, it will disappear as soon as it hits the kitchen table. It was invented by Mike Mills – an award-winning pitmaster from Illinois. This was shared in my family over a decade ago and it's been a go-to ever since!
The best thing about this BBQ spice rub is that once you make a batch, you can keep it on hand in your pantry for whenever you need to add a boost of flavor to your meals. It'll keep in a jar for a year, but let's be real: it probably won't last that long because you'll be using it all the time.
Homemade spice rub also makes a great gift for Father's Day, the holidays, or anyone you know who loves to fire up the barbecue as soon as the weather's warm enough!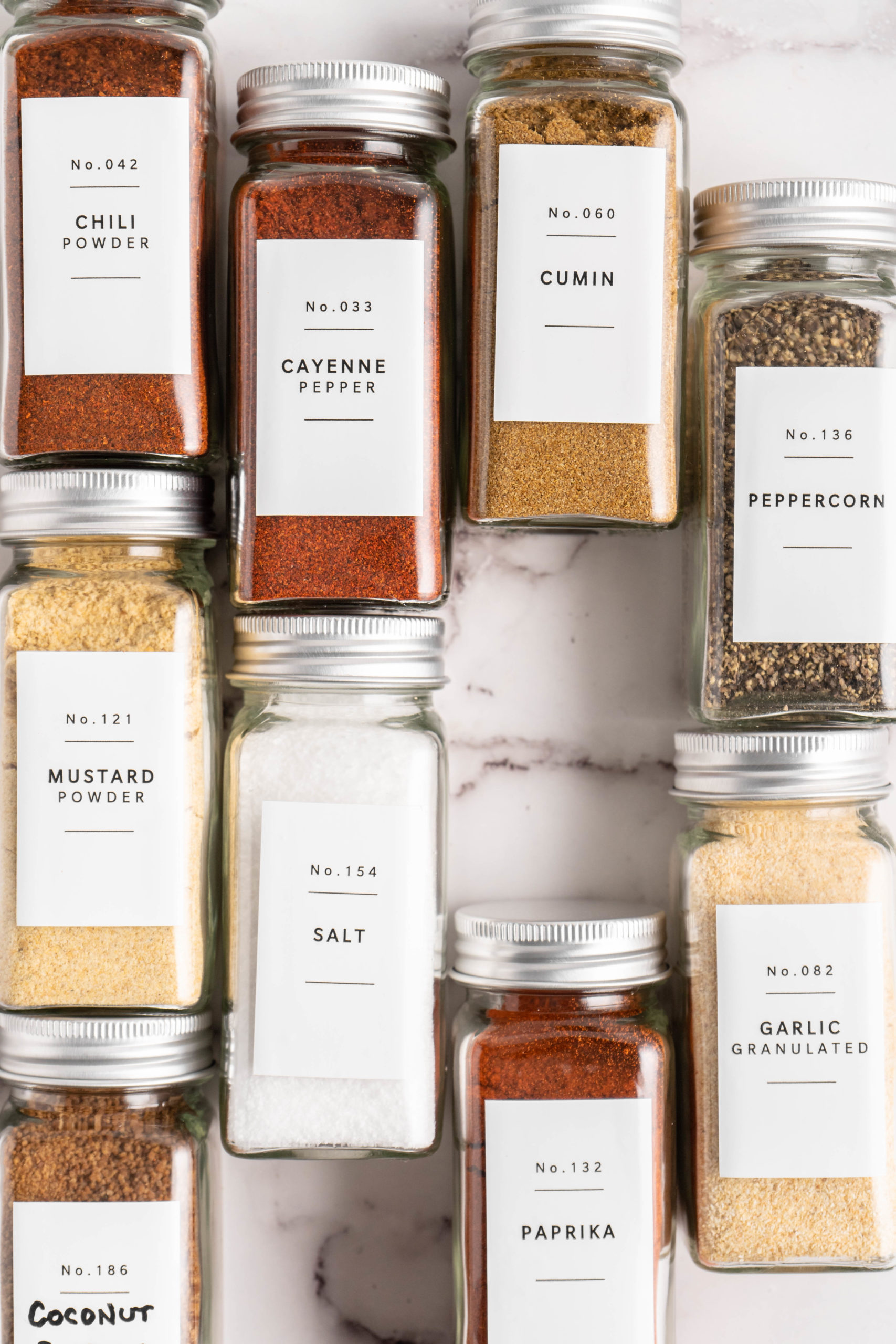 Notes on Ingredients
Please note that this is important information on the ingredients and instructions and the FULL recipe with amounts and details can be found DOWN BELOW (scroll to it) in the recipe card.
Paprika – You can use either standard paprika or smoked paprika.
Kosher salt
Brown sugar – Granulated (white) or coconut sugar can be used instead of coconut sugar if you prefer.
Mustard powder
Chili powder
Ground cumin
Ground black pepper
Granulated garlic
Cayenne powder – You can adjust this to your own tastes and preferences—add more for a fiery BBQ spice rub, or less if you want to keep it milder.
How to Make Homemade BBQ Spice Rub
Making your own spice rub is so easy, you'll never want to buy it again!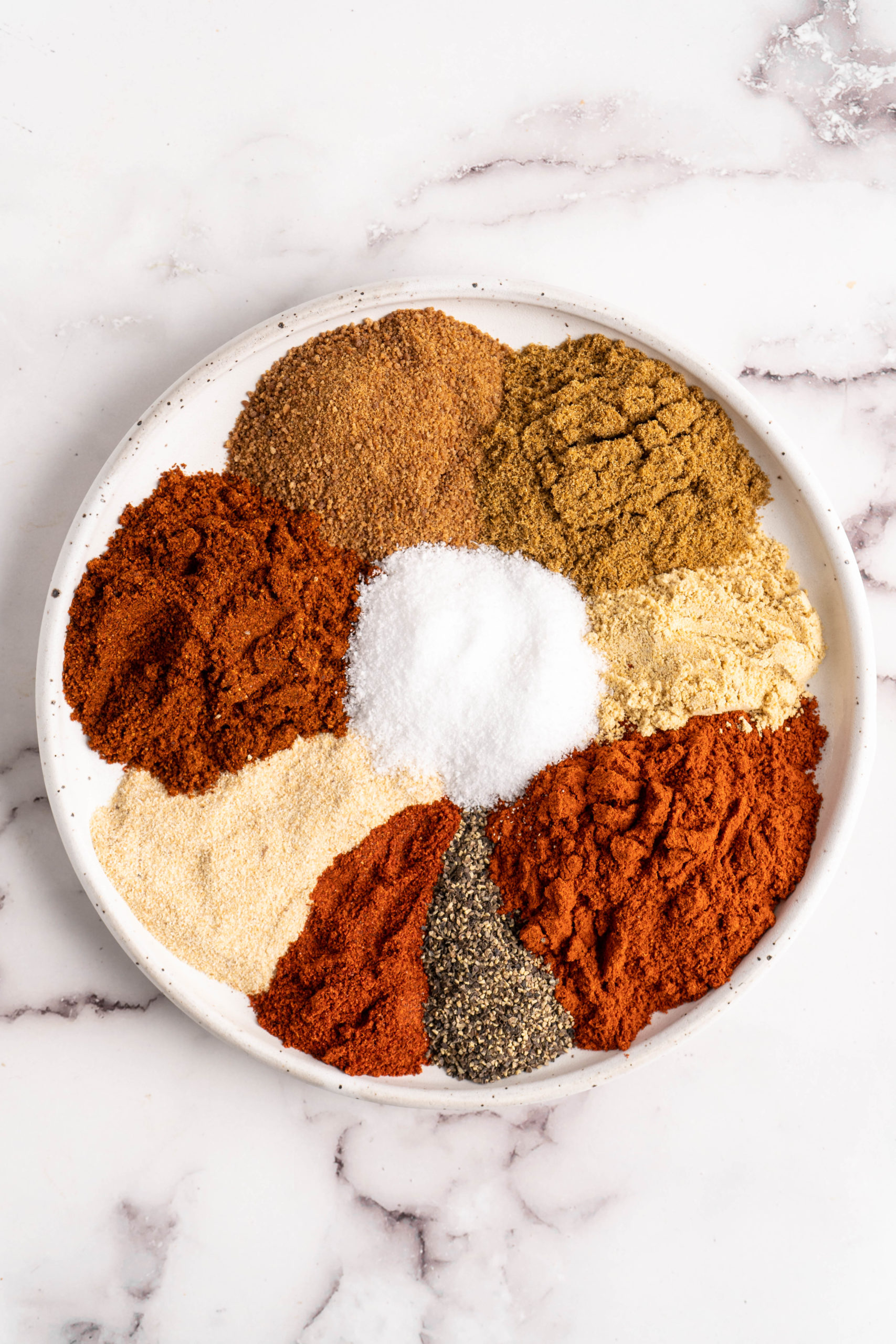 Mix the ingredients. Combine all of the ingredients in a small mason jar or storage container and give it a good shake.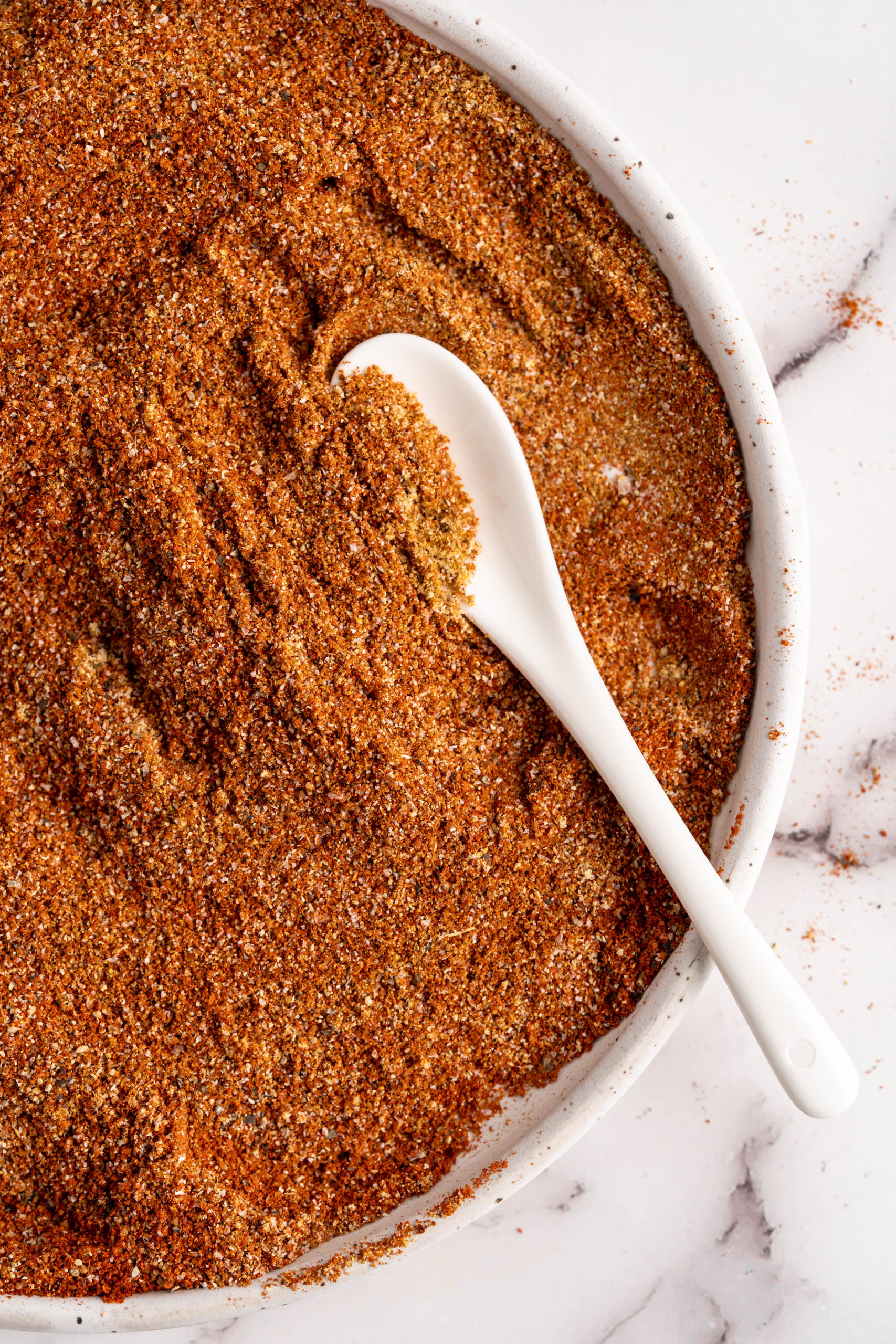 Store and use. Store the spice rub in the jar or container you mixed it in, or divide it into smaller spice jars. Use it in homemade barbecue sauce or as a dry BBQ rub.
How to Store BBQ Spice Rub
Store your spice rub in an airtight container in a cool, dry place for up to a year.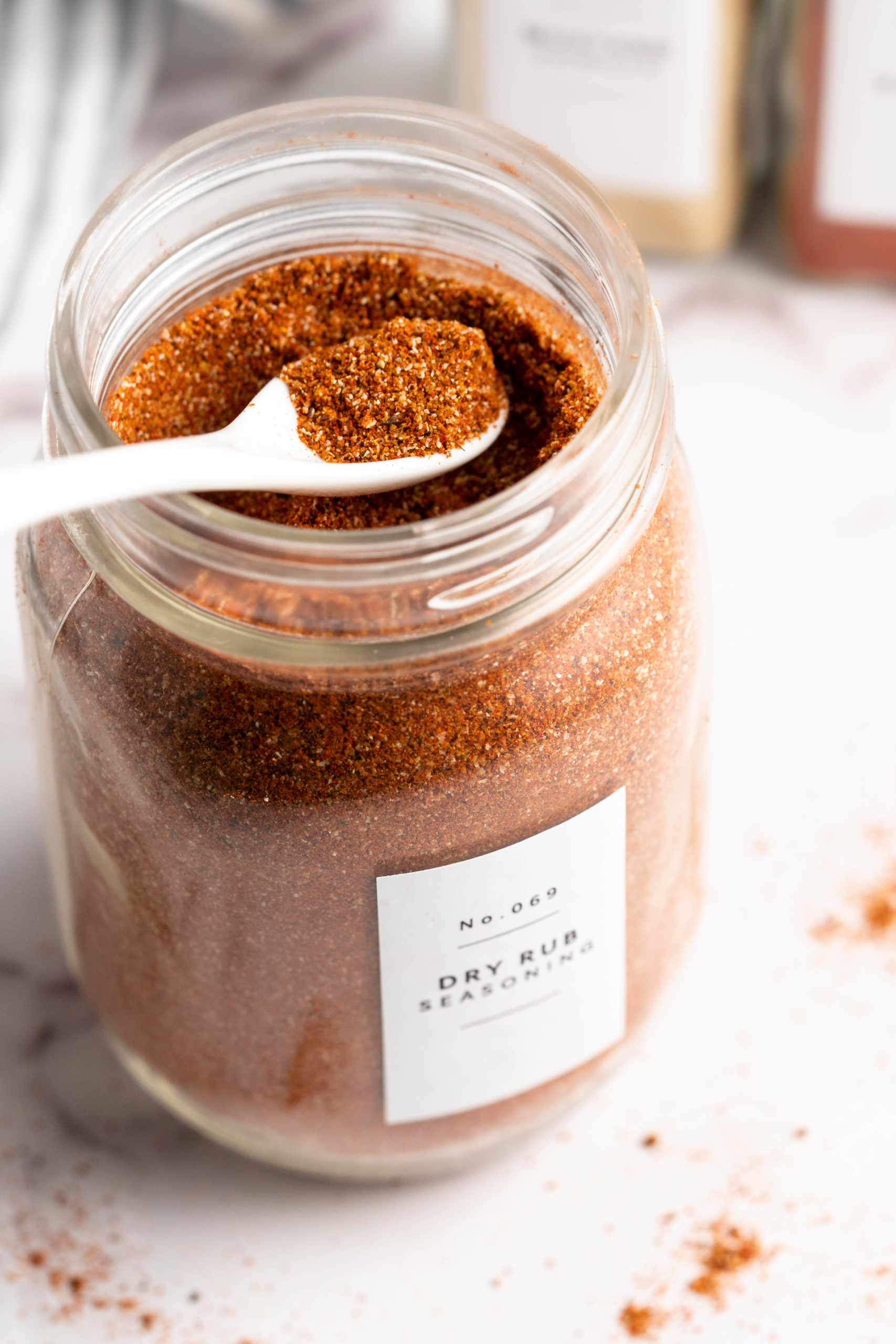 How Do You Cook With a Dry Rub?
Here are a few pointers for how to use dry rubs:
You can either apply a dry rub directly to a meat or protein, or combine the rub with oil then rub it on, which works well if you're using this for vegetables.
It's important to note that dry rubs should not be used for high-heat cooking because they'll burn; this BBQ spice rub is meant for lower-heat barbecuing and smoking.
A good rule of thumb is using 1 to 2 tablespoons of rub for every pound of food you're cooking.
Can You Use Dry Rub After Cooking?
Yes, this BBQ spice rub also works as a seasoning to pass around at the table—try it with corn-on-the-cob or sprinkled on baked sweet potatoes or on bbq tofu! You can also stir it into softened butter to slather on Vegan Cornbread.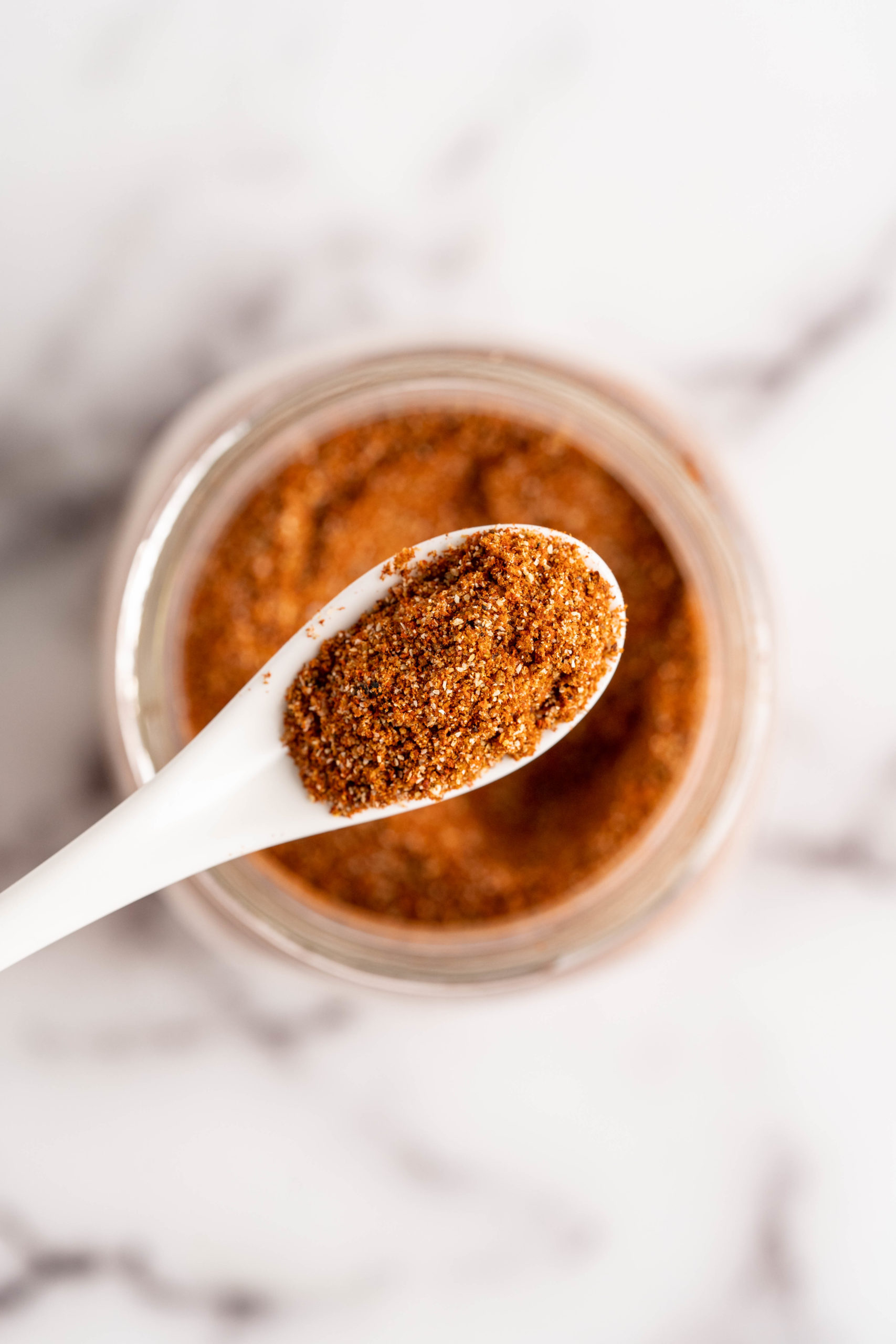 BBQ Spice Rub
This BBQ spice rub will add sweetness, heat, and flavor to all your favorite barbecued foods.
Ingredients
½

cup

paprika

¼

cup

kosher salt

¼

cup

sugar

brown, white or coconut

2

tablespoons

mustard powder

¼

cup

chili powder

¼

cup

ground cumin

2

tablespoons

ground black pepper

¼

cup

granulated garlic

2

tablespoons

cayenne powder or less to taste
Instructions
Mix all of the ingredients together in a mason jar or tupperware container or bowl with a cover. Shake everything together to combine it.

Store in the jar/container or portion some out into a spice jar. Use in barbecue sauce or as a dry bbq rub. Enjoy!
Nutrition