This super easy Cinnamon Roll Monkey Bread recipe is made with store bought cinnamon roll dough, butter, cinnamon and brown sugar then topped with vanilla icing. Like Hoe Cakes, this is a very simple recipe to pull together.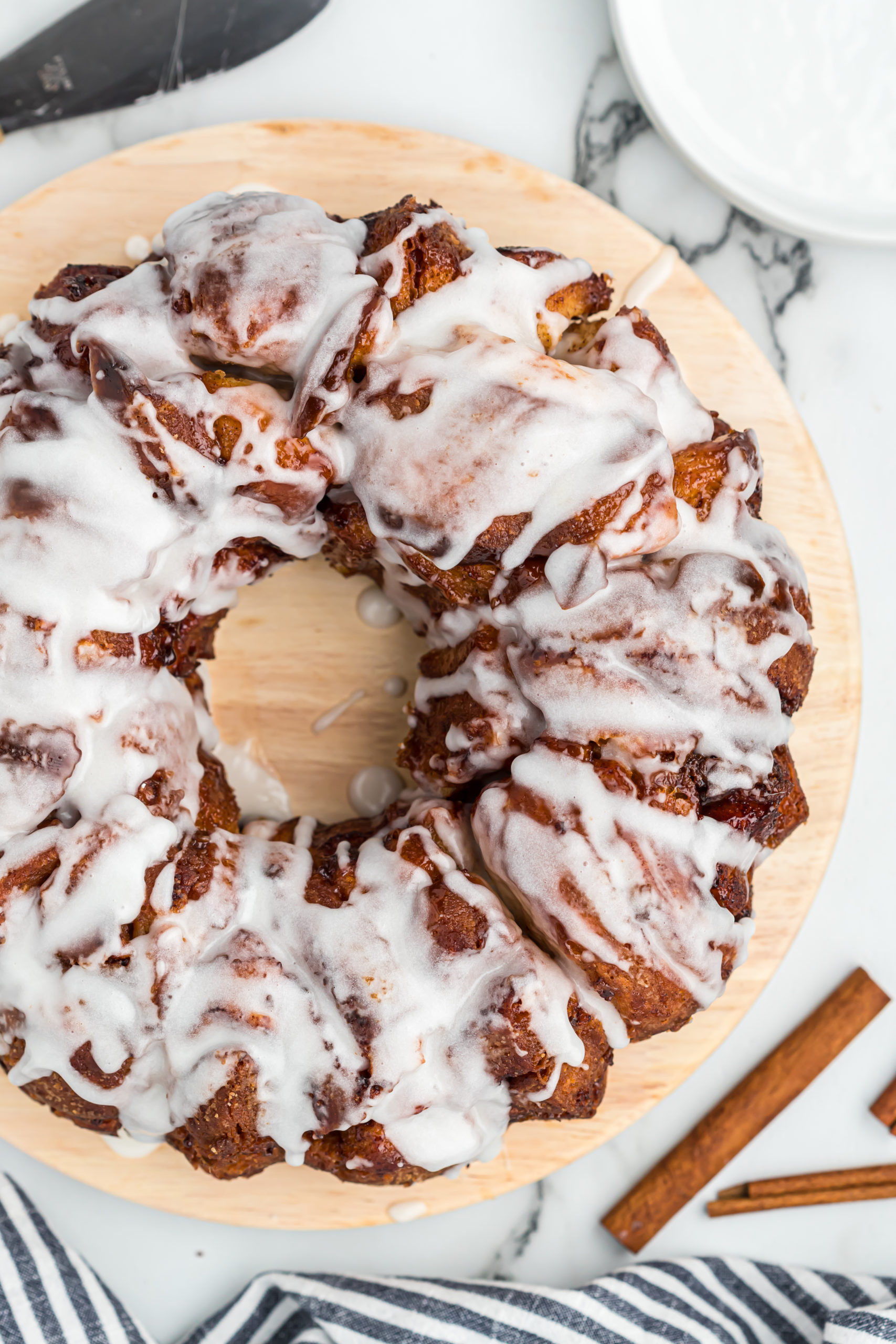 What is Monkey Bread?
Monkey bread is basically bite sized pieces of dough baked that can be enjoyed by being ripped out of the mound. It is usually made with biscuit dough that's dipped in butter, spices and sugar then add to a bundt pan and baked up. It is one of the easiest dishes to make because it is usually made with store bought biscuit dough. In this twist, I used store bought cinnamon rolls which give this a new and different flavor. It is wonderful for breakfast for brunch and even for dessert.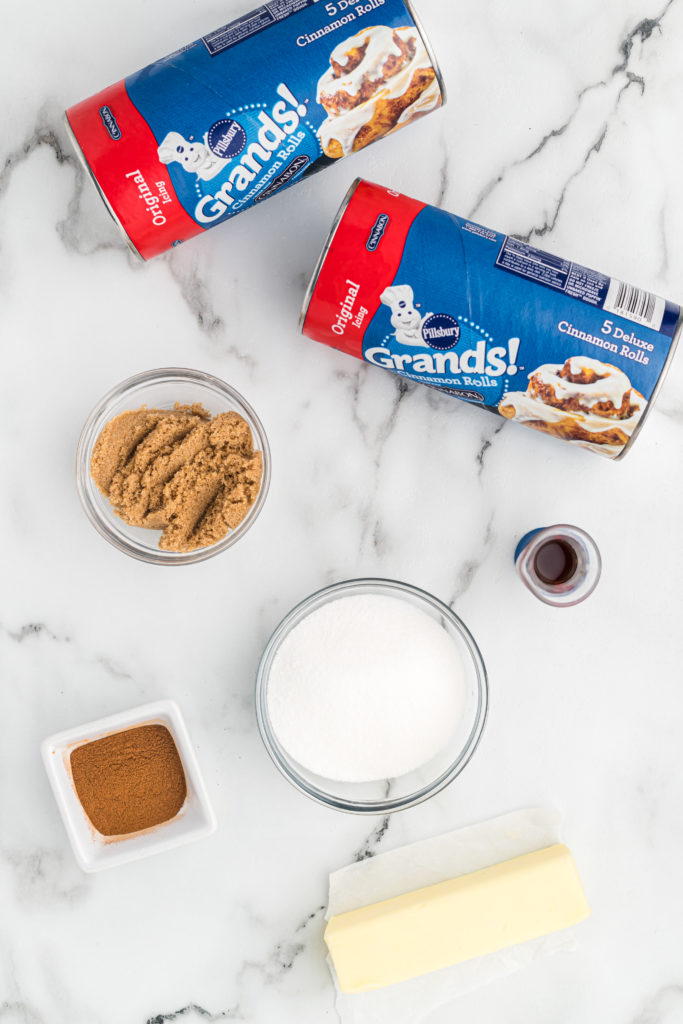 Key Ingredients for Cinnamon Roll Monkey Bread
PILLSBURY GRANDS CINNAMON ROLLS- Here I use Pillsbury Grands cinnamon rolls which you can find at the grocery store. If you want to swap to a new brand, just make sure it is grand sized or use up to 3 cans of regular instead. No need to use a homemade dough unless you have the time on your hands.
GRANULATED SUGAR- This sugar helps with forming the sticky glaze on each bite sized piece.
CINNAMON- this ingredient is key in cinnamon rolls but you can also add other spices like nutmeg or allspice if you want to switch it up.
SALTED BUTTER- We aren't adding salt to this dish so I add it here since salt balances sweetness.
DARK BROWN SUGAR- light brown sugar is great too if you like.
VANILLA EXTRACT- I added vanilla here. If you like vanilla paste, you can also add this here.
Instructions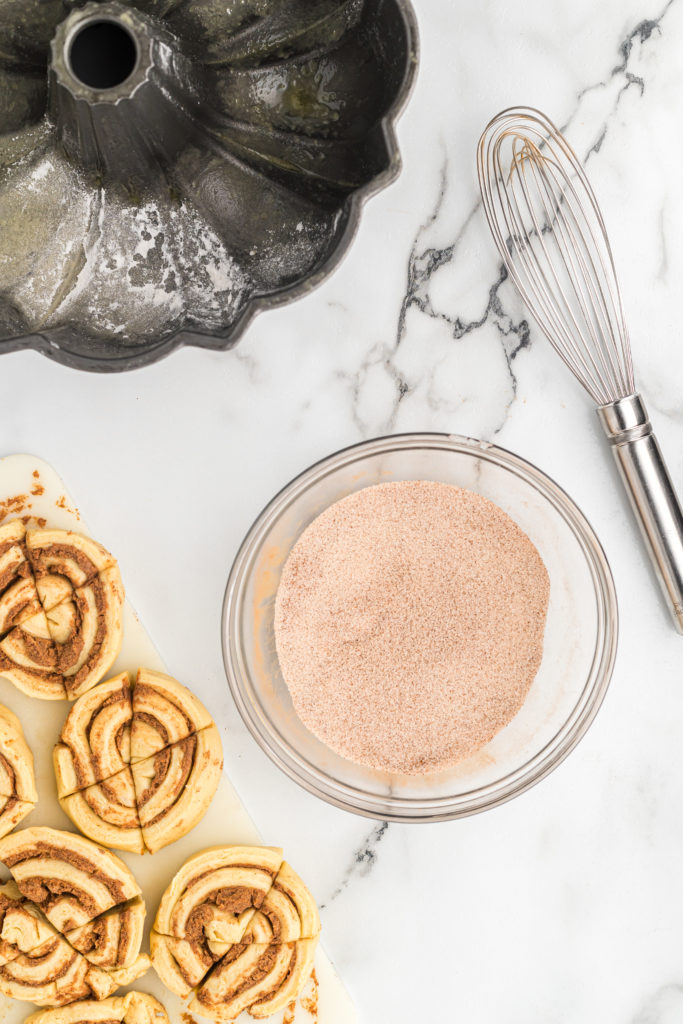 CUT THE DOUGH- Begin by cutting the dough into small bite-sized pieces. I like to use kitchen scissors here instead of a knife. Then toss in a mix of the sugar and cinnamon and add to a greased bundt pan for baking. Clean kitchen scissors work better than a knife. You'll toss these dough pieces in a mixture of sugar and cinnamon and then set them into a well-greased bundt pan.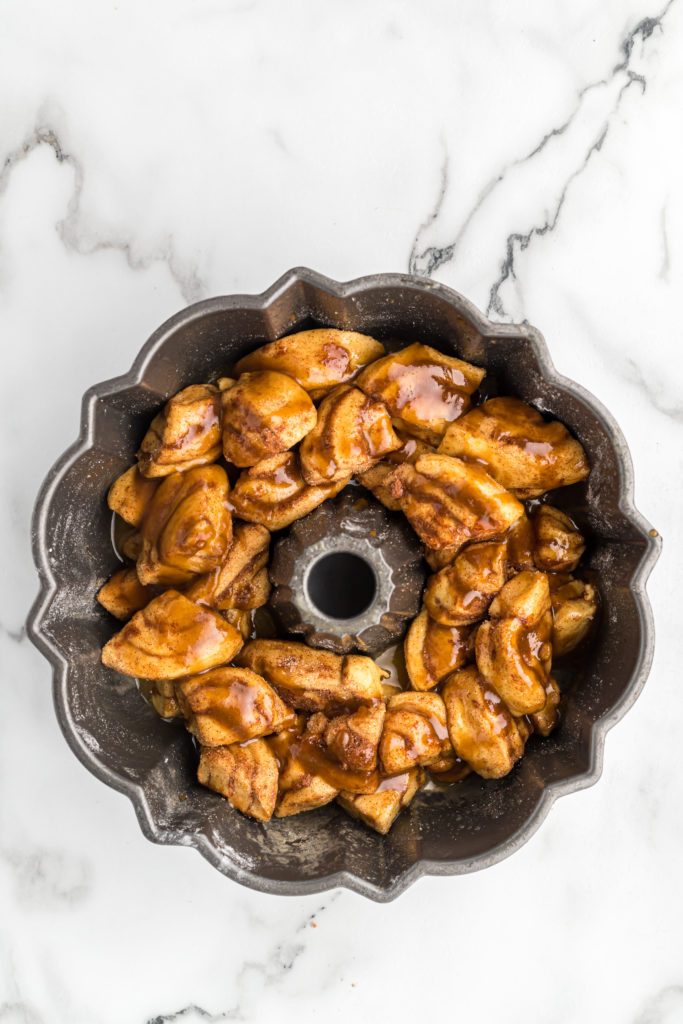 DISSOLVE SUGAR IN BUTTER- This will be drizzled on top of the dough to make sure everything sticks together well.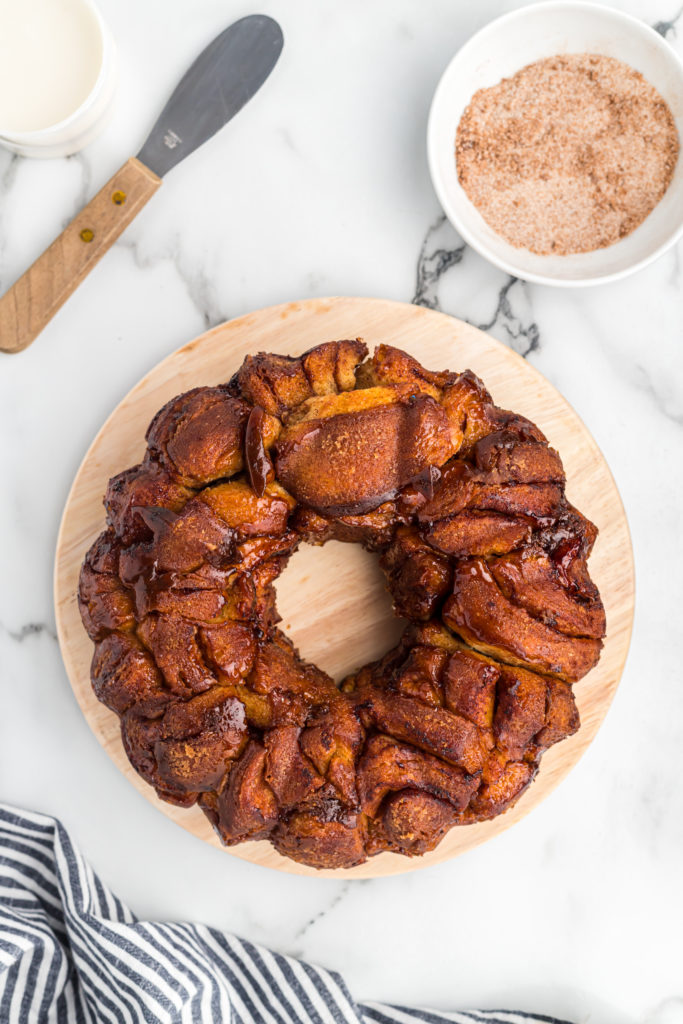 BAKE- Next we bake it and let it come together. Invert and serve warm if you desire. Spread the icing over the top and serve it up.
Variations
Monkey Bread is so versatile! Feel free to add nuts like pecans or even walnuts. I also love adding chocolate chips. You can even add ganache and caramel to the top.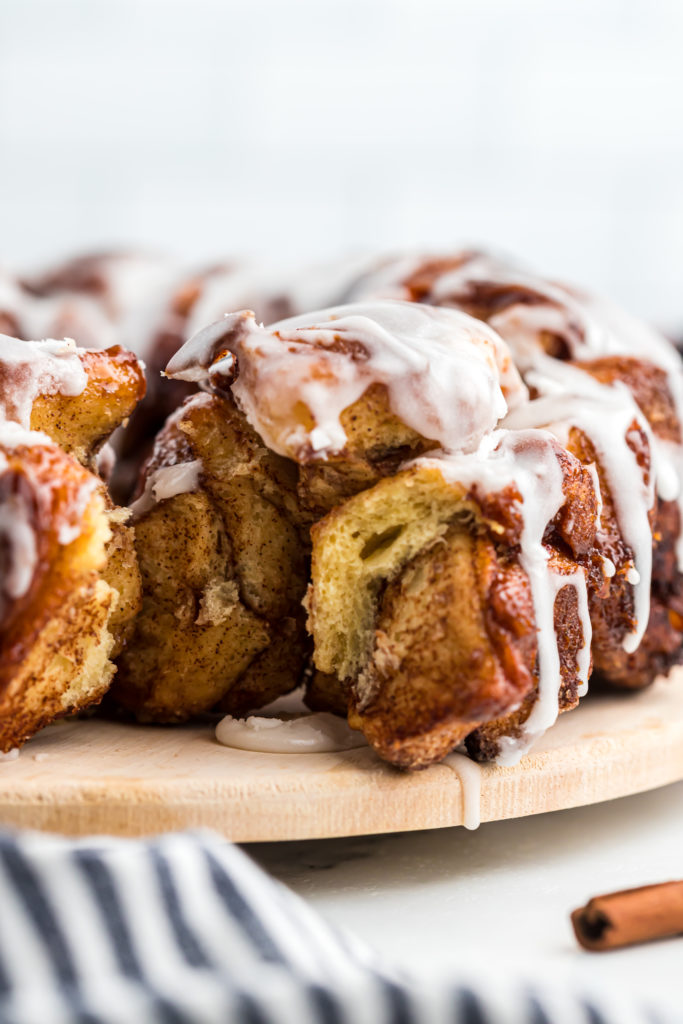 Storage
Best to eat fresh since it gets really hard and stale if you store in the fridge.
Freezing
I honestly would not recommend freezing monkey bread. The texture will change and also get soggy once you thaw.
Cinnamon Roll Monkey Bread
This super easy Cinnamon Roll Monkey Bread recipe is made with store bought cinnamon roll dough, butter, cinnamon and brown sugar then topped with vanilla icing.
Ingredients
2

(17.5) oz Pillsbury Grands Cinnamon Rolls

1/2

cup

granulated sugar

2

tsp

ground cinnamon

1/2

cup

salted butter

1/4

cup

dark brown sugar

2

tsp

vanilla extract
Instructions
Preheat the oven to 400 degrees F. Generously grease and then lightly flour a large, 12-cup Bundt pan.

Remove the cinnamon roll dough and cut each roll into quarters. You can vary the size of the pieces to create different textures. Set aside the icing from each can.

In a small bowl, whisk together the granulated sugar and cinnamon, then toss the cinnamon roll dough pieces in the bowl until well coated. Arrange all the pieces in the prepared bundt pan.

Melt butter and stir in the brown sugar and vanilla; pour over the dough in the Bundt pan.

Bake for 20-30 minutes, or until risen, golden-brown, and no longer gooey in the center. Remove and let cool for 10 minutes. Once it's still warm, but not piping hot, you can flip the Cinnamon Roll Monkey Bread onto a serving plate.

Use a spatula to spread the icing over the top. Serve warm.
Notes
HOW TO STORE CINNAMON ROLL MONKEY BREAD
Monkey bread doesn't usually need to be refrigerated, but if you use cream cheese icing, it does. Storing monkey bread in the fridge will make the cake stale and hard, so I'd avoid leftovers altogether if possible. CAN I FREEZE MONKEY BREAD?
No, I wouldn't recommend freezing homemade monkey bread. The sugar gets extremely hard and when you thaw it out it turns into a soggy mess.
Nutrition
Calories:
241
kcal
|
Carbohydrates:
26
g
|
Protein:
0.2
g
|
Fat:
15
g
|
Saturated Fat:
10
g