Southern Hoe Cakes are basically fried cornbread pancakes that are crisp, tender and delicious. It is so easy and perfect for breakfast or anytime of day especially with Cajun Stuffed Chicken and Collard Greens!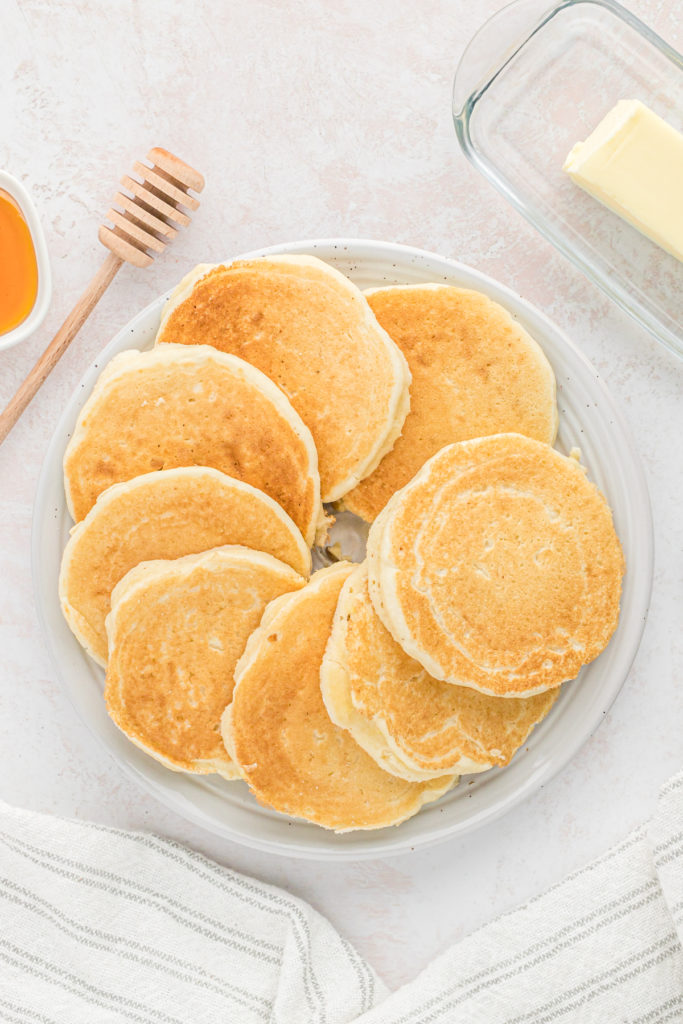 SOUTHERN HOE CAKE RECIPE
Today we're whipping a southern classic: Hoe Cakes.
If you've never tried Hoe Cakes, now is the time. They are a super easy to whip together dish that are great for any kind of meal!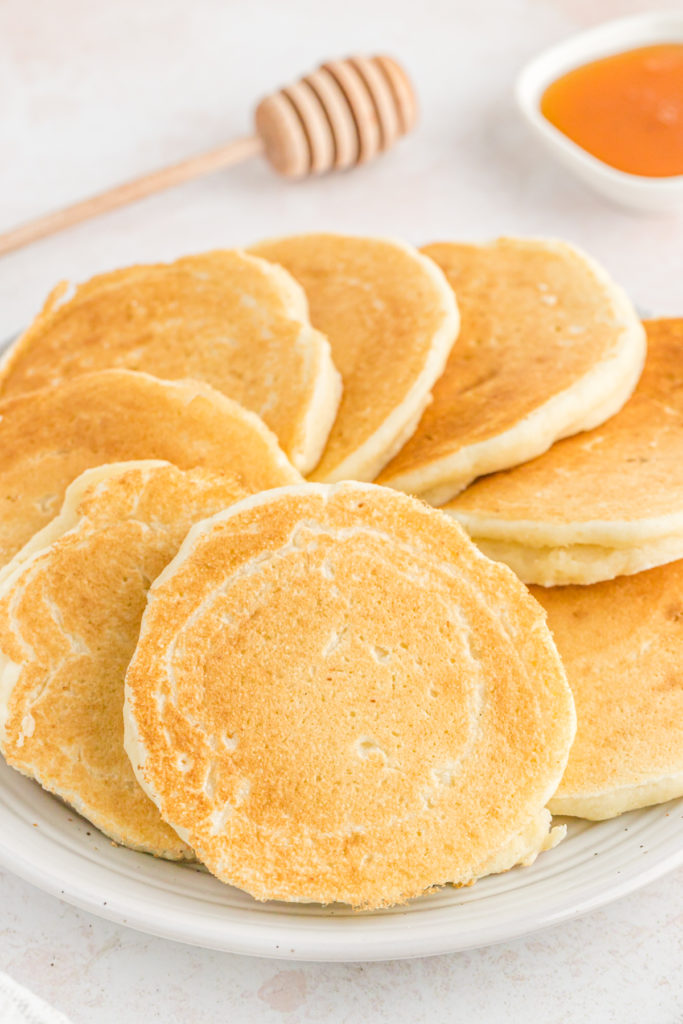 WHAT ARE HOECAKES?
Though they look a lot like pancakes, don't be fooled, Hoe Cakes are a delicious force of their own. A "Hoe Cake", or "Johnny Cake", is basically cornbread made minimalist; they're thin rounds made with a simple cornmeal, water, and salt batter. Each cake is pan-fried in fat, resulting in golden sides and crisp edges. Inside, hoecakes are dense yet still creamy. They're perfect for soaking up syrups or shoveling mouthfuls of braised greens or fried corn.
HISTORY OF HOE CAKES
According to most Southern history buffs, hoecakes got their name from the slave practice of cooking them on field hoes. I know, that sounds totally impossible! But back then hoes were actually a colloquial term for griddle.
Hoe cakes didn't come about because someone thought a bread made of cornmeal, fat, and water sounded like a whole ton of fun. Most colonists viewed corn as a crude, cheap substitute or wheat flour, so most of the crop was left to indigenous natives and slaves who utilized it best.
This recipe is one that echoes a story of fortitude, resilience, and humility that runs deep in the history of African American cooking. Hoecakes celebrate flavor and innovation without any frills or fanfare-just good food.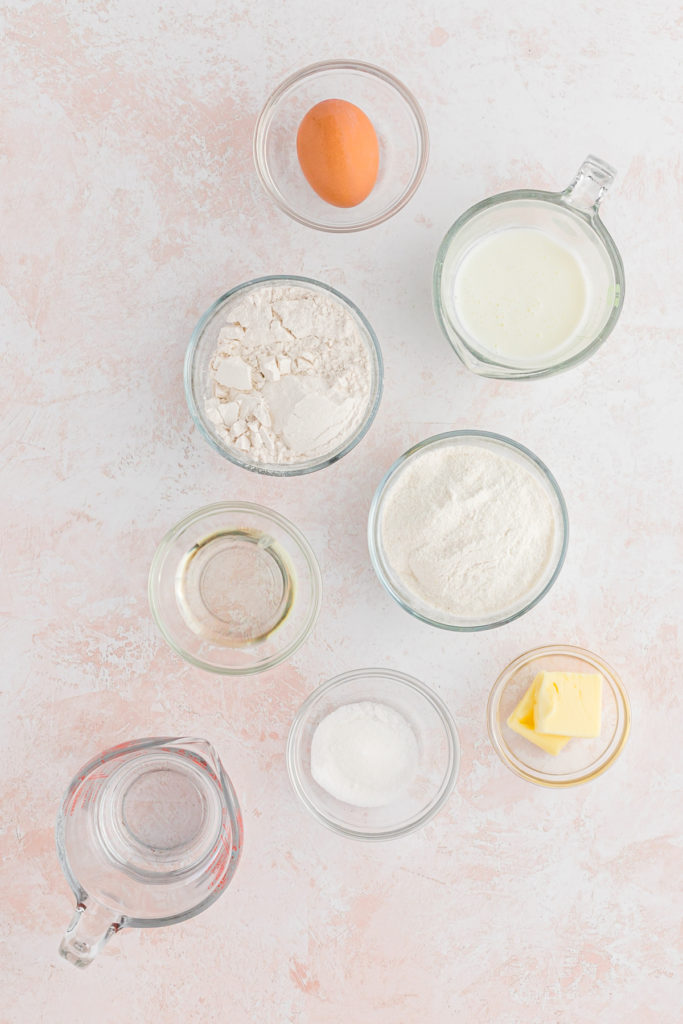 INGREDIENTS FOR HOE CAKES
Over the years, hoecake recipes have become a staple in most Southern homes. Folks often tweak those family recipes to make them their own, which is also what I've done.
I grew up enjoying a stack of fried cornbread for breakfast or as a side to a pot of braised greens for Sunday dinner. These are special memories I'm excited to share with y'all today!
Here's what you're gonna need:
SELF-RISING WHITE CORNMEAL & SELF-RISING FLOUR- I like to use a mix of the two because it produces a lighter, fluffier texture but you can absolutely use all of one or the other.
GRANULATED SUGAR- hoecakes are by no means sweet; they're intended to be eaten in both sweet and savory settings. A little bit of sugar just offers some flavor and balances things out. Cane sugar works here too.
BUTTERMILK- Creamy and tangy, buttermilk packs a whole lot of tasty punch. If you don't have any on hand, regular milk will work but texture and taste will be affected.
EGG- Egg binds the batter together. Try replacing it with a flax egg if you've got an allergy.
WATER- Add the water gradually to avoid a thin batter. If it's looking too thick, add about a tablespoon of extra water at a time.
MELTED FAT OR OIL- If you ask me, bacon grease is king here; it's got the perfect amount of fatty, salty goodness.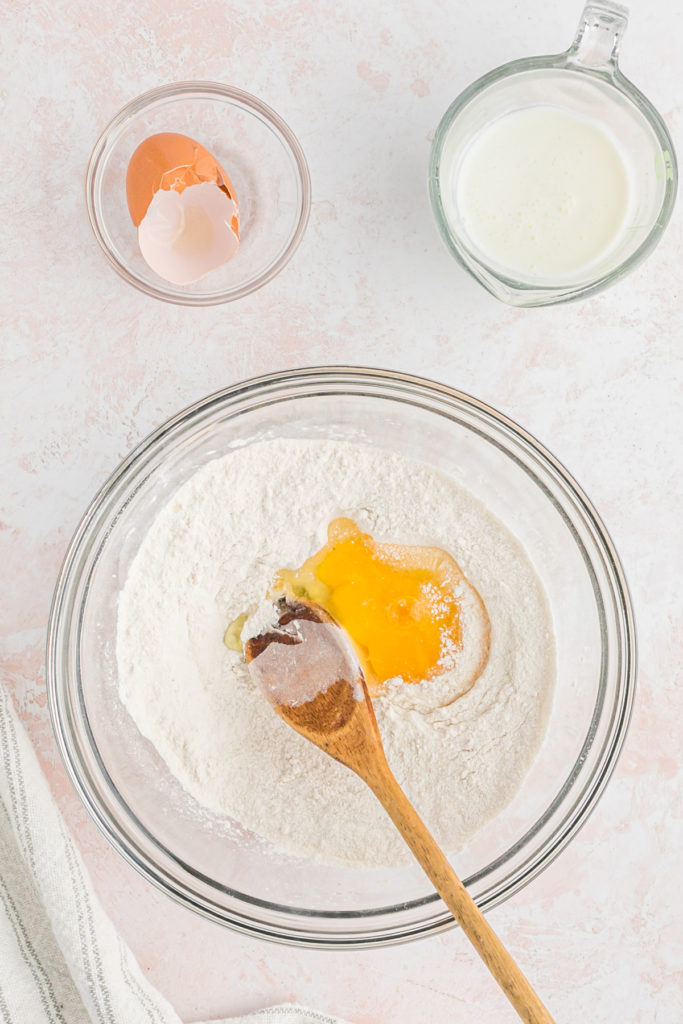 HOW TO MAKE SOUTHERN HOE CAKES
Cooking up hoecakes is no harder than whipping up a batch of pancakes or waffles!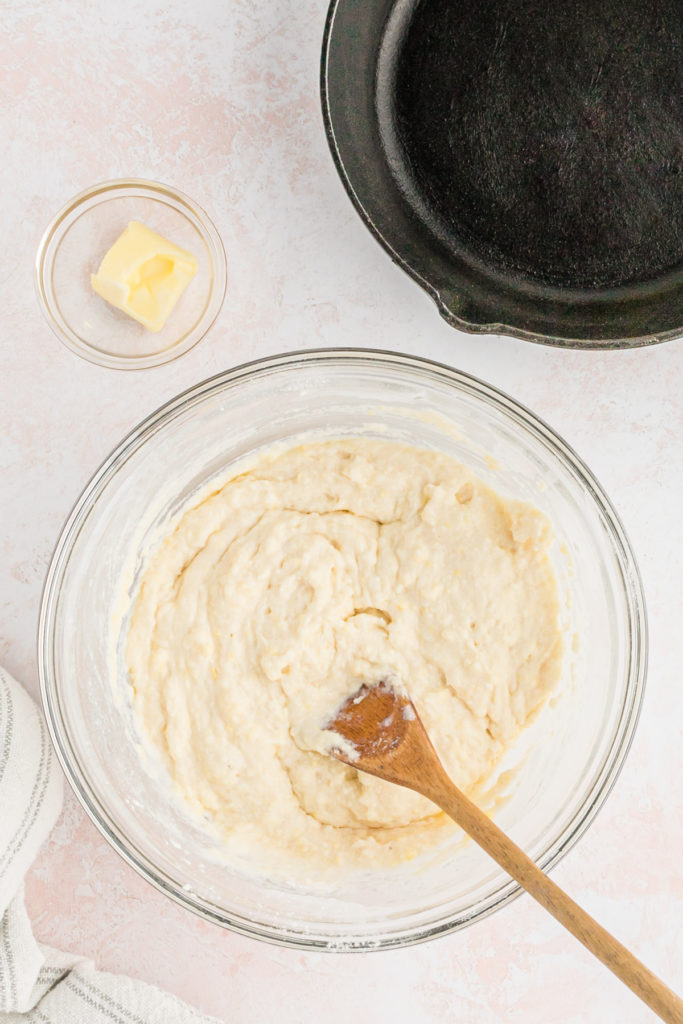 All you've really gotta do is mix together the batter until it's a texture of thick soup and heat up a big 'ole skillet. I like to use my grandmother's cast iron (mostly for nostalgia) but any flat iron griddle, or skillet will do just fine.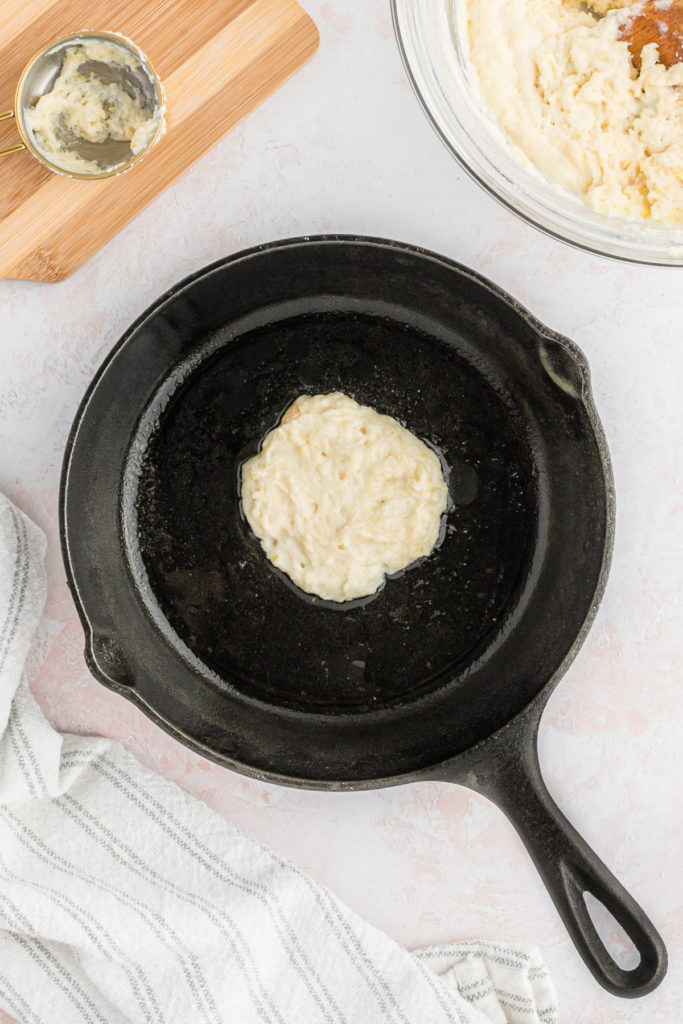 I highly recommend using a mixture of vegetable oil and butter to avoid any burning. Butter just can't handle high heat for prolonged amounts of time. Fry the cakes for a couple minutes on each side, or until the edges are crisp and the center is set.
Hoecakes are best at their warmest and crispiest, but leftovers can be re-warmed in the oven!
TIPS AND TRICKS
Hoecakes are meant to be made in smaller portions, not like large-sized pancakes. About 2 tablespoons of batter at a time should do the trick!
If you don't have buttermilk but you'd prefer to use it, you can make it homemade by mixing 1 cup of milk with 1 tablespoon of white vinegar or lemon juice.
Want to try a savory variety? Mix in some bacon bits and cheddar cheese into the batter! Bits of jalapeño are also a delicious addition.
Like any fried food, there's gonna be some grease on these bad boys. Be sure to drain them on paper towels to remove the excess.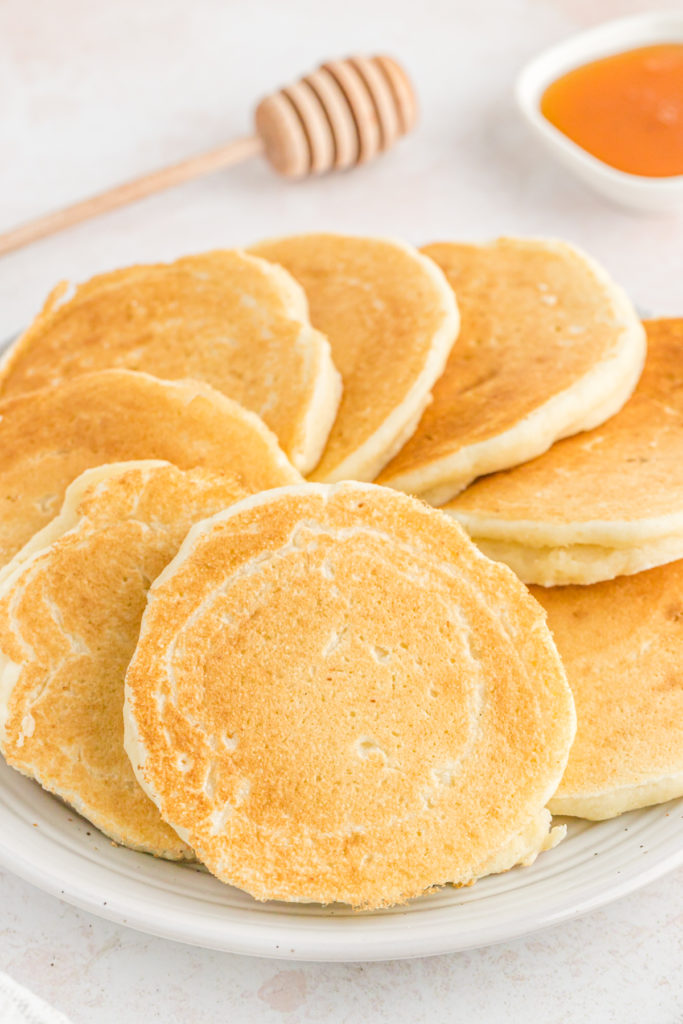 STORAGE
If you have leftover hoe cakes, store them in an airtight container in the fridge for up to 4 days. Otherwise, you can freeze them in a freezer safe, zip top bag for up to 3 months.
When you need to reheat the hoe cake, it's best to place the slices on a baking sheet in a 350-degree oven for five to 10 minutes.
Southern Hoe Cakes
Hoe Cakes are a true Southern delicacy that are basically fried cornbread pancakes that are crisp, tender and delicious.
Ingredients
1/2

cup

self rising cornmeal

use the white cornmeal

1/2

cup

self rising flour

2

tsp

granulated sugar

1/3

cup

buttermilk

1

large egg

beaten

1/3

cup

water

or more if you need

2

tbsp

bacon grease

or you can use butter

butter and oil for frying
Instructions
Mix the cornmeal, flour, and sugar together. Slowly add in the buttermilk and egg.mix together the dry ingredients with a wooden spoon. Add the buttermilk and egg slowly. Finally add in the water and bacon grease. The texture will be like a thicker style soup.

After that, fry up the hoe cakes. Add butter and a little oil so it doesn't burn to a cast iron skillet then in batches add about 1/8 cup of batter to the skillet and flip when the edges are set and bubbled and browned. Drain on paper towels and serve hot.
Notes
I would make sure to add either oil or butter and oil to fry so the butter doesn't burn.
Nutrition