These fried green tomatoes are crunchy, tangy, and impossible to resist. They're the perfect way to use end-of-season tomatoes that don't have time to ripen!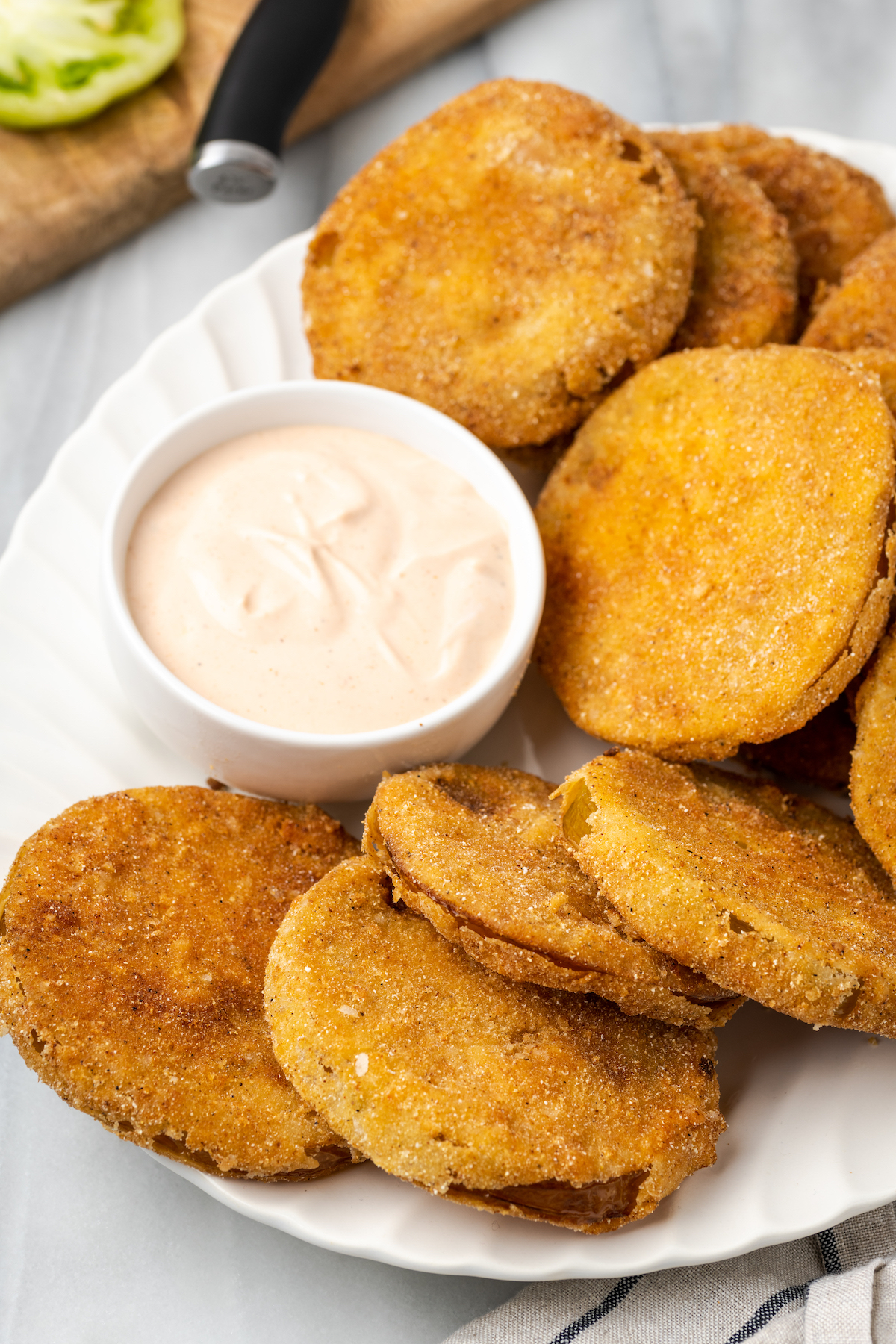 When you think of classic Southern dishes, you probably think about things like buttermilk biscuits, fried chicken, and macaroni and cheese. Or maybe you have a soft spot for fried green tomatoes and they're the first thing that pops into mind. You have to admit, fried green tomatoes are pretty unique to the South!
What Is So Special About Fried Green Tomatoes?
Fried green tomatoes are a staple of Southern cooking and a great way to use up those unripe tomatoes that never make it to the dinner table. The tart flavor of the tomato pairs perfectly with the crispy, crunchy cornmeal batter.
While fried green tomatoes have long been served as an appetizer or side dish, they're so good I could definitely make an entire meal out of them. (Although I definitely recommend adding some comeback sauce too!)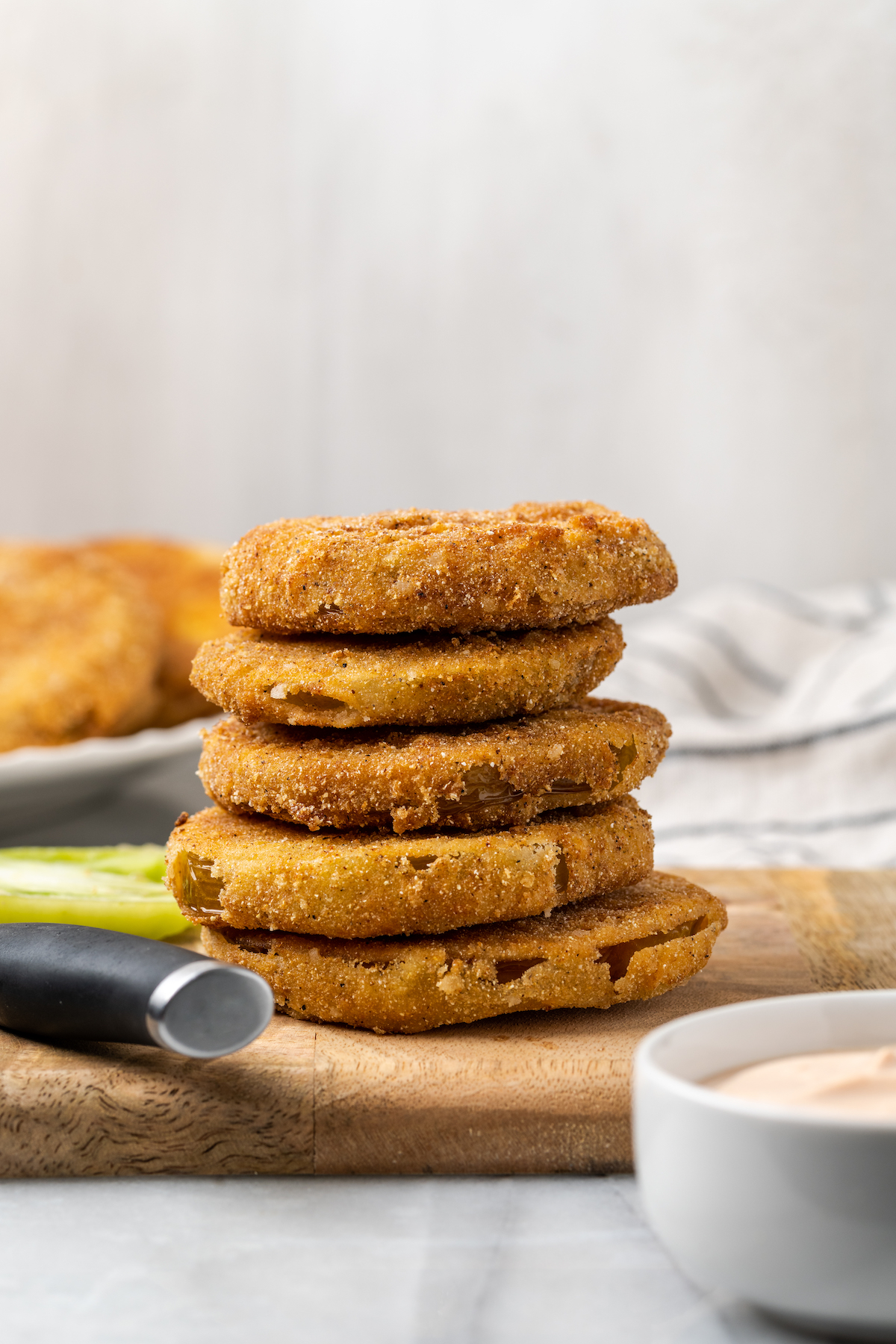 Why You'll Love This Fried Green Tomatoes Recipe
Here's what makes this recipe for fried green tomatoes special:
Vegan. Traditional recipes require eggs and buttermilk for the batter, but this one is totally vegan.
No waste. If you have a garden, you know the feeling of dread you get when the season ends and you've still got heaps of green tomatoes on the vine. Now you don't have to throw them away—use them to make fried green tomatoes!
Simple. Other than the green tomatoes, this recipe relies on kitchen and pantry staples.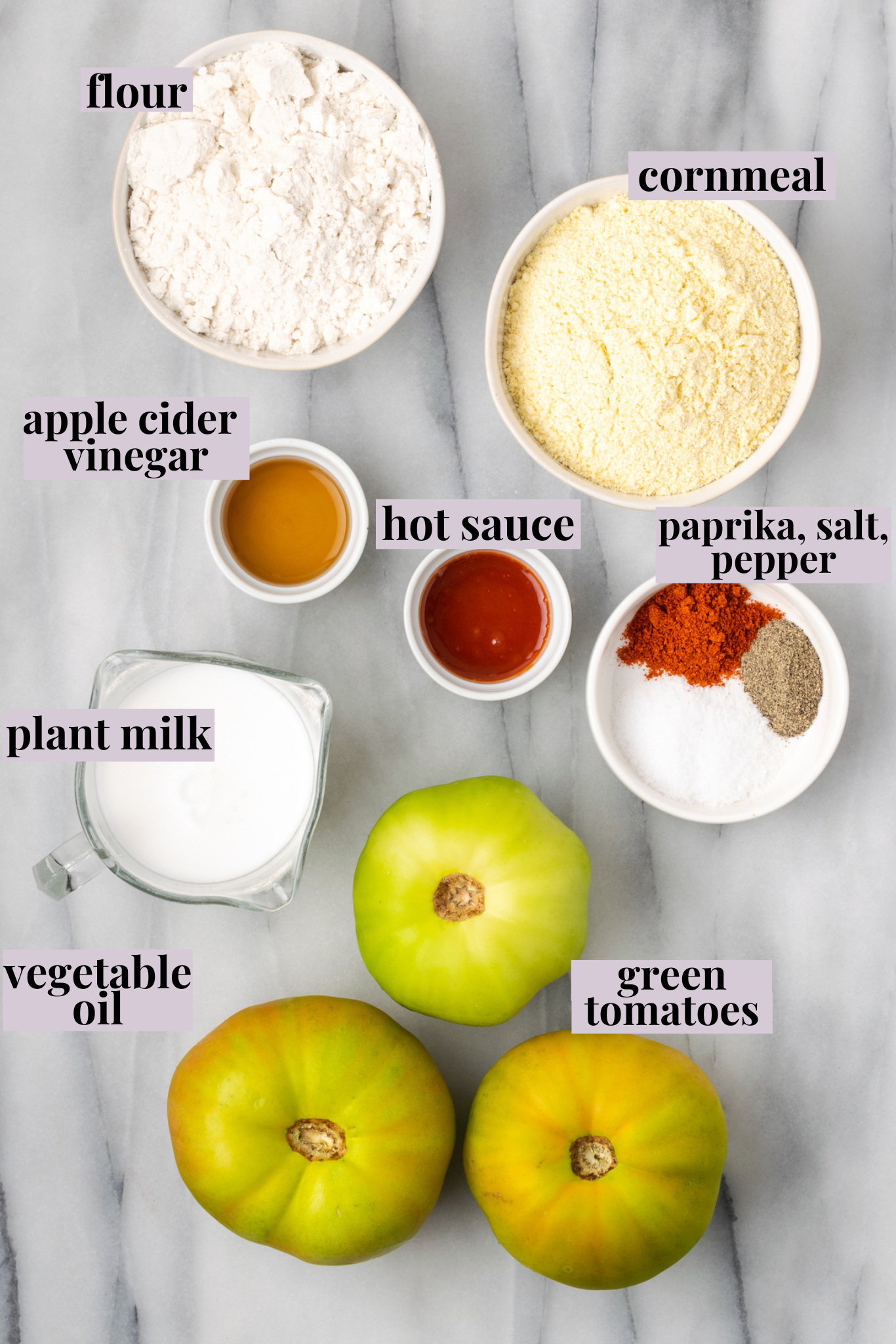 Notes on Ingredients
Scroll down to the recipe card to find the ingredient quantities and recipe instructions.
Green tomatoes – The best source is your own garden (or maybe your neighbor's!), but farmers' markets sometimes sell them too.
Non-dairy milk – Use an unflavoured, unsweetened variety.
Apple cider vinegar – This makes a vegan buttermilk with the non-dairy milk.
Hot sauce
All-purpose flour – Or use gluten-free flour for gluten-free fried green tomatoes.
Cornmeal – For that crunchy coating!
Kosher salt
Paprika
Black pepper
Vegetable oil – Or another oil suitable for frying, like peanut oil.
How to Make Fried Green Tomatoes
Here's what you'll need to do to make fried green tomatoes at home.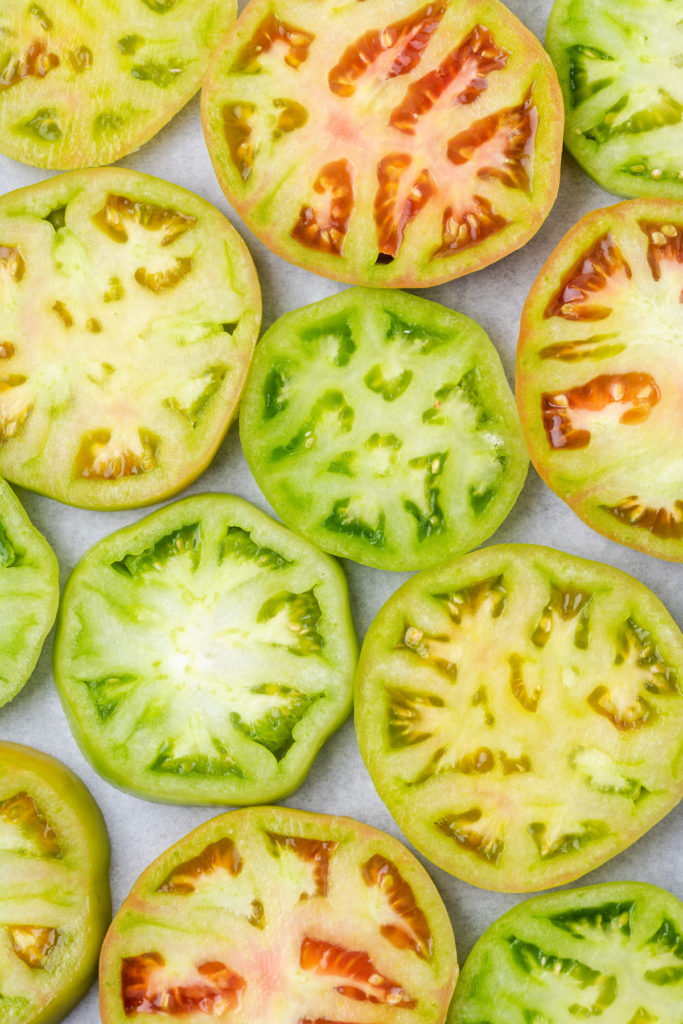 Prepare. Cut the tomatoes into 1/3-inch slices, discarding the ends.
Set up your dredging station. Whisk the milk, vinegar, and hot sauce in a wide, shallow bowl. In a second bowl, add the flour. In a third, whisk together the cornmeal, salt, paprika and black pepper.
Dredge the tomatoes. Coat a tomato slice with flour on both sides, then dip it in the milk and coat it with the cornmeal mixture. Set the finished tomato on a wire rack and repeat with the remaining tomatoes.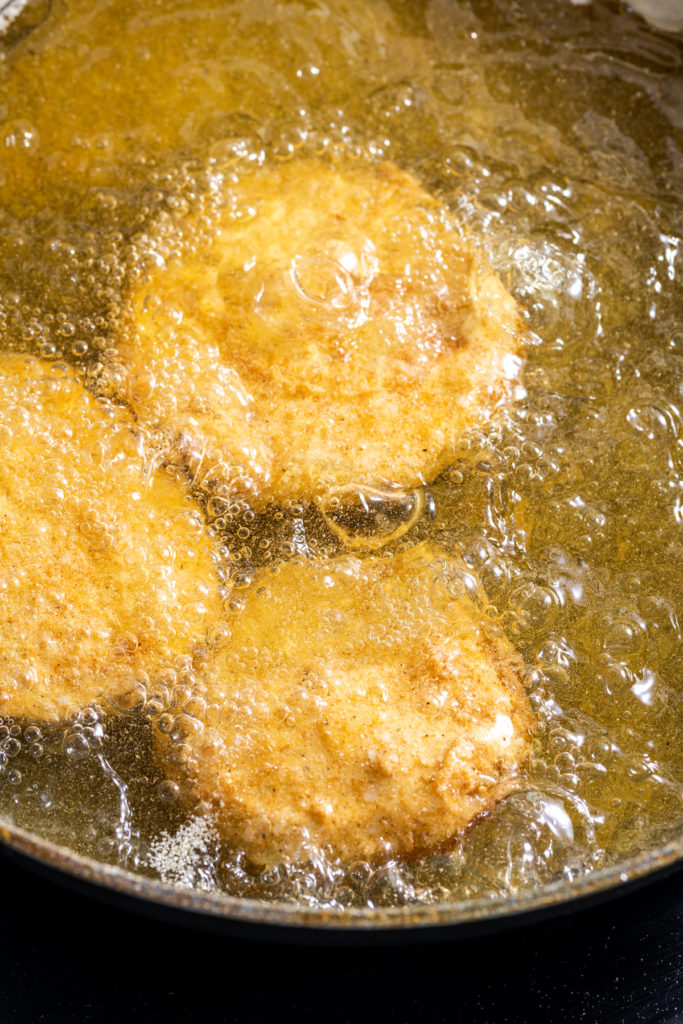 Heat the oil. Add one inch of vegetable oil to a deep skillet or frying pan and heat it to 375ºF.
Fry the tomatoes. Drop 2 to 3 tomato slices in the hot oil. Cook for about 2 to 3 minutes on the first side, or until they are starting to brown. Flip and cook the second side for a minute more, then carefully remove the fried green tomatoes to a wire rack. Repeat until you've fried all of the tomatoes.
Serve. Serve fried green tomatoes warm with comeback sauce for dipping.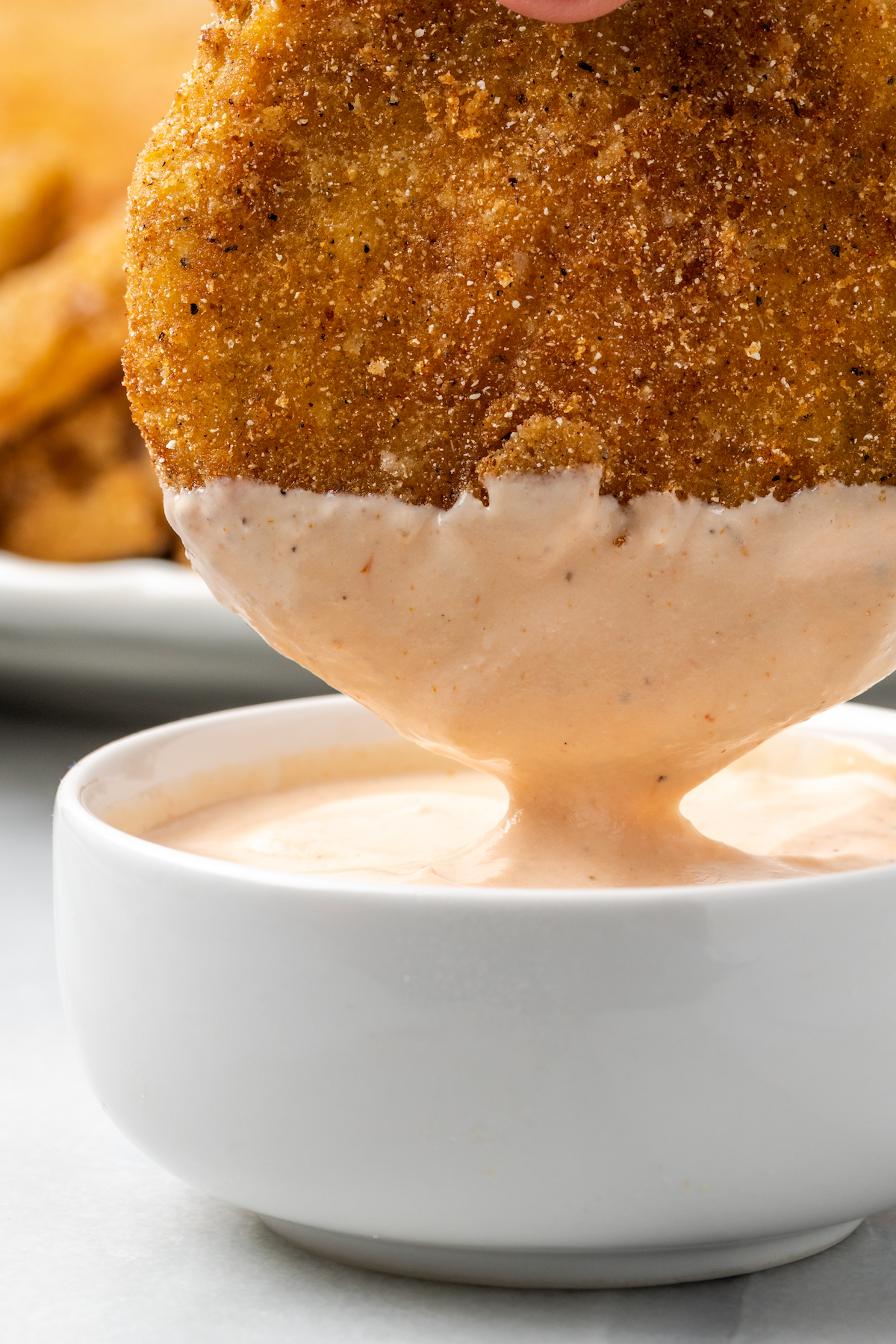 Tips for Success
These simple tips will help you make sure your fried green tomatoes turn out perfect:
Make sure the tomatoes are well-coated. This is key to achieving a crisp, crunchy exterior.
Use a thermometer. This is the best way to monitor the oil temperature! Too hot and the tomatoes will burn, too cool and they won't cook properly.
Don't overcrowd the pan. Too many tomatoes in the same pot can cause them to steam instead of fry, resulting in soggy tomatoes.
Buy the right tomatoes. Make sure to use green, unripened tomatoes, not tomatillos or heirloom tomatoes that are green.
Serving Suggestions
Serve fried green tomatoes with other Southern favorites like vegan collard greens and cheesy rice. To make them into a meal, you can layer them into a sandwich or use them to top burgers!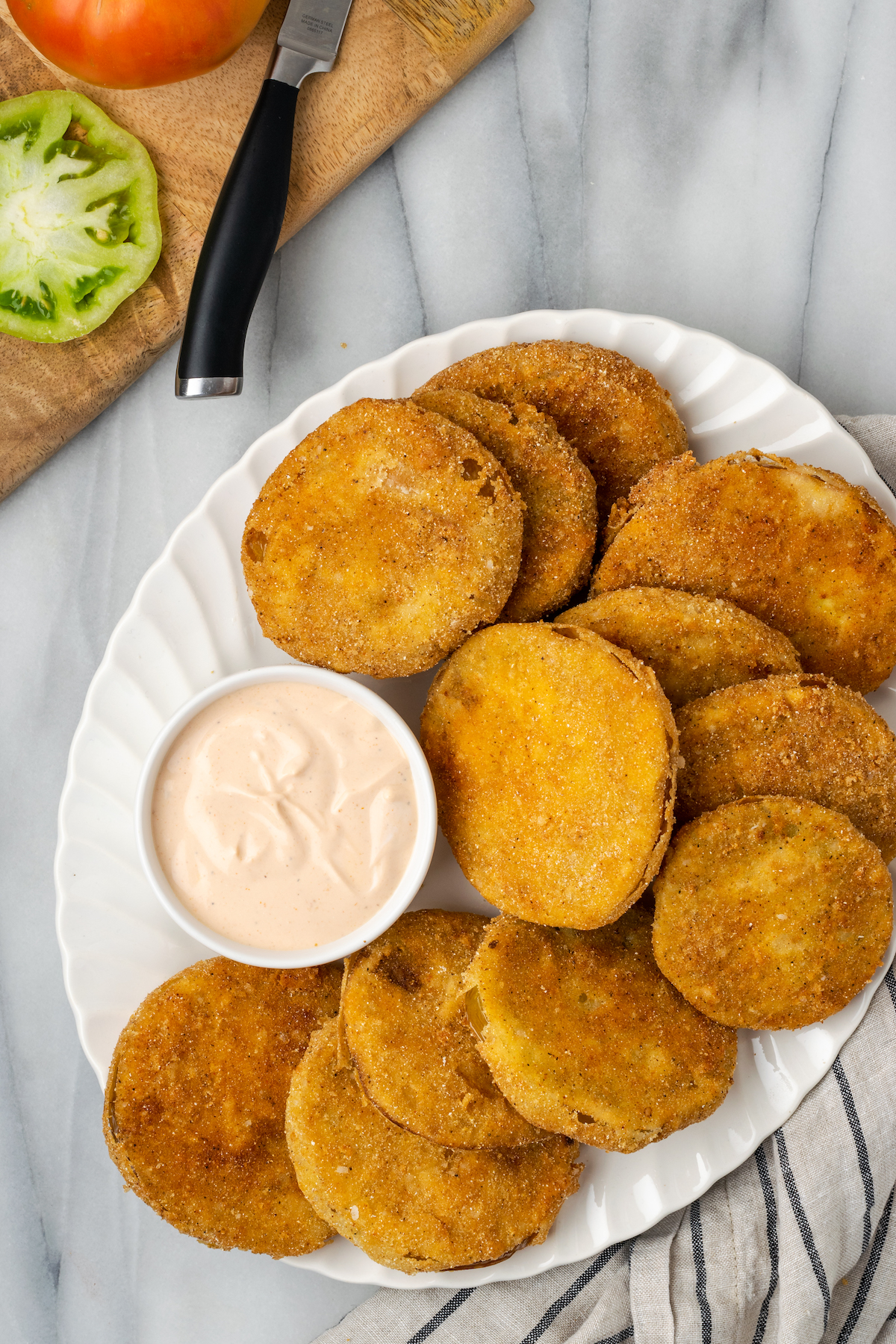 How to Store Leftovers
Store leftover fried green tomatoes in an airtight container in the refrigerator for up to 3 days. To reheat, place them in a single layer on a baking sheet and bake at 375ºF for 8-10 minutes or until heated through.
Can This Recipe Be Frozen?
Yes, this recipe can be frozen. To freeze fried green tomatoes, let them cool completely and then transfer them to a freezer-safe container or bag. Freeze for up to 3 months. When ready to eat, bake them according to the instructions above, adding a few extra minutes to the cooking time to account for them starting out frozen.
FAQ
Why do they fry green tomatoes and not red tomatoes?
Green tomatoes are unripe and have a firmer texture, making them ideal for frying. Red tomatoes are softer and will not hold their shape as well when fried.
Are green tomatoes healthy to eat?
Green tomatoes are healthy and safe to eat. The only exception is if you're particularly sensitive to acidic foods; green tomatoes are a bit more acidic than regular tomatoes, so they can cause stomach aches.
Why are my fried green tomatoes mushy?
If your fried green tomatoes are mushy, it could be because the oil wasn't hot enough when you added them or because there were too many tomatoes cooking in the pan at the same time. Use a thermometer and give your fried green tomatoes ample space and they should turn out crispy every time!
More Vegan Remakes of Classics
Fried Green Tomatoes
Fried green tomatoes are crunchy, tangy, and irresistible. The perfect way to use end-of-season tomatoes that don't have time to ripen!
Ingredients
3

large green tomatoes

818 grams

¾

cup

non-dairy milk

180 ml

2

teaspoons

apple cider vinegar

1 ½

teaspoon

hot sauce

1

cup

all purpose flour

125 grams

1

cup

cornmeal

120 grams

1 ¾

teaspoon

kosher salt

1

teaspoon

paprika

¾

teaspoon

black pepper

Vegetable oil for frying
Instructions
Slice tomatoes about 1⁄3" thick. Discard the top and bottom pieces.

Combine the non-dairy milk, vinegar and hot sauce in a bowl large enough to fit a tomato slice. Whisk together until well mixed.

Add the flour to a second bowl.

In a third bowl, combine the cornmeal, salt, paprika and black pepper. Whisk together to mix.

Set up a dredging station with the tomato slices and the three bowls. First, coat the tomato slice with flour on both sides, then coat it with milk, then coat it well with the cornmeal mixture.

Lay the coated tomatoes on a wire rack to sit while you prepare the remaining slices.

Pour about 1" of vegetable oil into a deep skillet or frying pan. Heat to 375 degrees.

Drop 2-3 breaded tomato slices into the hot oil. Cook for about 2-3 minutes or until they are starting to brown. Flip and cook the second side about 1 minute more.

Use a strainer to remove the tomatoes from the oil and place them on a wire rack to cool. Repeat with the remaining tomato slices.

Serve warm with comeback sauce for dipping (optional)
Notes
To store: Store leftover fried green tomatoes in an airtight container in the refrigerator for up to 3 days. To reheat, place them in a single layer on a baking sheet and bake at 375ºF for 8-10 minutes or until heated through. To freeze: To freeze fried green tomatoes, let them cool completely and then transfer them to a freezer-safe container or bag. Freeze for up to 3 months. When ready to eat, bake them according to the instructions above, adding a few extra minutes to the cooking time to account for them starting out frozen. Vegan comeback sauce recipe:
1/4 cup vegan mayo
1 Tablespoon hot sauce
1 Tablespoon ketchup
1 teaspoon soy sauce
1/2 teaspoon garlic powder
1/4 teaspoon paprika
Nutrition