This delicious scratch Southern style Giblet Gravy recipe is perfect for serving during the holiday season and for Sunday Suppers. Try this or this Brown Gravy for your holiday spread to go along with your turkey and dressing.
Giblet gravy is a fave of my family's during the holiday season. My auntie Rose is a huge fan and can't have her turkey and dressing without it. I'm so excited to share this recipe that can be a perfect compliment to your holiday meal and is filled with tons of flavor.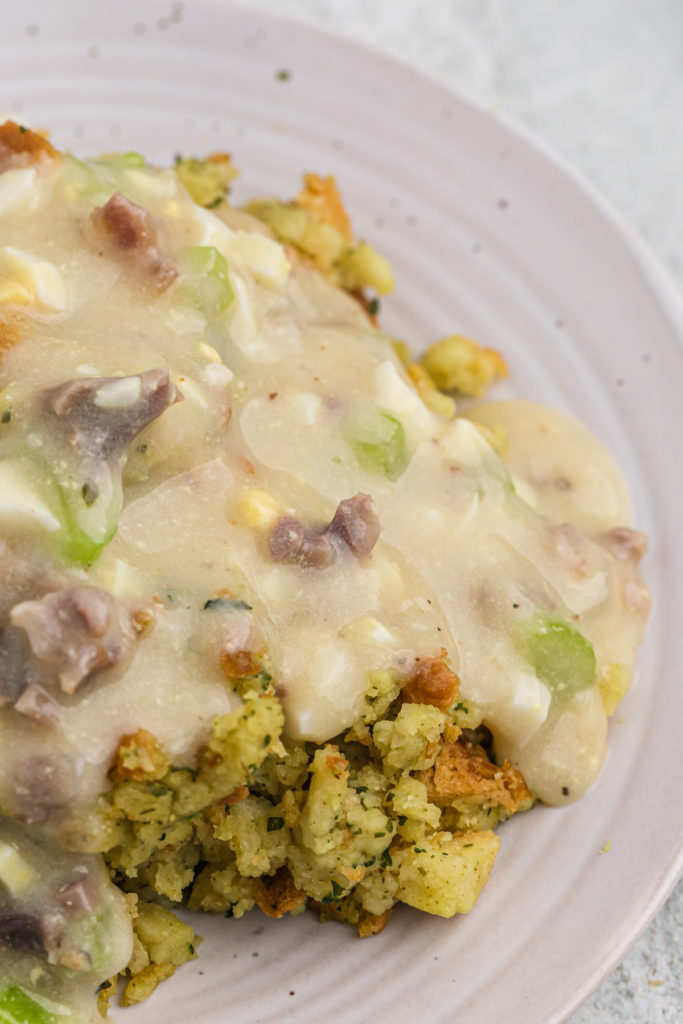 What Is Giblet Gravy?
Giblet gravy is a traditional Southern recipe made with giblets. Giblets are the livers, gizzards, hearts and necks of a chicken, turkey or any other fowl. They can usually be chewy in texture so it is important that the cooking of it is slow and braised to create a wonderful gravy.
While traditional gravy is usually made with roast turkey or chicken, the giblet gravy is prepared with the giblets creating a more intense flavor.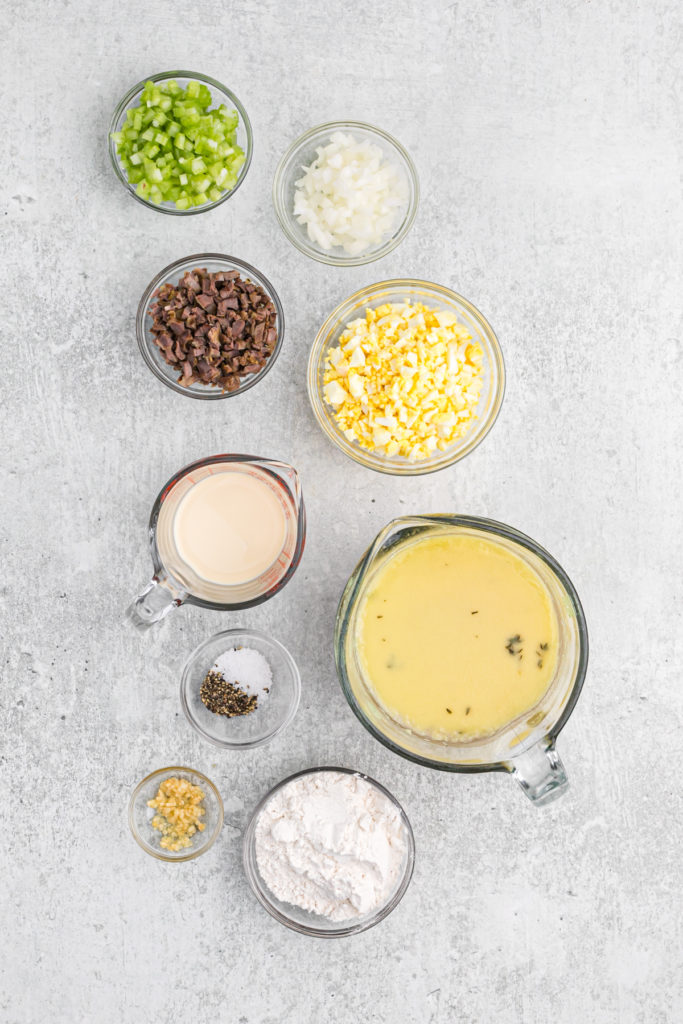 Ingredients
Here are the major ingredients that you need:
Broth or Stock – You can either use this from your turkey that you are creating for the holidays or you can purchase store bought to cut down on the time and add more flavor in other ways since it tends to be a bit blander.
Evaporated Milk- This is a bit lighter than using a half and half or heavy cream but it is still very rich.
Flour – An all purpose flour will help to thicken the gravy texture.
Gizzards – You can grab these in the poultry section of your grocery store.
Celery, Onion and Garlic – These flavor components will really enrich this gravy.
How to Make Giblet Gravy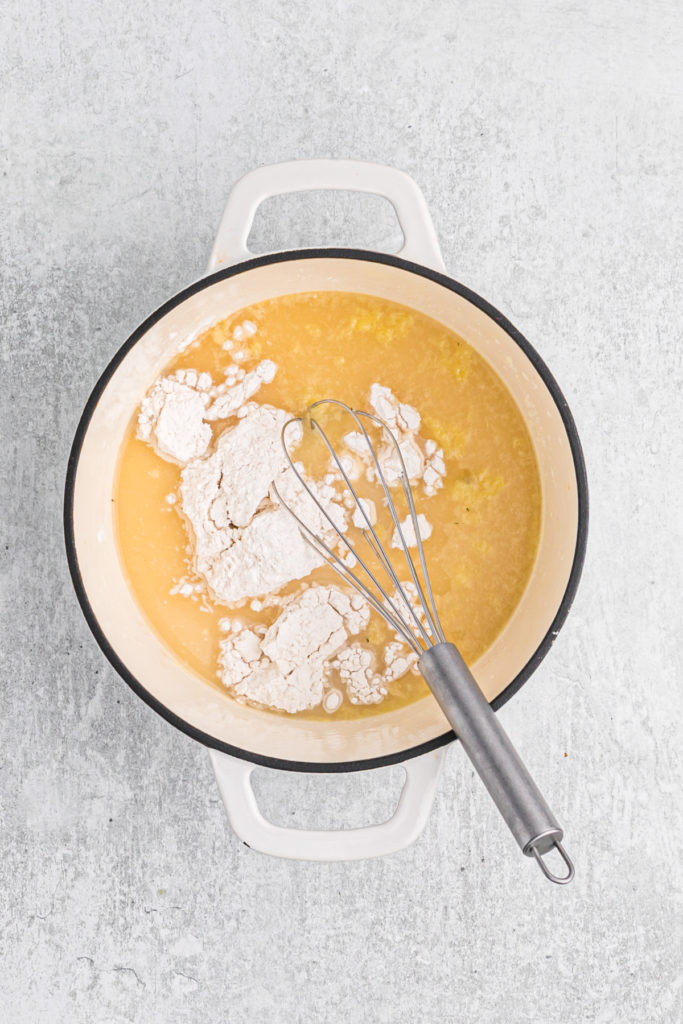 To Begin– We first add the broth, milk and flour to a skillet and cook over medium heat. Whisking will ensure that you have a smooth base for this gravy. We also want to cook out that flour flavor.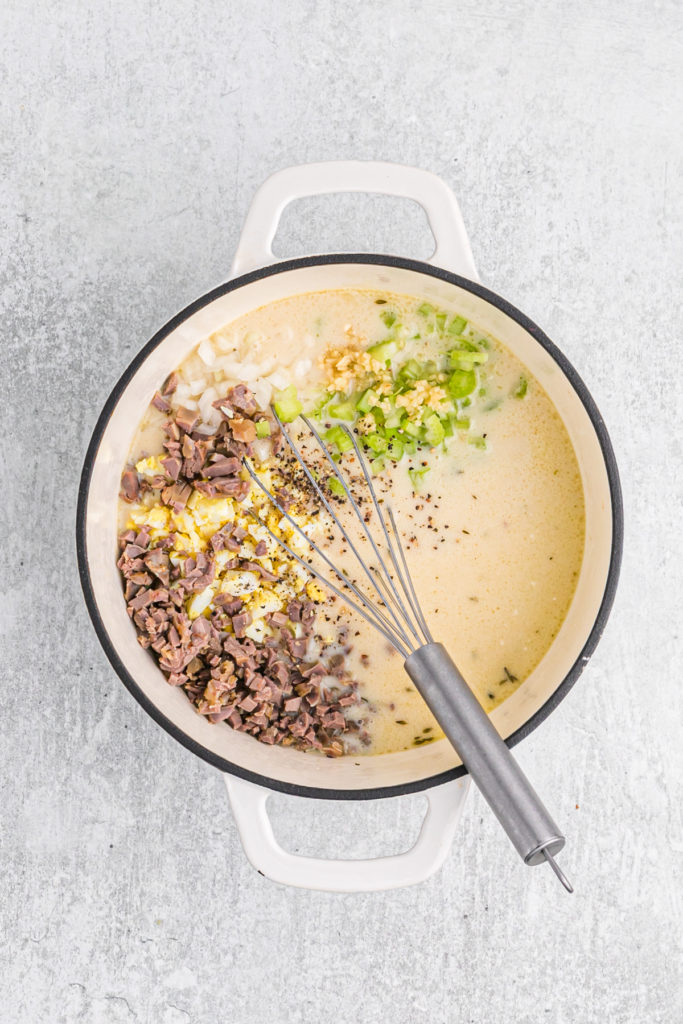 Add Gizzards – This is when we add in the gizzards along with the celery, onion, garlic, eggs and pepper.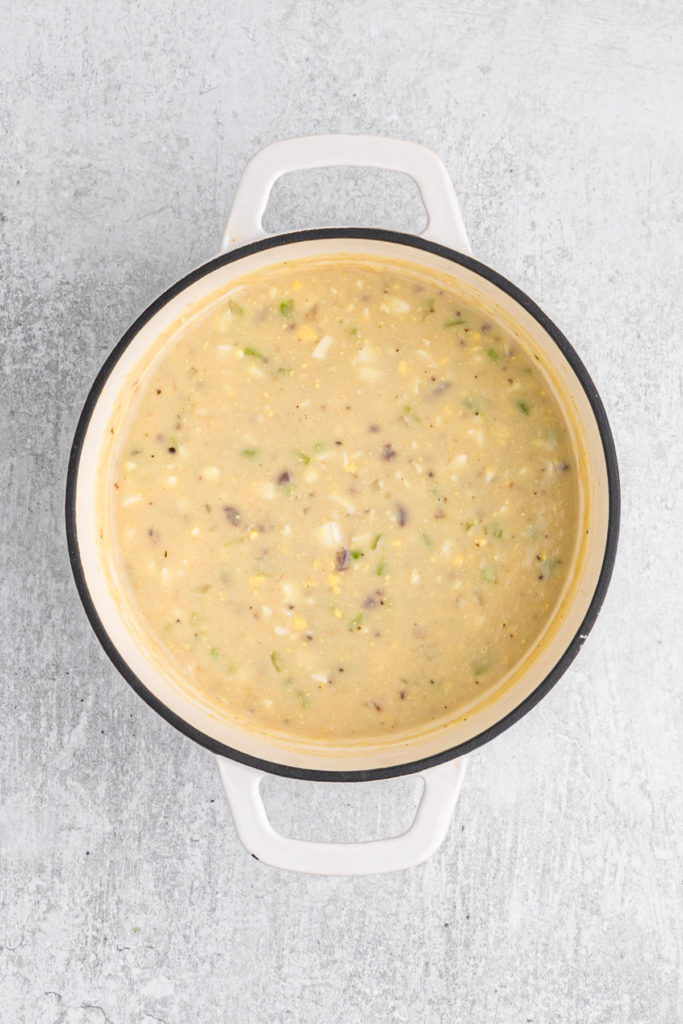 Simmer – We simmer reducing the heat allowing the gravy to thicken and reach a wonderful consistency.
Season – this is when you adjust based on your preference.
How to Serve
Serve this with Thanksgiving turkey, cornbread dressing, or this slow cooker turkey.
Storage and Reheating
You can add any leftover gravy to an airtight container and store in the fridge for up to 5 days.
You can also freeze gravy for about 2-3 months however there will be slight separation.
In order to rewarm anything leftover, add to a pot over low heat and add any additional broth to thin as necessary. Continue to whisk to recreate that smooth texture again.
Giblet Gravy
This delicious scratch Southern style Giblet Gravy recipe is perfect for serving during the holiday season and for Sunday Suppers.
Ingredients
3 1/2

cups

broth

1/2

cup

evaporated milk

1/2

cup

all purpose flour

1/2

cup

finely chopped cooked gizzards

1/2

cup

finely chopped celery

1/4

cup

finely chopped yellow onion

1

tsp

finely chopped garlic

3

hard boiled eggs

peeled and finely chopped

salt and pepper
Instructions
In a large skillet over medium heat, combine the broth, evaporated milk and flour and whisk until thoroughly mixed and smooth. Then continue whisking just until the mixture begins to bubble and the raw flour taste is gone, about 4 minutes.

Add the gizzards, celery, onion, garlic, eggs and 1/2 teaspoon pepper and mix thoroughly.

Bring the mixture back just to a simmer, then turn the heat to low and let simmer for 5 minutes, stirring occasionally, until you have a medium gravy consistency. Taste for seasoning and adjust with salt and pepper if needed.

Set aside off the heat, covered, until it's time to serve.
Notes
Leftover gravy will keep in an airtight container in the fridge for up to 5 days.