This homemade BBQ sauce is sweet, tangy, and as spicy as you want it to be. You'll never want to use store-bought BBQ sauce again!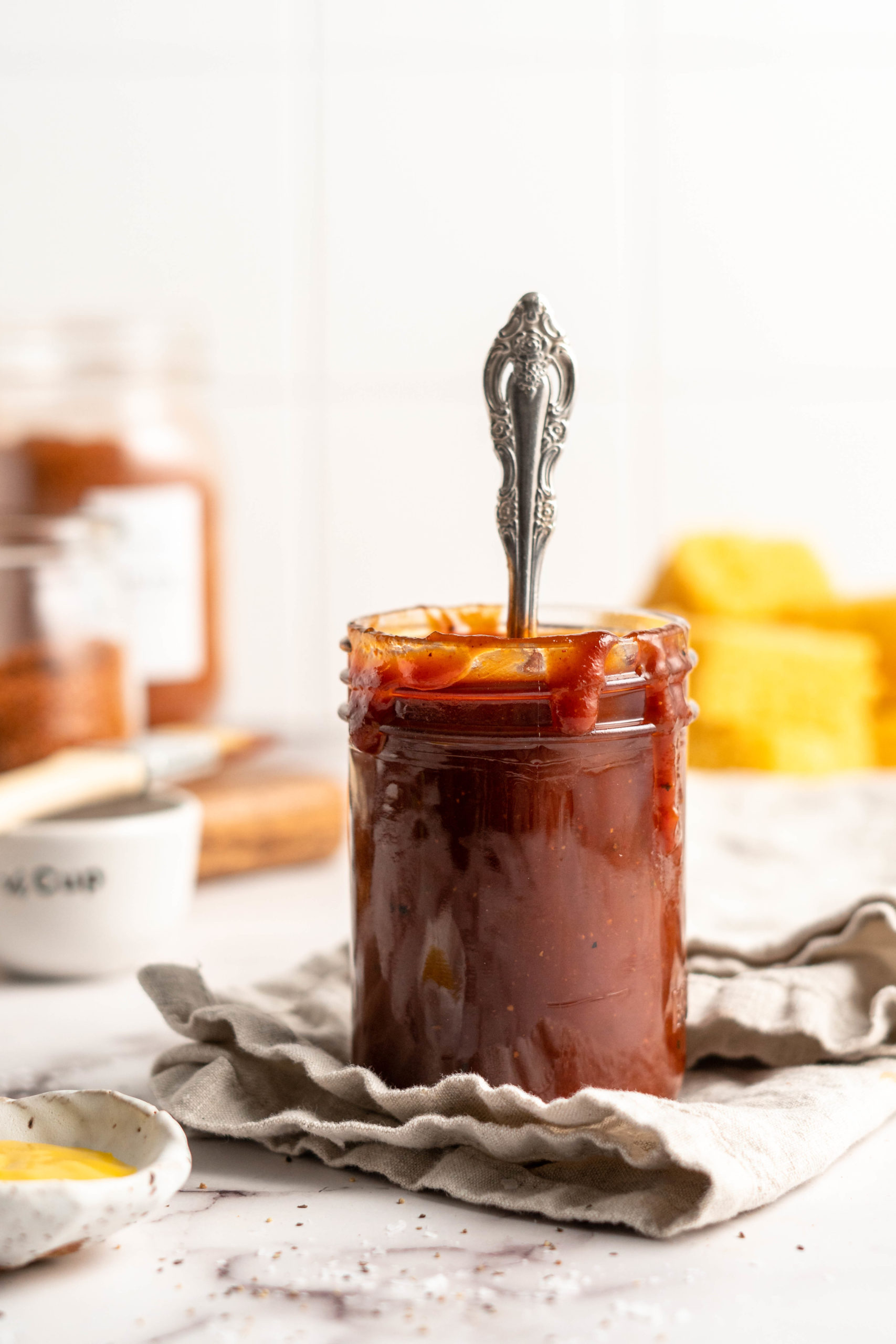 There aren't many sauces as versatile as homemade barbecue sauce. As a vegan, I like to use it to make the best BBQ tofu, tempeh, and beans, but for meat eaters, it goes well with pork, chicken, burgers, and more. Sweet potato fries are even better when dipped in BBQ sauce, and you can pair it with cauliflower to make epic vegan BBQ wings.
Basically, barbecue sauce does it all—so it's important to have a good recipe on hand.
This homemade BBQ sauce recipe is going to be your new go-to. It's easy to make, and it has everything that makes BBQ sauce so irresistible—the sweetness, the tanginess, the deep molasses flavor, and the heat. You can adjust the spice level to your liking, whether that's no heat at all or better-serve-this-with-a-glass-of-ice-water spicy. (I'm from Jamaica, so you know we always go all-in on the hot sauce here!)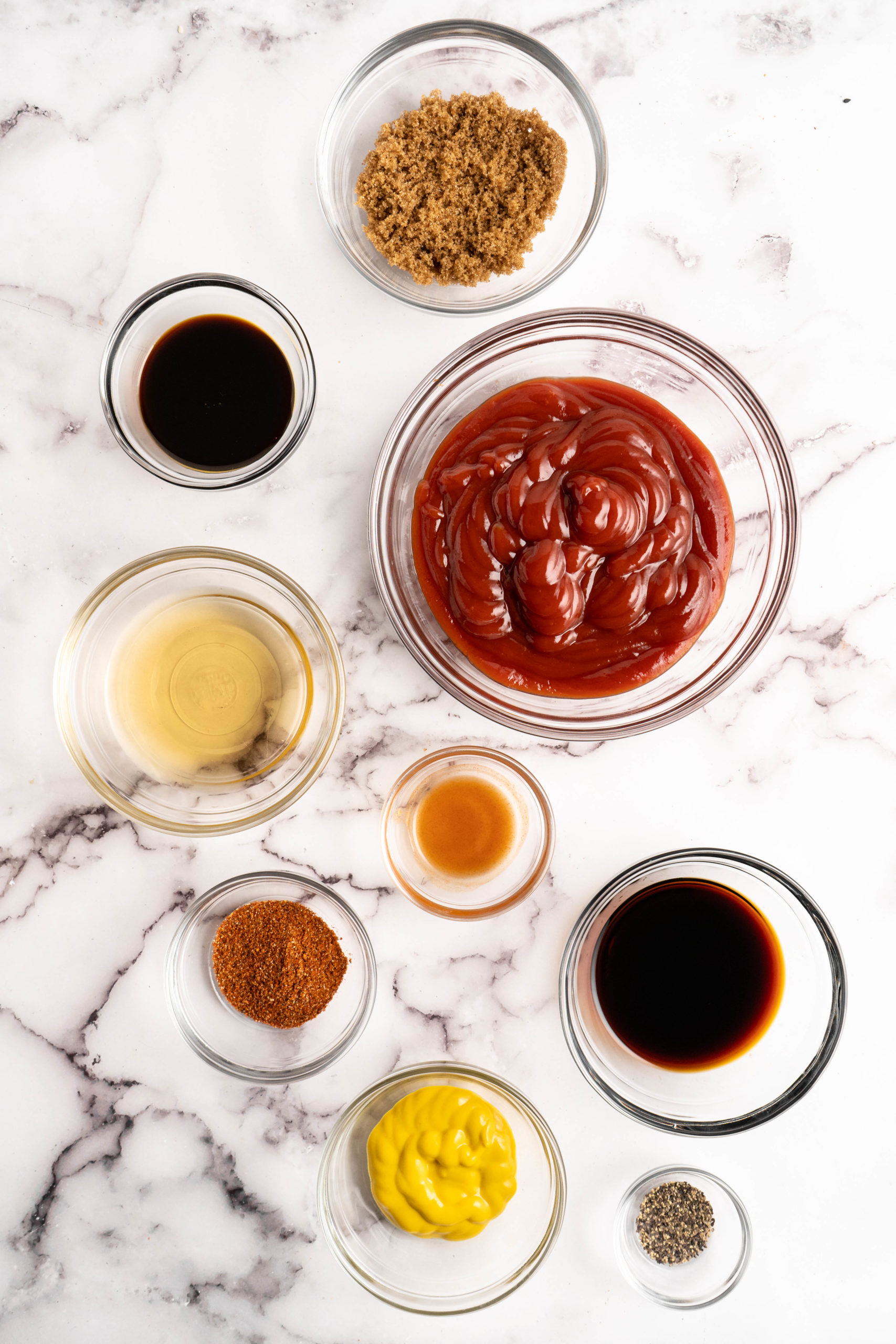 Notes on Ingredients
Please note that this is important information on the ingredients and instructions and the FULL recipe with amounts and details can be found DOWN BELOW (scroll to it) in the recipe card.
Ketchup
Cider vinegar
Vegan Worcestershire sauce – Soy sauce can be used as a substitute.
Brown sugar – I recommend using dark brown sugar, which has a richer flavor.
Molasses
Prepared yellow mustard – Nothing fancy, just your standard yellow mustard is fine.
Magic dust – This is my BBQ spice rub; it adds all the spices you need for homemade BBQ sauce!
Black pepper
Hot sauce – I use Tabasco, but you can use any kind you like or have on hand.
What Kind of Molasses Is Best for Homemade Barbecue Sauce?
You can use any kind of molasses you want to make barbecue sauce—sorghum molasses, blackstrap molasses, light, dark, whatever! They'll all add a slightly different flavor to the recipe, but they work equally well.
How to Make Barbecue Sauce from Scratch
If you don't have it on hand already, you'll need to make my "magic dust" dry rub first. Then, follow the steps below to make BBQ sauce.
Combine the sauce ingredients. Place all of the ingredients in a saucepan set over medium-high heat and stir to combine.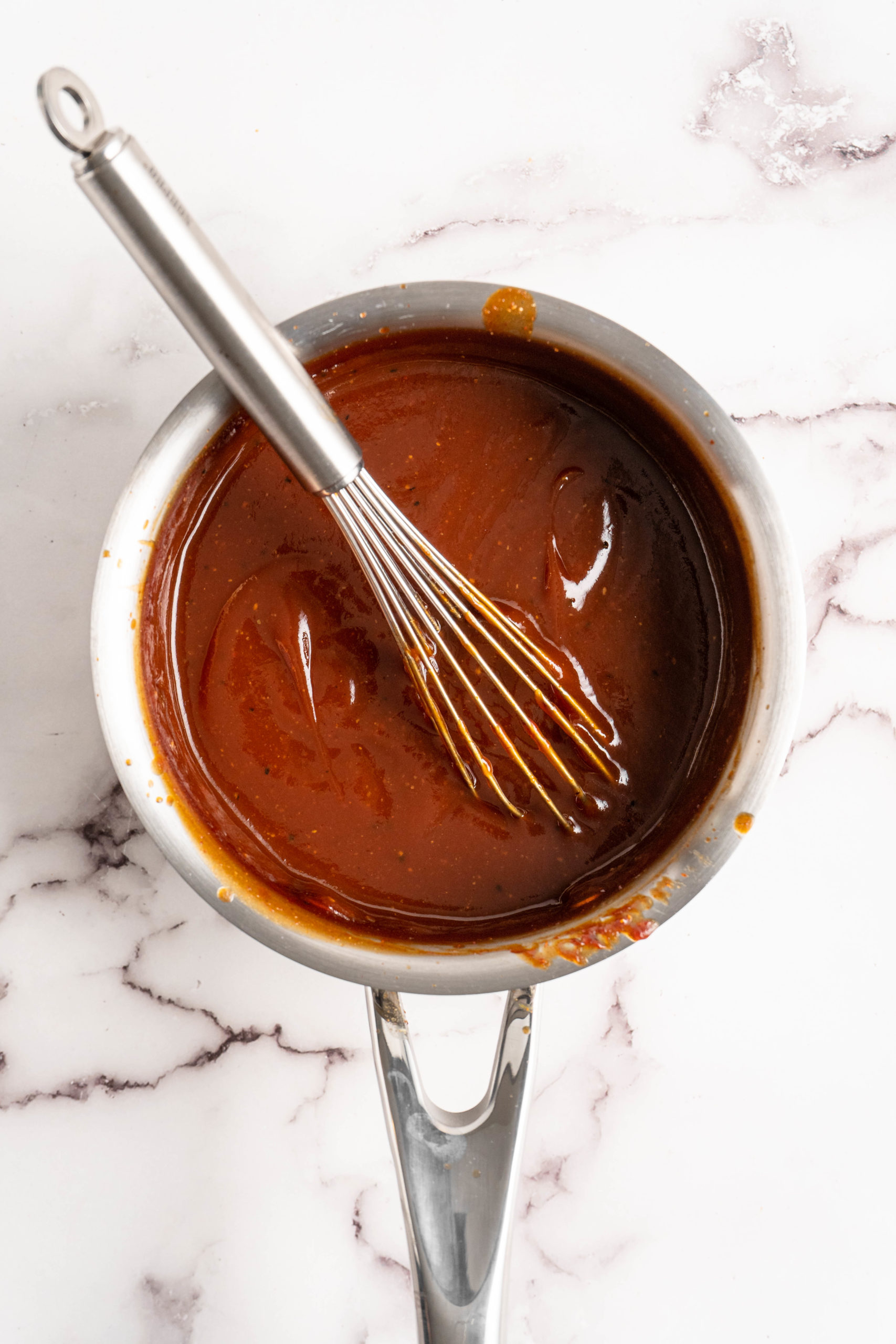 Cook the sauce. Bring the sauce to a boil, then reduce the heat to a simmer. Cook for 15 minutes, stirring occasionally, until the sauce is dark, thick, and the ingredients are incorporated.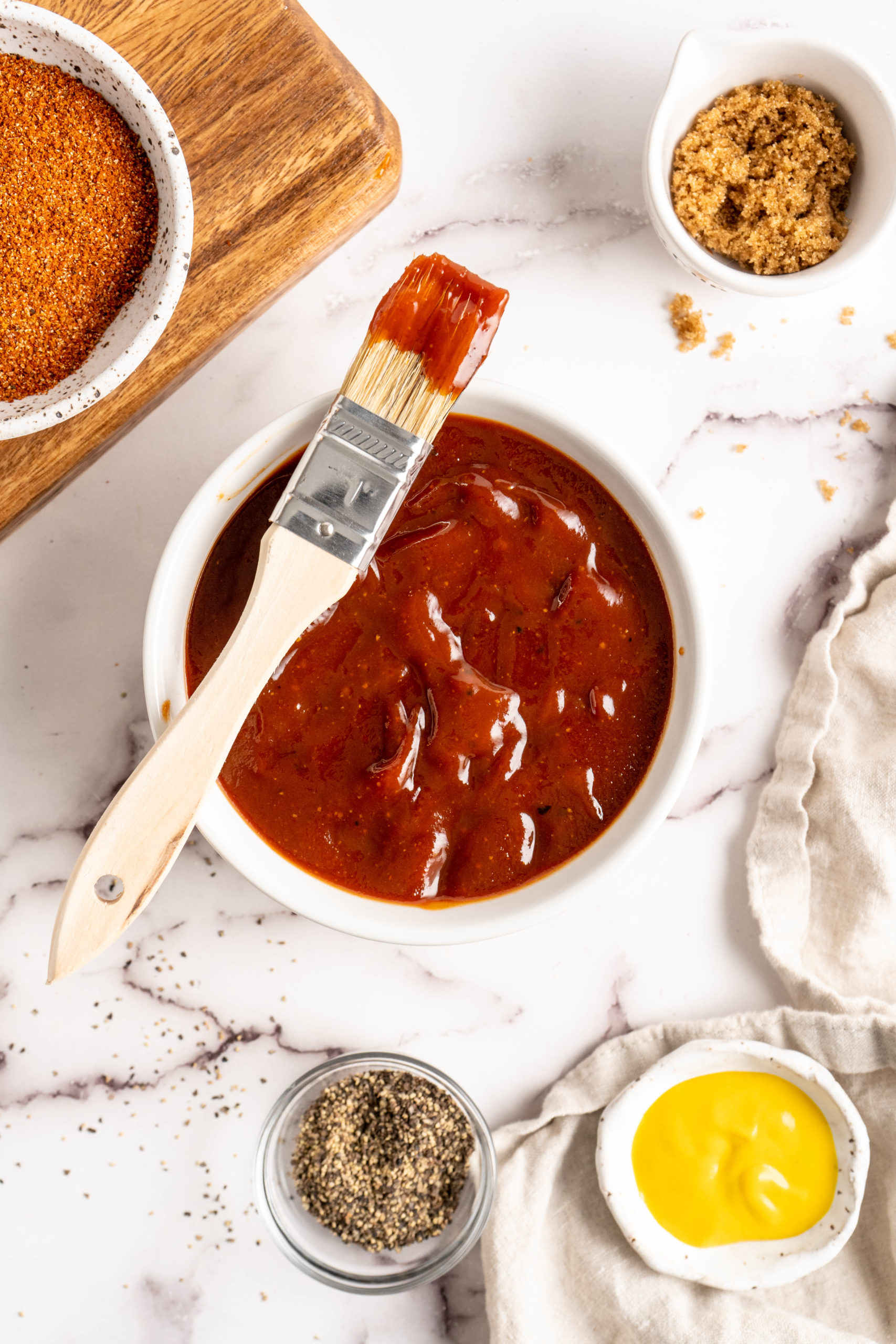 Cool. Remove the saucepan from the heat and let the sauce cool completely. Transfer the sauce to a jar or container with an airtight lid.
Tips for Success
This barbecue sauce recipe is an easy one, but here are a few hints and tips that will help make it even easier.
Use a large saucepan. When the sauce mixture comes to a boil, it has the potential to spatter, but a large saucepan will help keep the sauce in the pot.
Adding the hot sauce. If you're not sure how much hot sauce you want to add, you can use a small amount at the beginning of the recipe, then taste the BBQ sauce when it's done and add more if needed.
Jarring the sauce. Make your life a little bit easier by using a funnel when transferring the sauce from the pot to the jar.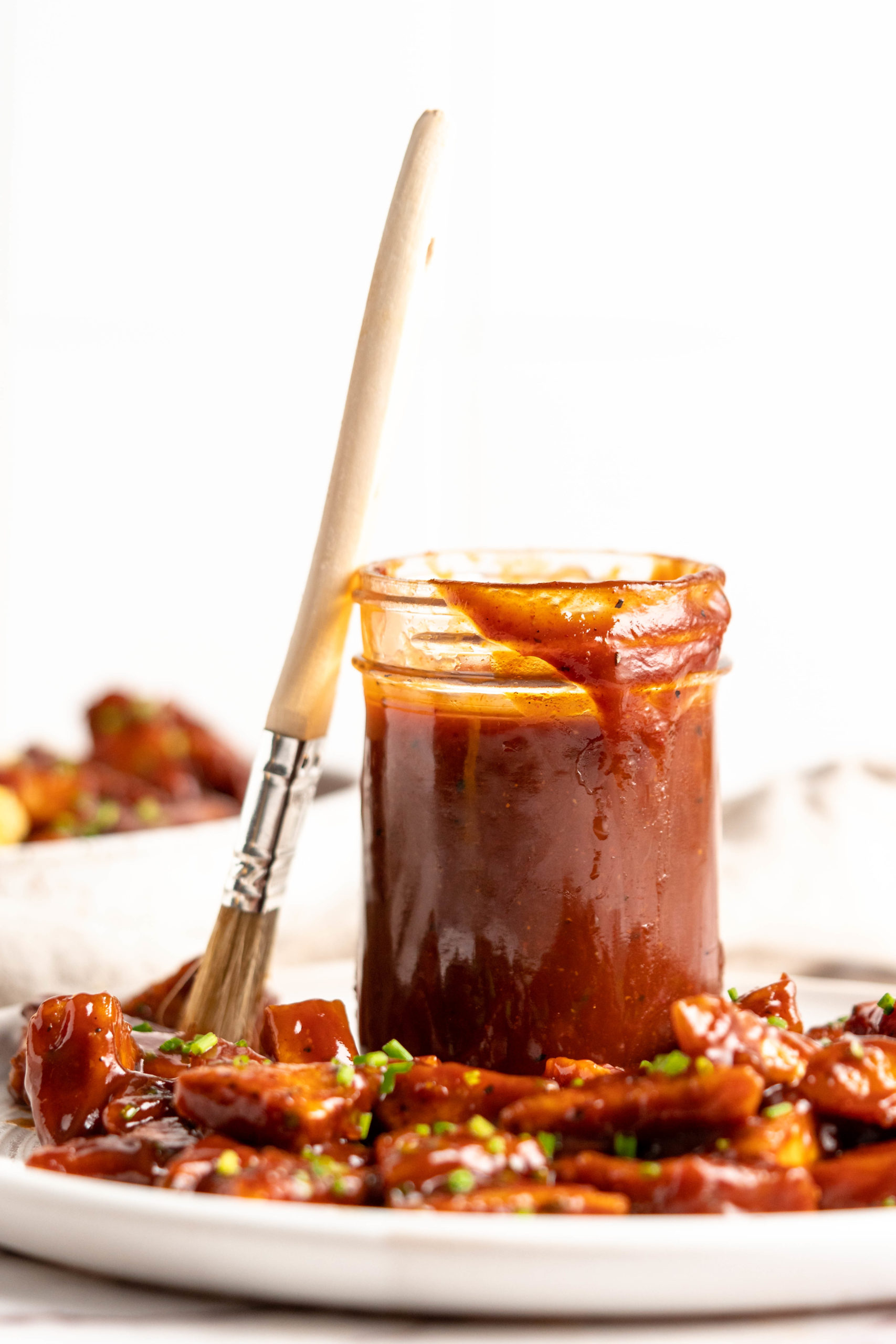 How to Store Homemade BBQ Sauce
Homemade barbecue sauce will last for up to 2 weeks in the refrigerator when stored in a jar or airtight container.
Can You Freeze It?
Yes, homemade barbecue sauce freezes beautifully! Store it in a freezer bag, pressing out any air, and freeze it flat for up to 3 months. When you're ready to use it, you can submerge the freezer bag in a bowl of hot water until the sauce thaws.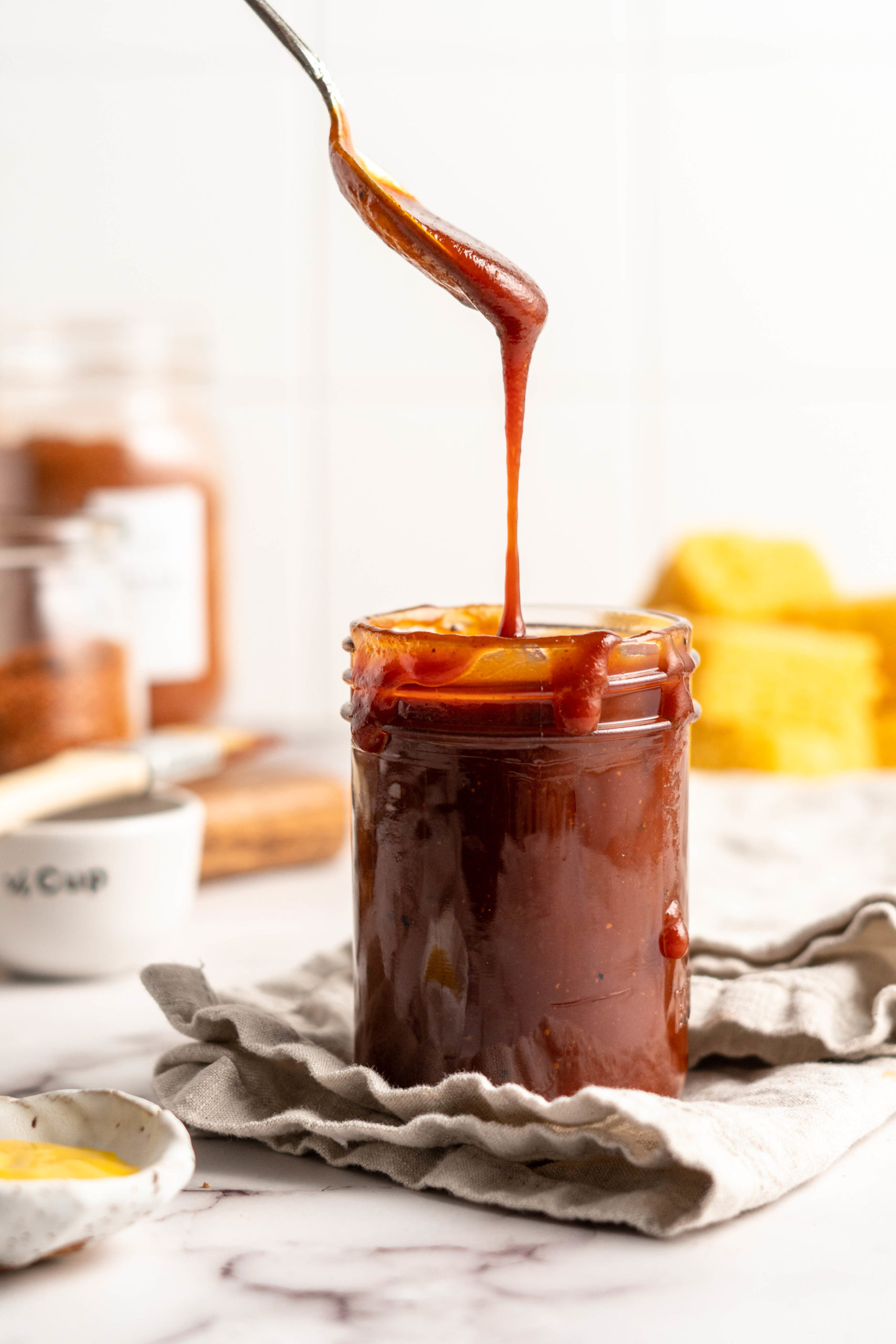 What Goes Well With BBQ Sauce?
Here are some ways to use your homemade barbecue sauce:
Homemade BBQ Sauce
This homemade BBQ sauce is sweet, tangy, and as spicy as you want it to be. You'll never want to use store-bought BBQ sauce again!
Ingredients
Magic Dust aka Dry Rub (you will only need 1 tablespoon of this):
½

cup

paprika

¼

cup

kosher salt

¼

cup

brown sugar

or coconut sugar or any type

2

tablespoons

mustard powder

¼

cup

chili powder

¼

cup

ground cumin

2

tablespoons

ground black pepper

¼

cup

granulated garlic

2

tablespoons

cayenne powder or less to taste
Barbecue Sauce:
2

cups

ketchup

¼

cup

cider vinegar

¼

cup

vegan Worcestershire sauce

or soy sauce

¼

cup

firmly packed brown sugar

2

tablespoons

molasses

2

tablespoons

prepared yellow mustard

1

tablespoon

magic dust

½

teaspoon

black pepper

Hot sauce such as Tabasco to taste
Instructions
Make the magic dust first (by combining all of the ingredients in a container then shaking to combine them). You will only need 1 tablespoon of it.

For the barbecue sauce, mix all of the ingredients together (including a tablespoon of magic dust) in a pot over medium high heat and bringing to a boil. Reduce to a simmer for 15 minutes, stirring until sauce is dark and ingredients incorporated. Remove from heat.

Allow to cool and store in a jar with an airtight lid, and use accordingly. Enjoy!
Nutrition