These creamy Southern Style Smoked Gouda Grits taste like brunch after Sunday service. They take about 20 minutes to prepare and have just a handful of ingredients. These are typically paired with an egg and meat like my crispy air fried bacon for breakfast, or as part of a shrimp and grits dinner.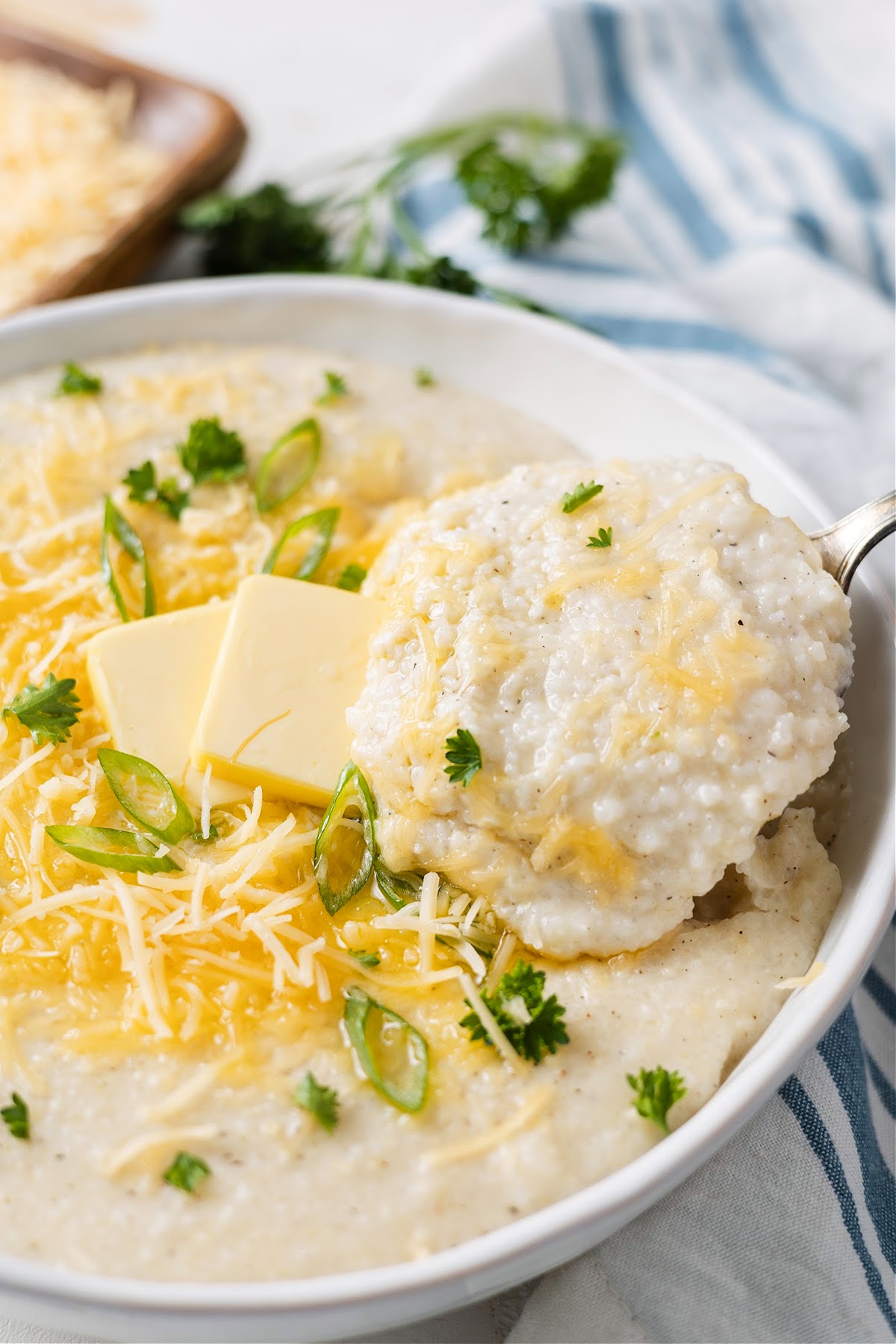 What are grits and why do Black people eat them?
Grits are a grain made from grinding corn. They don't taste like much on their own.
Even though grits and corn have Native American roots, grits became a staple in African American kitchens because they're not only cheap and fulfilling, but also versatile.
For example, they can be used in place of flour, turned into porridge and elevated with meats and seafood.
Grits, among other things, are reflection of our ability to create something great even when we have just a few resources.
Why Make This
Grits cooked by Black folk: if you're looking to learn how to make grits the way Black people make them, then this recipe is one way. You'll also find other delicious grits recipes across the site.
Easy, versatile and delicious: in its most basic form, a bowl of grits is both comforting and delicious! But, they are also easy to make and they can be scaled up with meats, seafood, and gravies to be part of fine dining dishes.
Ingredients Needed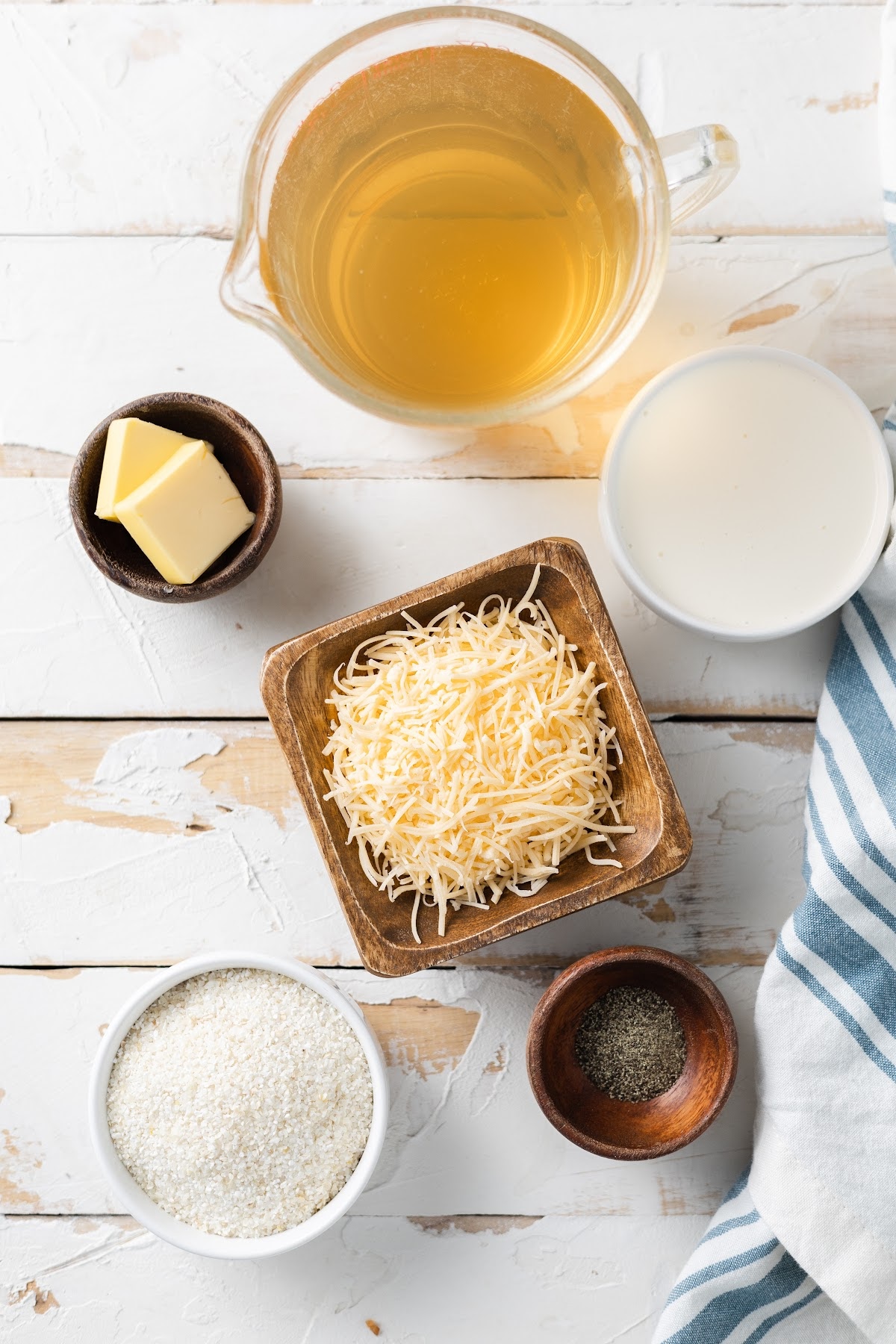 Quick Grits: one way to keep this recipe quick and easy is to use 5-minute grits.
Chicken Broth: this adds flavor to the grits while they cook. I personally prefer to make my own broth by mixing warm water with a concentrated chicken broth paste. Concentrated broth paste. includes flavors like garlic so it allows to me also add flavor to these grits with a few ingredients.
Heavy Cream: for the ultimate thick and creamy grits, use cream. But, you can also substitute full-fat milk or half and half.
Cheese: Cheddar Cheese is the most popular way to make grits. But, I'm using smoked gouda cheese to make smoked gouda grits.
Butter: I'm using unsalted butter, which allows me to salt to my preference.
Salt and Pepper: I use sea salt and black pepper. But, you can save this until the end and use to your preference.
How to Make Creamy Smoked Gouda Grits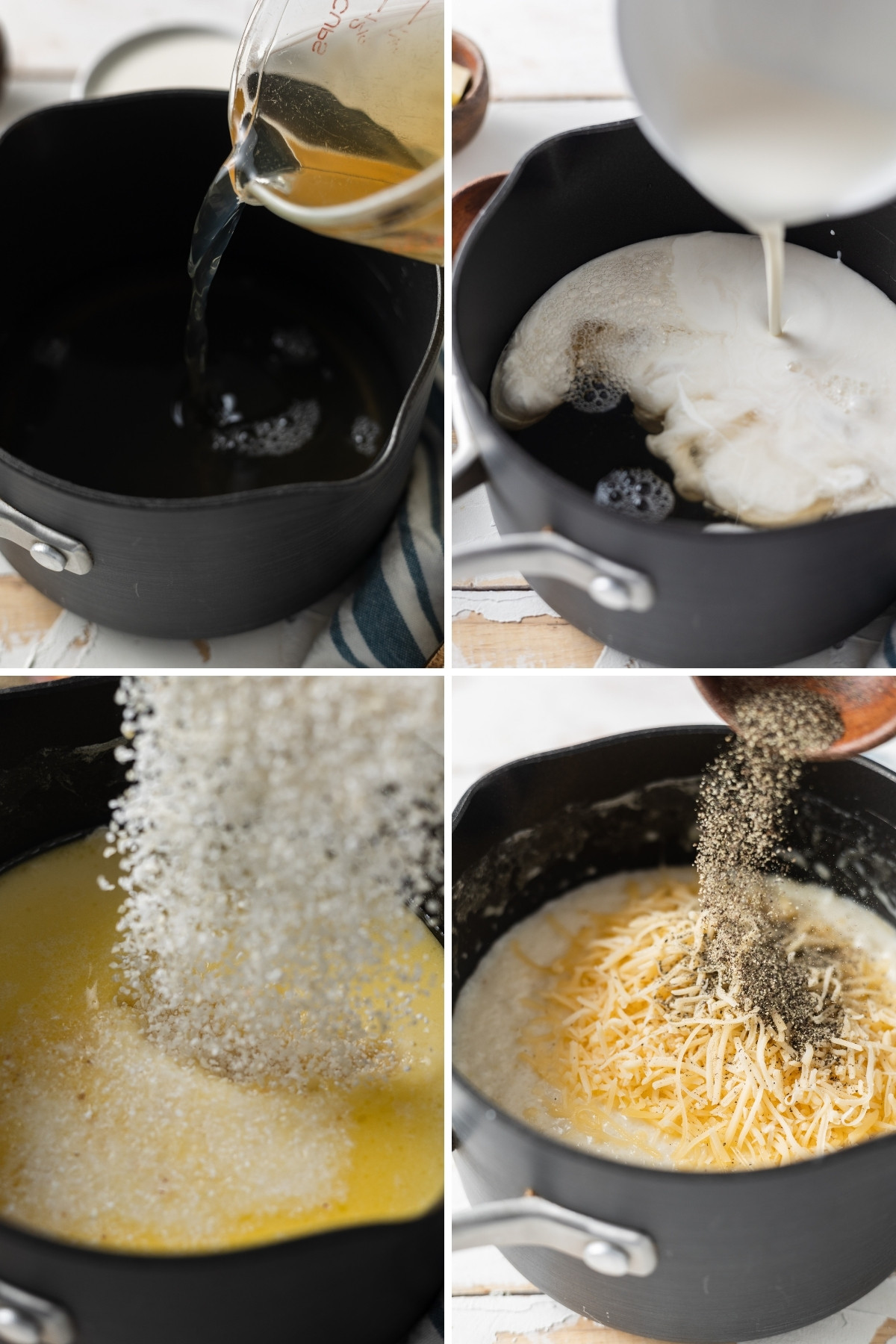 Add broth, butter, and cream to a saucepan on medium-high heat.
Bring the mixture to a boil and sprinkle on the grits.
Turn the heat to medium-low and stir.
Add cheese and continue to cook on low until the cheese is melted.
Top Cooking Tips & FAQs
Serve grits immediately: grits are meant to be served creamy. When they sit, the texture changes and they can become thick and lumpy. So, it's best to serve them immediately. You can try to save grits that sit by adding a bit more liquid when you're ready to serve them.
Be creative with the cheese: even though cheddar cheese grits is most popular, smoked gouda cheese grits are also great.
Recipes to Enjoy this with
Smoked Gouda Grits
A Southern Style Smoked Gouda Grits recipe that tastes like brunch after Sunday service. Takes about 15 minutes to prepare & uses just a few ingredients.
Ingredients
2

cups

Chicken broth

low-sodium

½

cup

Heavy Cream

2

tbsp

Butter

Unsalted

1/2

cup

Grits

Quick, 5-minute

1/2

cup

Smoked Gouda Cheese

finely shredded (this often comes as a block or wedge and would need to be shredded first)

½

tsp

Black pepper
Instructions
Add chicken broth, heavy cream, and butter to a saucepan over medium-high heat.

Bring the liquids to a boil

Sprinkle the grits over the boiling liquid

Turn the heat to medium-low

Stir occasionally and cook for 3 minutes

Stir in the cheese and black pepper. Continue to cook the grits until the cheese is melted about 2-3 minutes.

Top with black pepper and garnishes. Serve immediately.