I'm sharing a fantastic collection of Jamaican patties recipes that will give you soul-satisfying goodness. With so many to choose from—meaty or vegan, sweet, spicy, and savory—these buttery and flaky pastry pockets filled with exquisite fillings are highly addicting. They will surely fly off the table before you know it. Don't say I didn't warn ya! 😉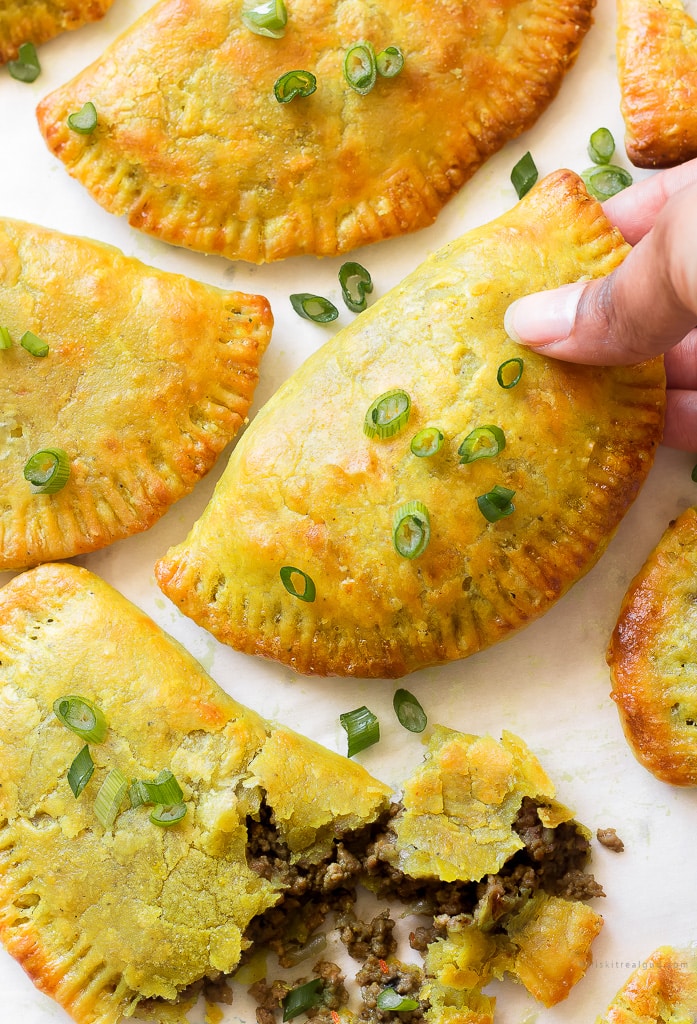 Jamaican beef patties have always been my favorite "potluck" buddy. And no one complains because these babies truly exist to impress everyone with their deliciousness. So, whenever I want to make someone happy, these patties make it happen. They've never failed me yet. I even won the hearts of my in-laws with this yummy pastry. A-huh!
And the best part is that you can customize the filling according to your liking. Making these patties is also not as complicated as you may think. Everything will be a breeze if you have a food processor or a blender. But, of course, you can still make it without a food processor. Just mix everything in a bowl, and you'll be okay with a little bit of elbow grease. 😉
What are Jamaican Patties?
Jamaican patties are baked pastry pockets similar to handheld pies, turnovers, and empanadas. What differentiates them from other baked pastries is their distinct bright yellow color from the turmeric powder and egg wash. And instead of butter, lard or shortening makes it oh so melt-in-your-mouth.
They also have an incredibly flaky and crispy exterior with savory fillings, often spicy, made with highly seasoned ground beef or chicken. Paprika, cumin, and curry give them their authentic Jamaican flavors.
What Goes in Jamaican Patties?
The truth is, there's really nothing special about this recipe because it's made with simple pantry staples. Yet it delivers an incredibly tasty handheld snack loved by people from different parts of the world.
You only need a good pastry dough recipe, and you can quickly fill it with your preferred fillings.
Crust
All-Purpose Flour – This flour is ideal for a tender crust. Use your favorite gluten-free all-purpose flour mix if you want a gluten-free version.
Shortening – Although butter gives a richer flavor, lard yields a flakier dough. Good fat also helps keep the dough soft while retaining its shape even after baking.
Seasoning – Aside from flavor, turmeric or curry powder is added to the dough to add an iconic yellow hue to our Jamaican patties.
Filling
Meat – Chicken, pork, beef, turkey, or other ground meat is excellent in these patties. Saute it with garlic, onion, and your favorite herbs, spices, and seasonings, and you're all set to enjoy perfect comfort food. Make it spicy, sweet, savory, whatever pleases you. 😉
Sweet – You can also fill these pies with fruits to quickly turn them into a dessert. I topped fruit-filled pies with chocolate and melted marshmallows, and they were super! Maybe I'll try it with caramel next time. Oh yes!
Tips and Tricks
You can use an empanada maker to make these patties in uniform shapes and sizes. It'll save you a lot of time sealing the edges, too.
Add the water gradually to get the right consistency for the dough. It should be pliable, not too dry, and not too sticky.
Aside from being baked, you can also enjoy these patties deep-fried, especially if you don't want the oven heating the house up.
Just put enough filling so you can seal it, and it doesn't burst while baking or frying.
Don't forget to rest and refrigerate your dough because keeping the dough cold ensures flakiness.
Fabulous Jamaican Patty Recipes
Jamaican Beef Patties
Thin, flaky, and buttery yellow crust with a mighty seasoned beef filling. Make a big batch because these Jamaican beef patties will disappear fast!
Check out this recipe
Authentic Vegan Jamaican Beef Patty
This authentic vegan Jamaican beef patty recipe has an amazingly flaky crust with a perfectly seasoned vegan meat mixture.
Check out this recipe
Authentic Jamaican Beef Patties
These Authentic Jamaican Beef Patties wraps an incredibly flavorful rich and savory curry spice filled beef potato filling in the most flaky buttery pocket of pastry.
Check out this recipe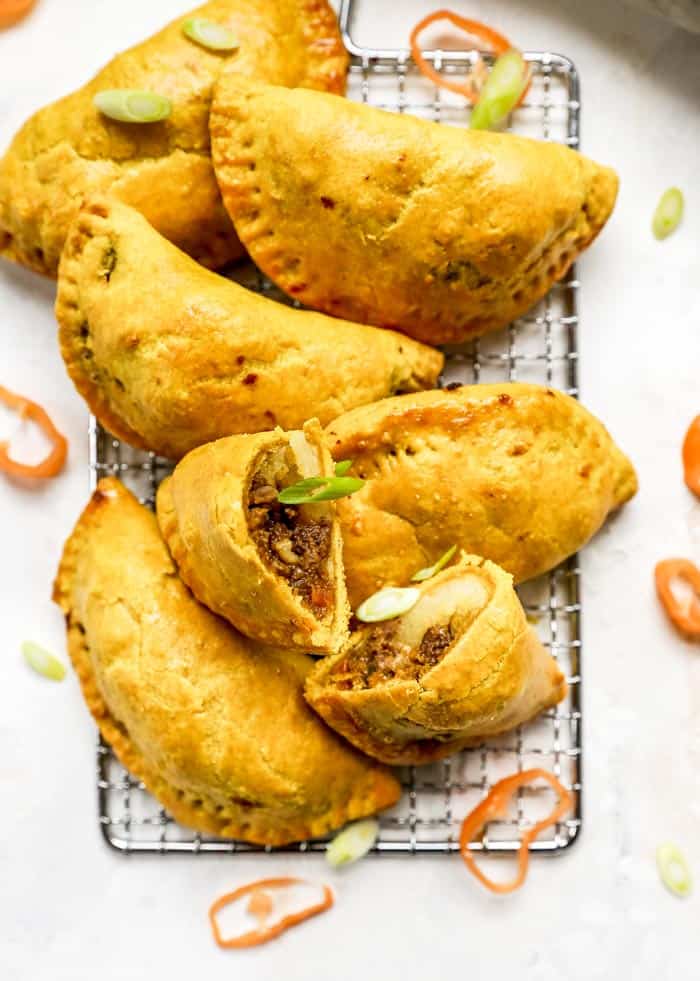 Jamaican Meat Pie(Jamaican Beef Patty)
Spicy flavorful Jamaican beef patties are amazingly easy with a melt-in-your-mouth buttery dough. They come together quickly and fly off the table. Simply delicious!!!
Check out this recipe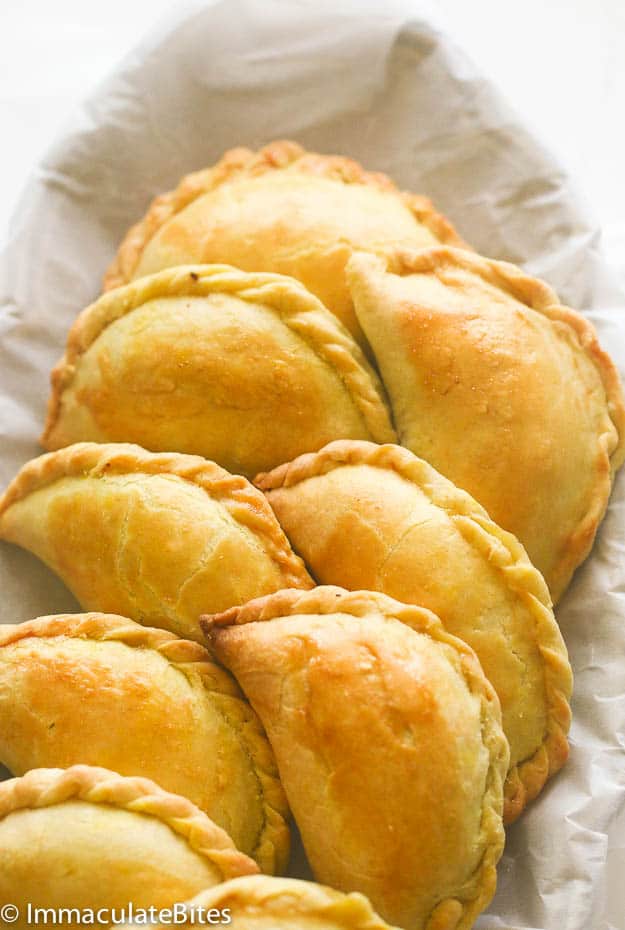 AIP Beef Patties (paleo, grain-free) • Heal Me Delicious
These paleo and grain-free AIP Beef Patties use a mix of ripe plantain and green banana mash to make the dough and are filled with a delicious beef filling.
Check out this recipe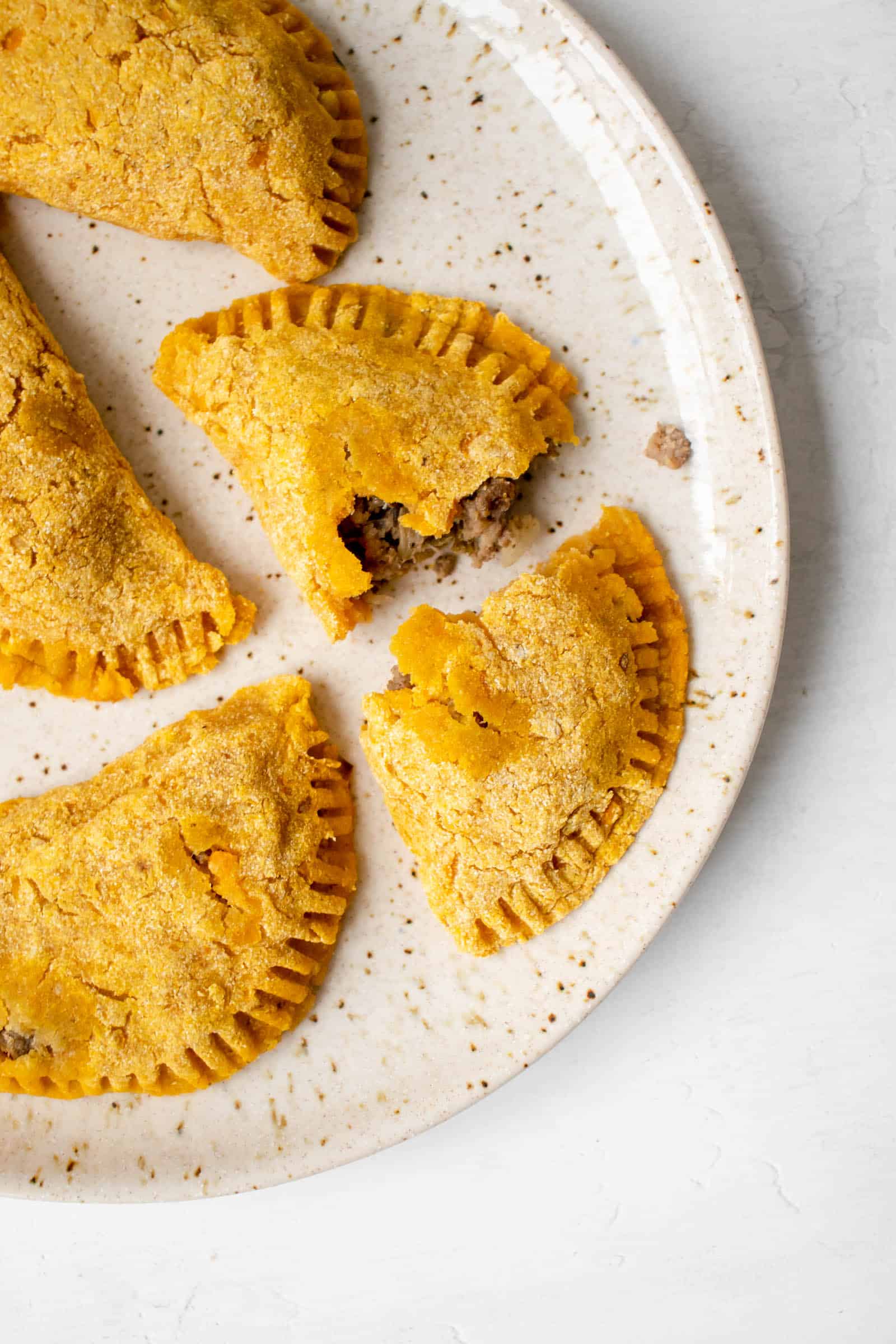 Jamaican Callaloo Patty Recipe – Healthier Steps
Tender and flaky Jamaican callaloo patty recipe that is full of flavor. Seasoned callaloo greens in a flaky gluten-free, vegan homemade crust.
Check out this recipe
Vegan Jamaican Ackee Patties Recipe · Ackee Adventures
Perfectly seasoned ackee in a flaky coconut oil pastry. All natural ingredients and easy to make, it's a taste of Jamaica in every bite!
Check out this recipe
Jamaican Lentil Patties (Gluten-Free, Vegan) – Healthier Steps
Delicious Jamaican Lentil Patties (Gluten-Free, Vegan) perfect island style fast food that is loved worldwide with flavors of the tropics!
Check out this recipe
Spicy Jamaican Vegan Patties
These Homemade Spicy Jamaican Vegan Patties are a great contender with their restaurant counterparts. A true family favorite.
Check out this recipe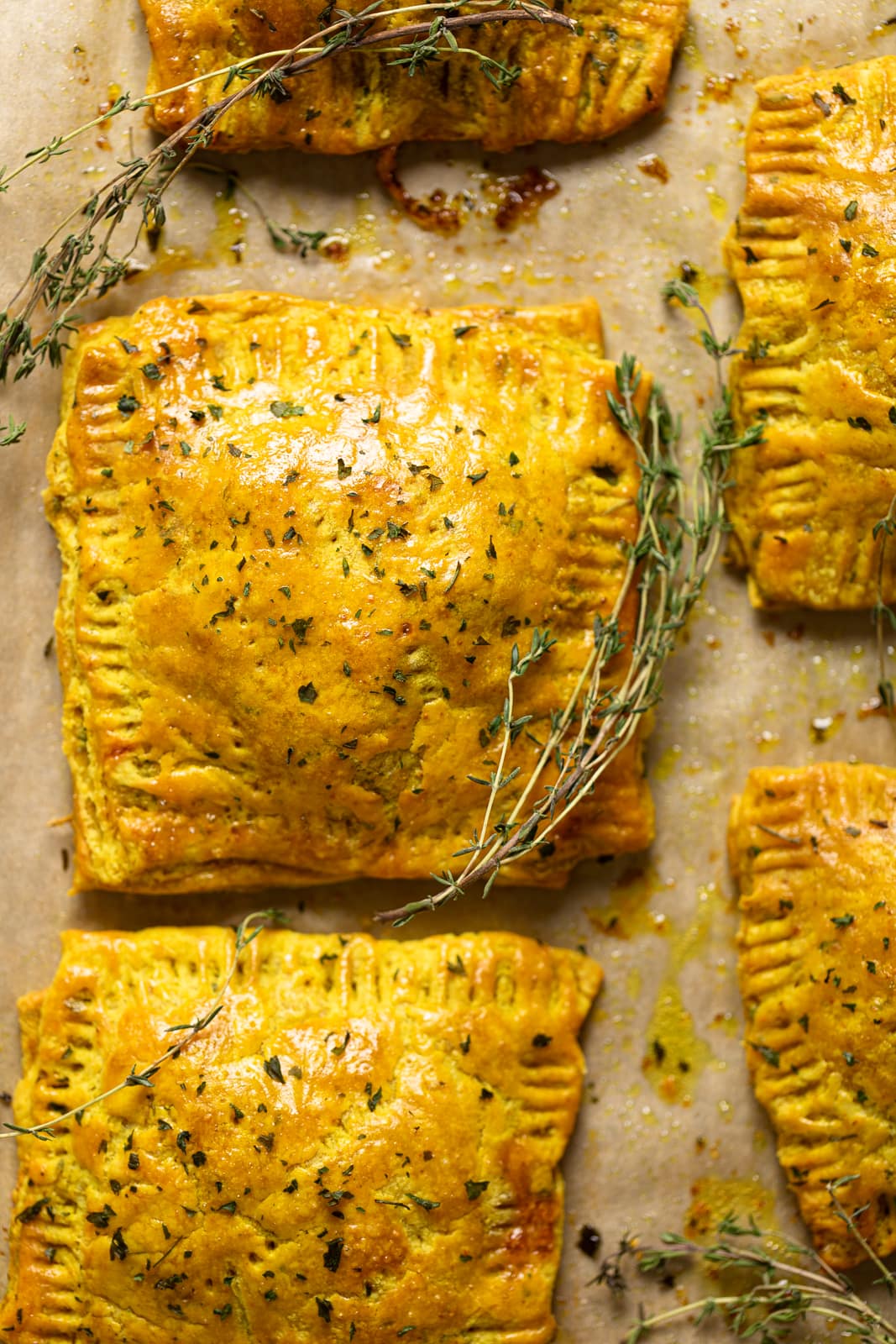 Jamaican Chicken Patties
Jamaican Chicken Patties – Forget about the store-bought patties coz this tastes 10x BETTER…AND comes together quickly with a SUPER EASY dough. Make it, grab a few fresh off the oven, relax and let the taste guide you to the islands- Jamaican Island, to be precise.
Check out this recipe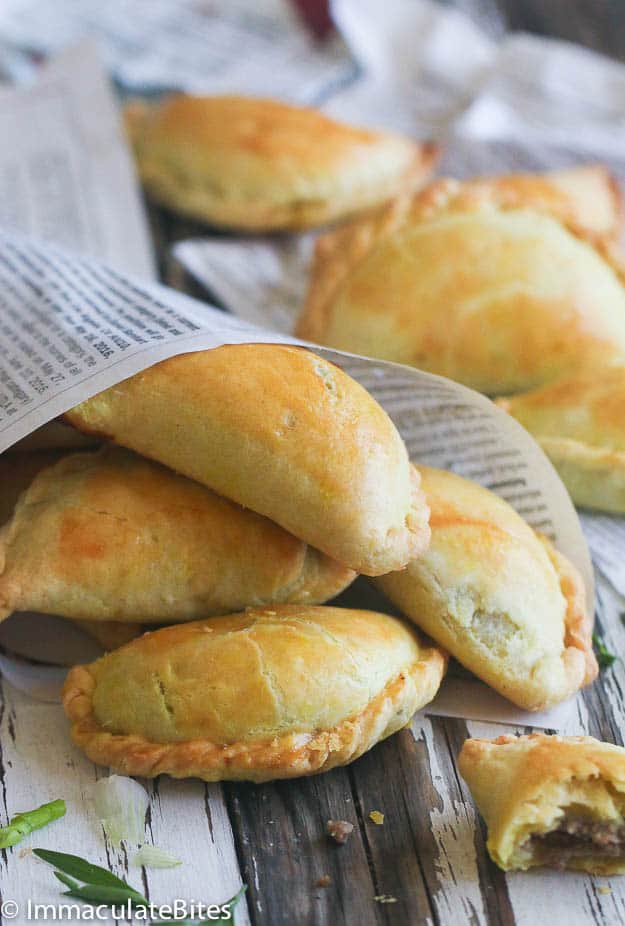 FAQs
Can you make Jamaican patties in advance?
Absolutely! Assemble the crust and the cooked filling as instructed. Line them up on a sheet pan, cover them with a cling wrap, and place them inside the freezer for about an hour. Once frozen, wrap the patties individually and put them in a freezer-safe resealable bag. Jamaican patties will keep in the freezer for three months. When you're ready to serve, bake them directly in a preheated oven for 25-30 minutes at 375℉/180℃ or until the crust is nice and golden and heated through; no need to thaw.
Are Jamaican patties baked or fried?
The original recipe is baked, but you can totally fry these patties without worry. They will still be amazingly flaky and crunchy. Although, most people prefer baked because it's healthier and more effortless.
How do you store Jamaican patties?
Jamaican patties are best enjoyed straight from the oven while it's warm. But in the case of leftovers, let them cool completely before storing them in an air-tight container or wrap them individually with a foil and place them inside a freezer-safe resealable bag. They keep fresh in the fridge for three days and two months in the freezer.
How do you reheat Jamaican Patties?
The quickest way is by a microwave, especially if you're going to reheat a single serving or two. You can set the timer to 1½ to 2 minutes. If reheating a big batch, I recommend baking them in a preheated oven for 20-25 minutes at 350℉/177℃. Frozen patties will take a longer time to reheat.
Conclusion
These Jamaican patties come in different versions, so whether you like them spicy, savory, sweet, meaty, or vegan, these goodies make a great snack or light meal. Which recipe are you planning on trying first? Let us know in the comments which one. 🙂