This Southern Fried Okra Recipe features okra breaded in a delicious cornmeal coating then fried until golden creating a perfect crunchy texture! Typically served with Fried Catfish, this is truly an amazing comfort side dish!!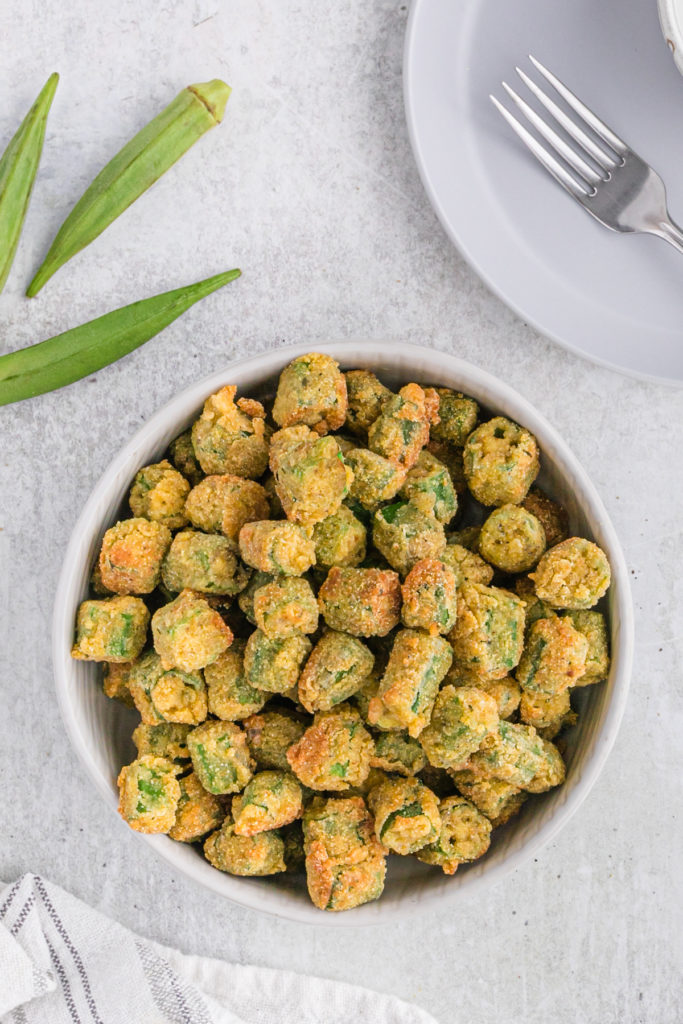 MY HISTORY WITH THE BEST SOUTHERN FRIED OKRA RECIPE
This Southern-fried okra recipe is dedicated to my daddy who was born in Mississippi. He loves all things fried okra.
I remember him frying it up until it was golden brown perfection. It is definitely one of his favorite side dishes, and a side dish that the South truly adores!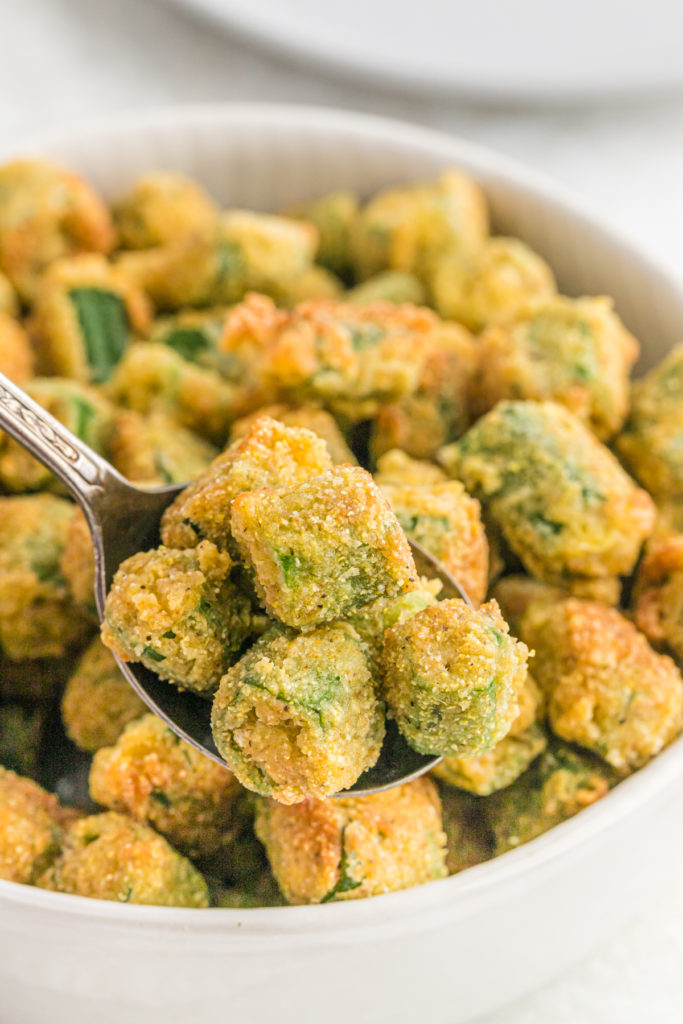 TOP 3 INGREDIENTS FOR MAKING SOUTHERN FRIED OKRA
When making this fried okra recipe, you need three ingredients that provide texture, flavor and that golden color once fried. :
All-Purpose Flour
Yellow Cornmeal (this provides that true Southern flavor and nice crunchy gritty texture)
Seasoned bread crumbs (I started adding these for a bit more texture and additional flavor to the breading)
In regards to what okra you should use, try fresh first. If you can grab fresh, it will be totally worth it. However I realize that in certain areas of the country this may not be possible. In that case, frozen okra is totally fine. Make sure it is thawed and use paper towels to completely try it so the breading adheres to it well. You want to make sure it isn't watery and that it maintains its texture.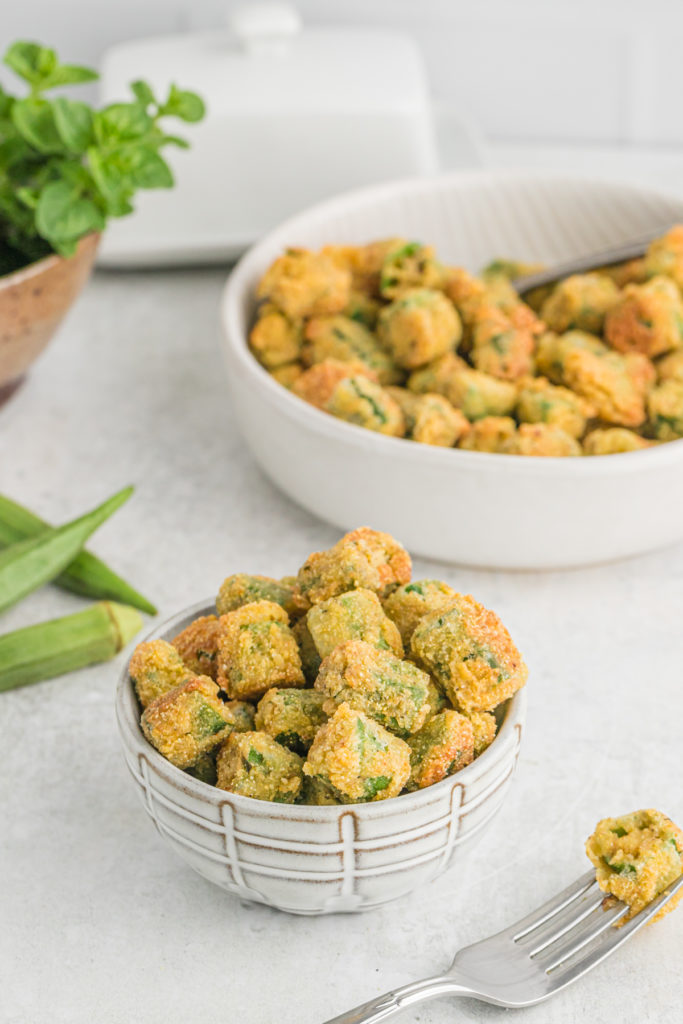 WHAT IS THE BEST WAY OF COOKING OKRA?
Okra can be cooked in a wide variety of ways besides simply fried. Similar to any other vegetables, okra can be roasted, baked, pickled, grilled and pan-fried. Meaning okra can go a long way depending on your preferences!
Still, because okra has a huge reputation for being 'slimy' on most occasions, most people tend to avoid eating it altogether despite its versatility.
But okra doesn't have to be slimy y'all!!! There are a few precautions you can take to assure you are cooking your southern okra the best way possible. One major precaution being- reduce the cutting. The more you cut this intricate veggie, the more slime it produces.
Try to opt-in for whole slices of okra rather than finely chopped pieces the next time you get ready to prepare some. There are even different selection types of okra, plenty of sizes, to choose from at the grocery store so be mindful of what you pick up.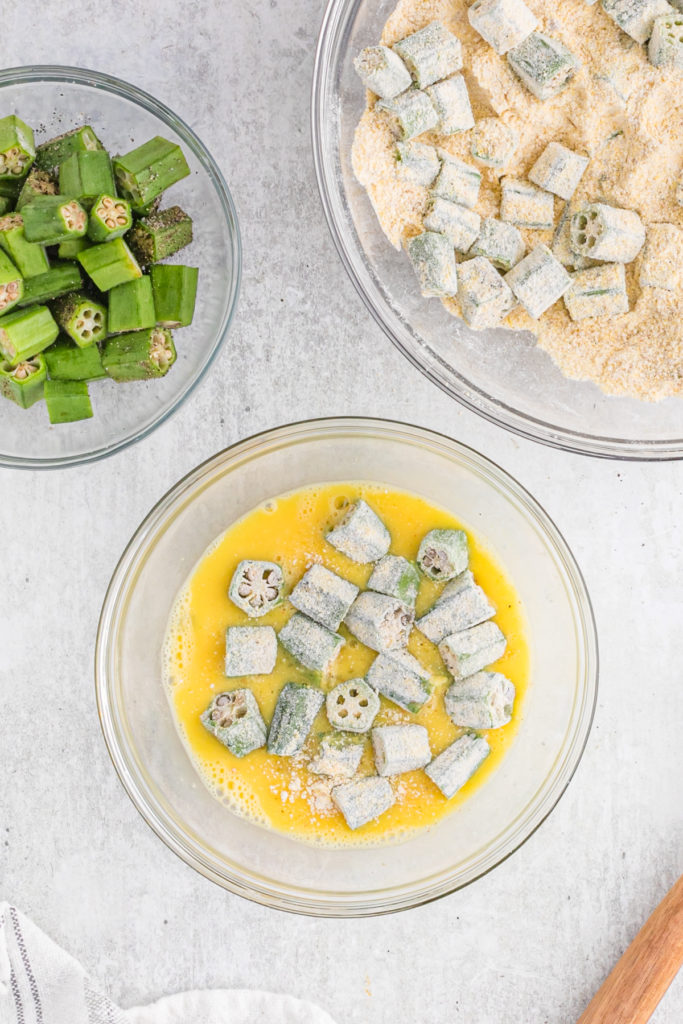 HOW TO FRY OKRA THE RIGHT WAY
Frying okra could not be an easier thing to do. Here are a few tips and tricks to make sure your okra is as amazing as ever.
To help the okra adhere to the batter, I like to use a bit of egg. It really serves as an excellent binder.
Tip: You can also use buttermilk if you are allergic to eggs and want a thicker binder and more tang!
If you're looking to make southern fried okra the right way, there is one top tier step you need to nail to a tee. Real Southern fried okra should always have a batter base of cornmeal. It doesn't get more southern than that!
The crunch and grittiness is fantastic with the okra along with bread crumbs and flour that really give a crispy bite. I like to flavor the okra with a bit of paprika and if you want to really bring home some spice, a little cayenne pepper wouldn't hurt either.
I told you all about the essentials of fish fries when I shared my Hush Puppy recipe earlier this year, and I loved sharing the country fun of frying up Green Tomatoes this summer too, but a fried okra recipe is just as iconic when it comes to southern and soul food cooking.
Nowadays if you want a quick fix, you can go to Cracker Barrel or any neighborhood southern restaurant and order some but I love the homemade ones best. These fried okra are perfectly spiced to your liking, crispy and best eaten right out of the fryer. Fry these babies up and see what all my daddy's fuss is all about!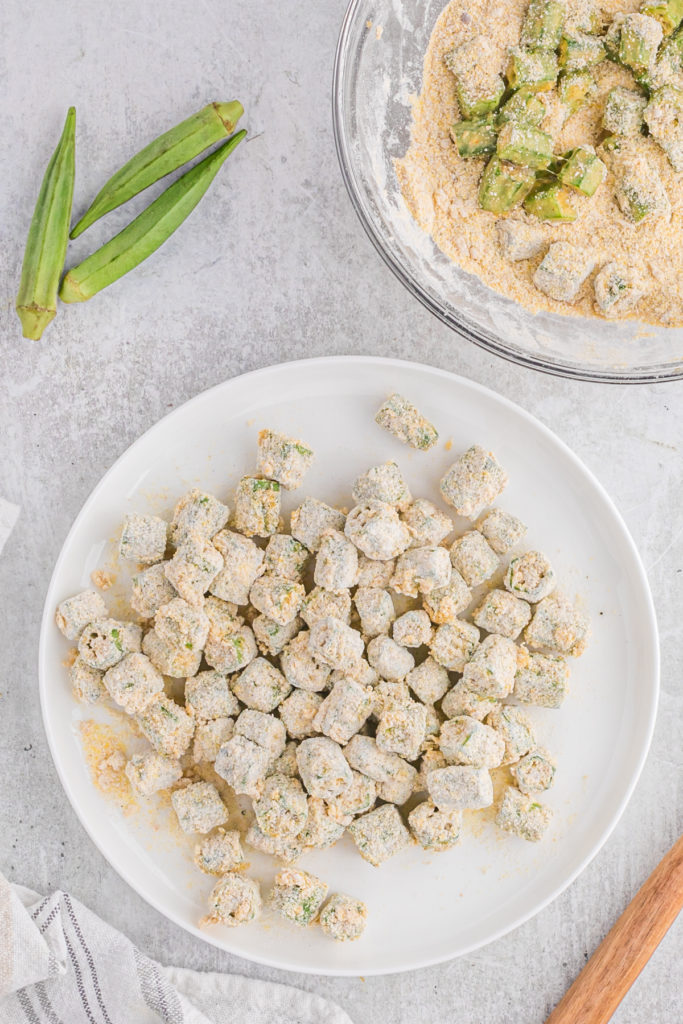 SOUTHERN DEEP-FRIED OKRA VS PAN FRIED OKRA
If you don't know the difference between deep frying and pan frying yet, it's pretty simple. Deep frying involves completely dousing your food in the oil while pan-frying on the other hand utilizes a much smaller portion of oil.
If you're looking for a quicker method of frying your okra at home, deep frying is the solid way to go. The deep frying approach can quickly ensure a more consistent and thorough full fry of a meal. There is much less effort on this side as not much is needed after the okra is submerged into the oil. Still, there are drawbacks to frequently cooking in large batches of oils (higher cholesterol, much more oil waste) so be mindful of how many southern meals you choose to deep fry.
Now, as for pan-frying, you're going to get a little more hands-on with this! As you pan-fry, you will need to evenly cook all sides of the okra and have to be more attentive to how the okra is being fried throughout. But y'all, even though you'll need to do a bit more turning and tossing, pan-frying is still a deliciously amazing choice! It may also save you a few calories too.
Pair With These Recipes
Cajun Stuffed Chicken
Southern Hoe Cakes
Hog Maw
Chitterlings Recipe
Southern Fried Okra Recipe
This Southern Fried Okra Recipe features fresh okra breaded in a flavorful coating then fried until golden creating a perfect crunchy texture!
Ingredients
12

oz

fresh okra

cut into 1/2 inch pieces

salt and pepper

to taste

2

large eggs

1/3

cup

all purpose flour

2/3

cup

cornmeal

1/2

cup

seasoned breadcrumbs

1/4

tsp

paprika

1/4

tsp

cayenne

oil for frying
Instructions
Season okra with salt and pepper.

Add eggs to a separate small bowl.

Combine flour, cornmeal, seasoned bread crumbs, paprika and cayenne into another small bowl and whisk together.

Begin by dipping okra into cornmeal and flour coating.

Next add okra to eggs coating on all sides. Lastly dip back into the coating and set aside okra on baking sheet.

Repeat dredging process until all okra is ready.

Heat oil in a frying pan over medium high heat.

Fry okra until golden brown and drain on paper towels. Serve warm.
Notes
You can absolutely use frozen okra that has been thawed out. The most important thing to remember is to keep the texture intact.