Fried zucchini, also known as zucchini fries, are crispy, tender, and downright addicting! This recipe transforms simple zucchinis into an irresistibly crunchy appetizer. Once you taste the perfectly seasoned flavors and lightly breaded textures, I promise it will become a regular feature on your dining table. Make sure you pair with Cajun Fish, Fried Chicken and Smothered Pork Chops.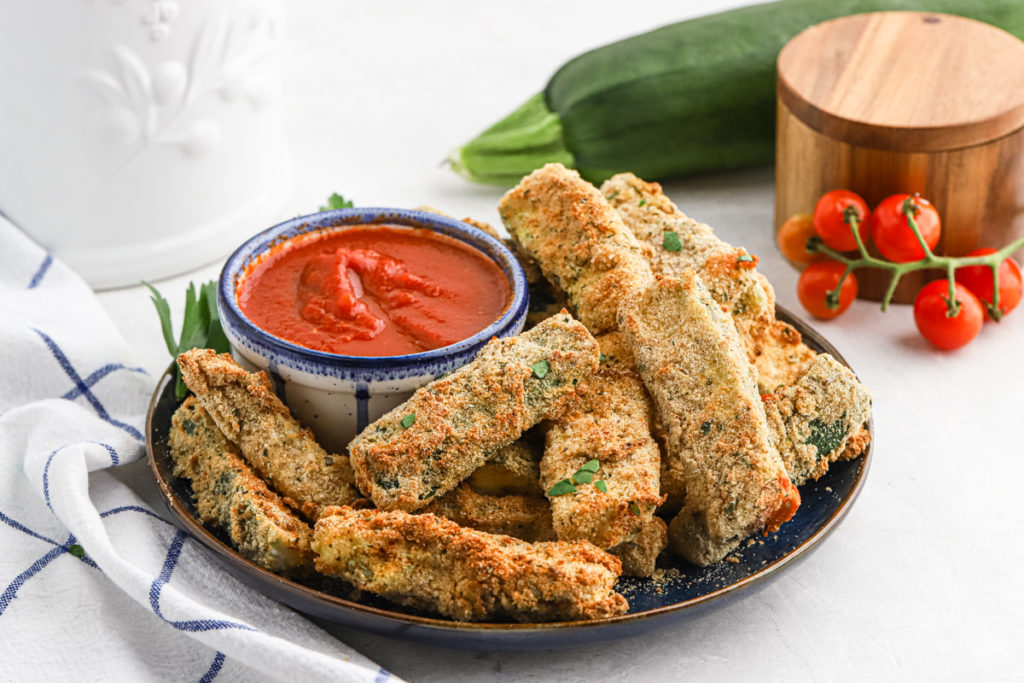 Fried zucchini, with its golden exterior and soft, juicy interior, is an absolute crowd-pleaser! This dish perfectly balances the tender texture and mild flavor of fresh zucchini with a crispy, seasoned breadcrumb coating. It's great for using up the season's harvest!
Despite the rich, complex taste, it's a surprisingly easy snack or appetizer to prepare, whether you're air frying for a healthier twist or deep frying for that classic crunch. The versatility of fried zucchini also makes it a great side dish to a range of dishes, like our gumbo or baked spaghetti.
Why you'll love fried zucchini
Effortless preparation: Just cut the zucchini, dredge it, and fry it! This recipe couldn't be more straightforward, even for novice cooks.
Perfect for any occasion: Fried zucchini makes a great appetizer for parties, a snack for movie nights, or a side dish for your main course.
Versatile cooking methods: Whether you're looking for a healthier air-fried option or a traditional deep-fried treat, this recipe has you covered.
Customizable: Along with the classic seasonings, this recipe includes two bonus flavor variations — zesty ranch and cheesy Italian. Try them all to see what you prefer!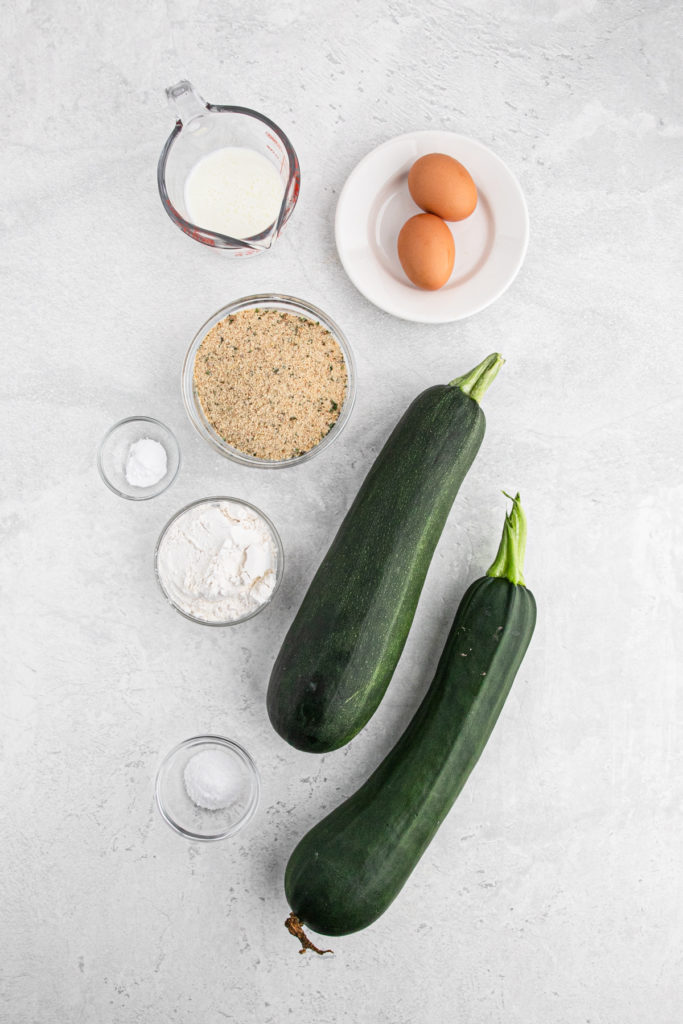 Ingredients for fried zucchini
Zucchini: Provides a mild, slightly sweet taste and tender texture. Choose firm, small to medium-sized zucchinis for best results. If they're unavailable, try yellow squash.
All-purpose flour: Creates a perfectly crispy and satisfying crunch. For a gluten-free option, use a 1:1 gluten-free flour blend or almond flour. Just note that almond flour doesn't stick as well as all-purpose flour.
Baking soda: Reacts with the buttermilk and eggs, ensuring a light, crispy coating on the zucchini.
Eggs & buttermilk: These ingredients bind the breadcrumbs to the zucchini. If you're out of buttermilk, add 1 tablespoon of lemon juice or vinegar for every cup of regular milk.
Italian breadcrumbs: Add texture to the breading and an extra flavor dimension. You can use regular breadcrumbs with a pinch of Italian seasoning as a substitute.
Vegetable oil: Use any vegetable oil with a high smoke point for deep frying or cooking spray for air frying. Other options include canola, soybean, peanut, or sunflower oil.
How to make fried zucchini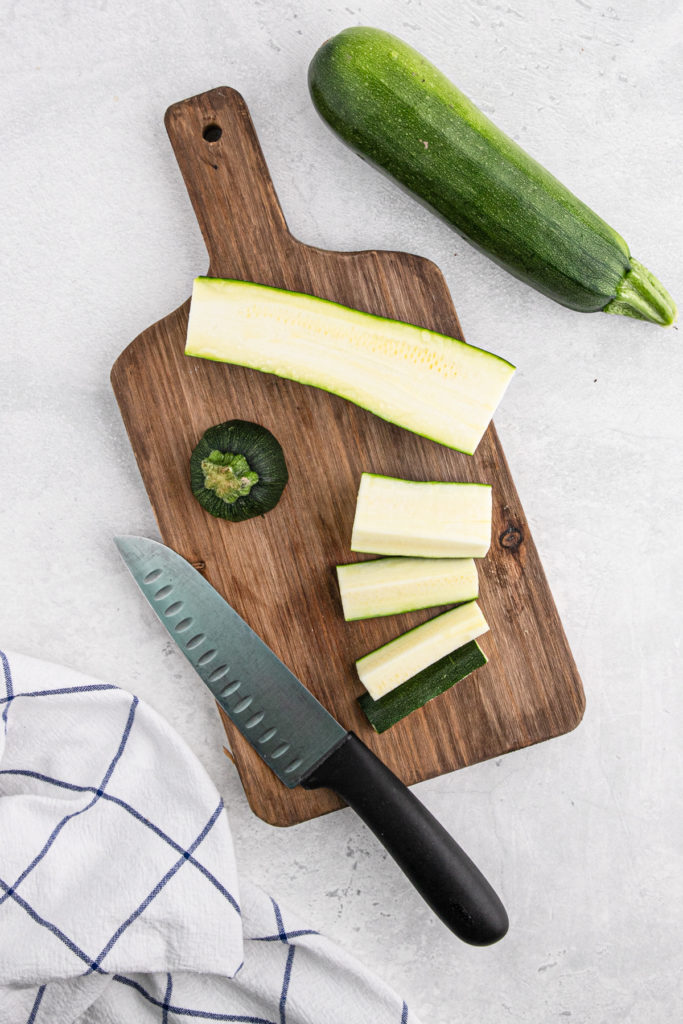 Prepare the zucchini: Cut your zucchini into batons and season them with salt. Let them sit for 10 minutes before patting them dry. This process helps draw out excess moisture for a better fry, so don't skip it!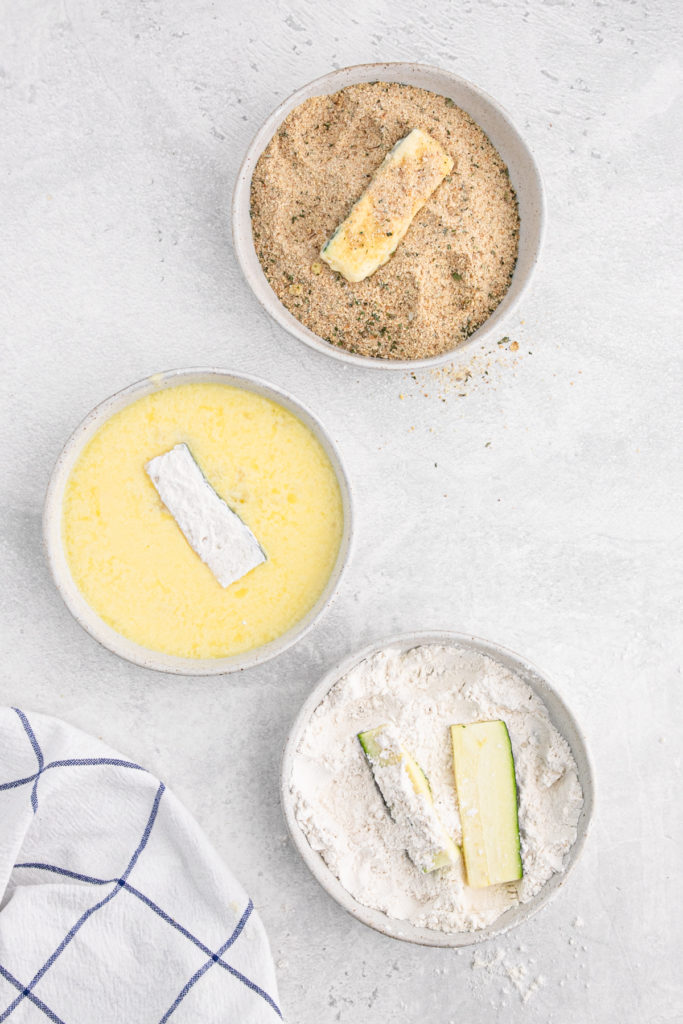 Set up the dredging station: Set up three bowls for a systematic coating process — one with a mix of flour and baking soda, the second with whisked eggs and buttermilk, and the third with breadcrumbs. Coat the zucchini batons one by one, shaking off the excess each time.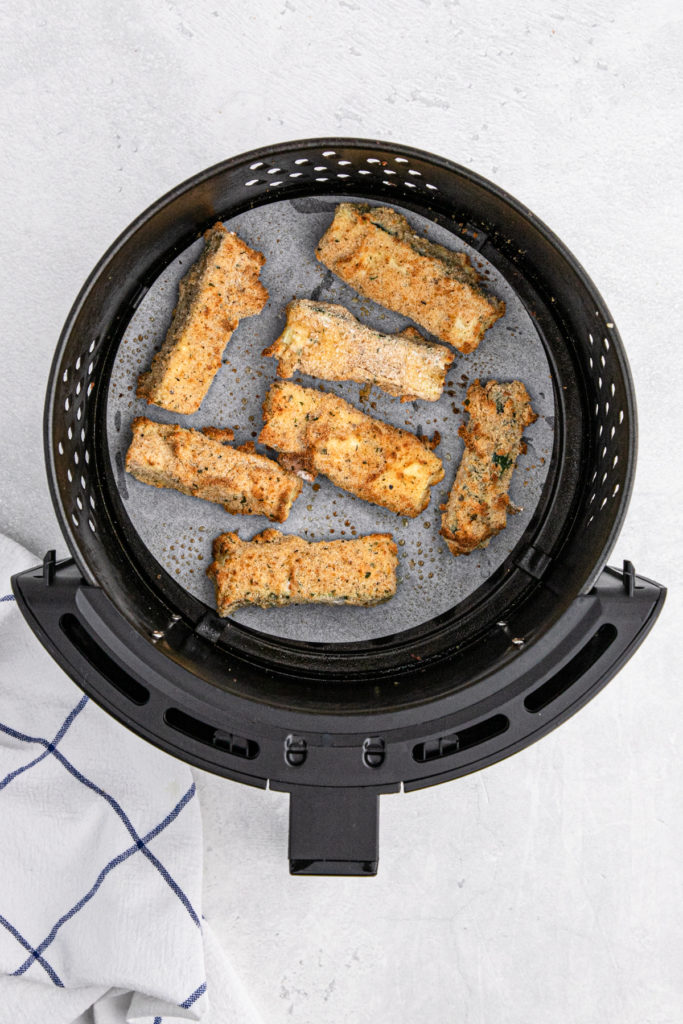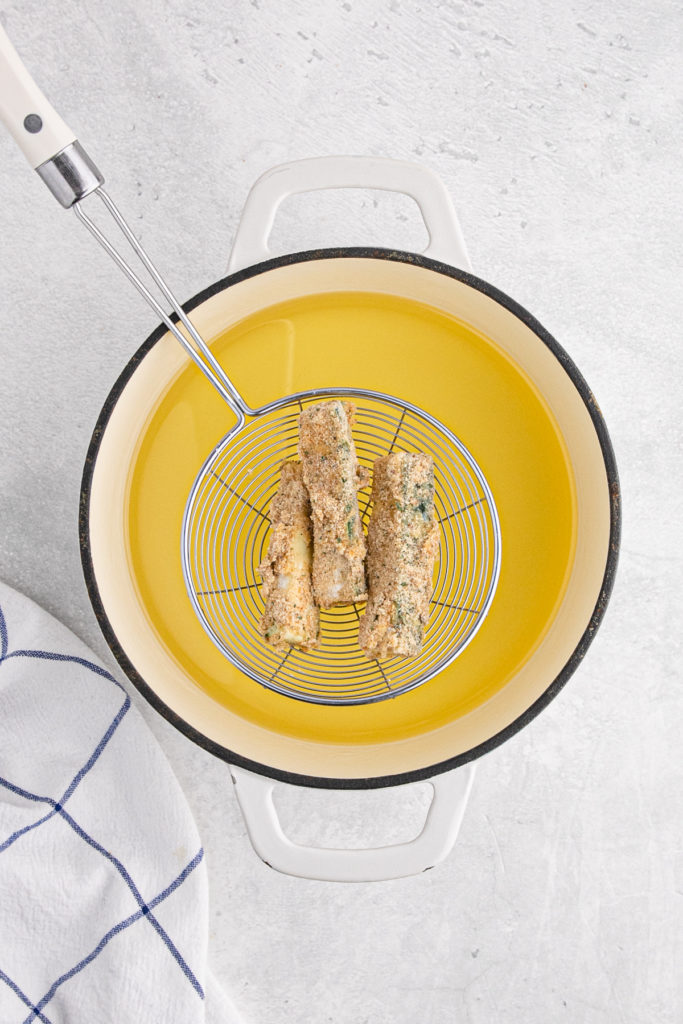 Fry the zucchini: Choose between air frying for a healthier option or deep frying for a comforting classic. If you are air frying, cook it at 380F for 7 minutes. If you're deep frying, cook it in 375F oil until crispy. Whichever you choose, don't forget to season with salt after cooking and serve immediately for the best experience!
Tips for making the best fried zucchini
Choose the right zucchini: Opt for small to medium-sized zucchini. They're less watery and have fewer seeds.
Uniformity matters: When cutting zucchini, ensure all batons are of the same size for even cooking.
Shake off excess: After each dredge, shake off the excess flour, egg, or breadcrumbs for an even coating and to prevent a mess.
Monitor the oil: For deep frying, ensure the oil reaches the right temperature (375F) before each batch. If it's too hot, the zucchini will burn. Too cold, and it'll be soggy.
Don't overcrowd: Whether you're air frying or deep frying, work in batches. Crowding the pot or air fryer reduces the temperature, leading to steamed, limp zucchini.
Season while hot: Always season your fried zucchini with salt right after cooking. This helps the salt stick better and gives any fried food more dimension.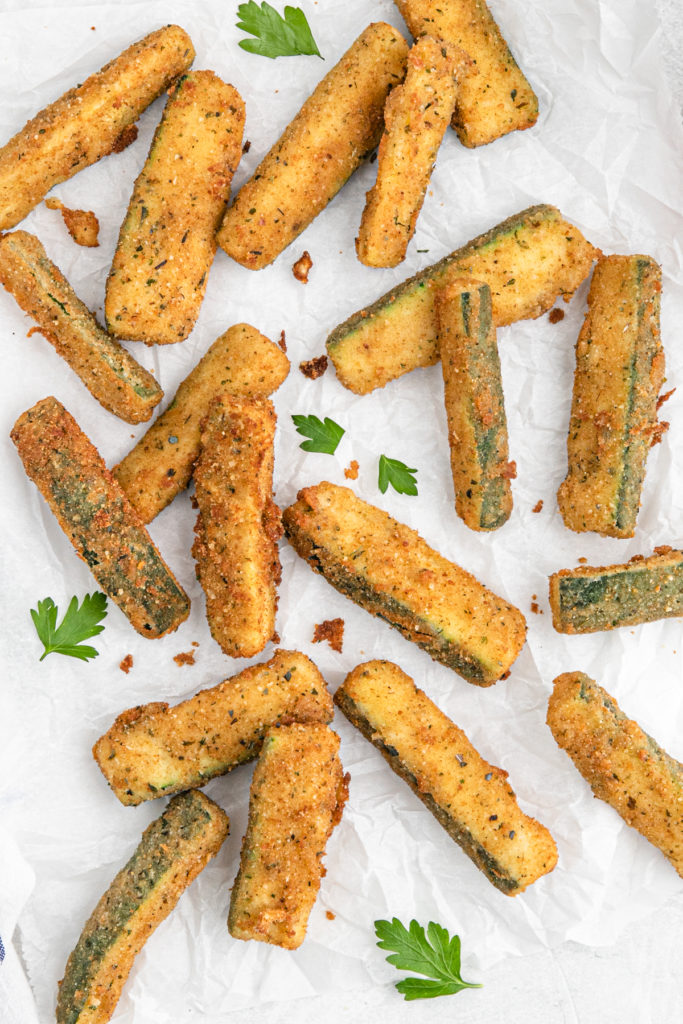 Popular substitutions & additions
Breadcrumbs: Swap Italian breadcrumbs with panko for a lighter crunch.
Gluten-free: Use a gluten-free flour blend and breadcrumbs for a gluten-free version.
Seasonings: Experiment with seasonings in your breadcrumbs, like garlic powder, paprika, or even some Parmesan.
Spicy: For a spicy kick, add some cayenne pepper or chili flakes to the breadcrumb mixture.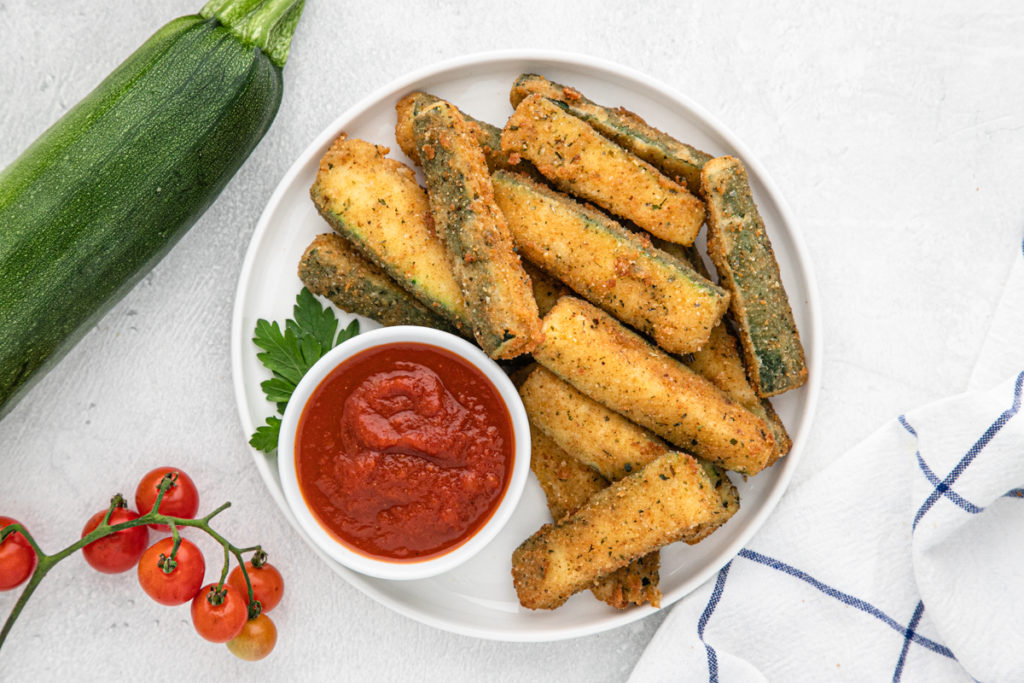 What to serve with fried zucchini
Try pairing your fried zucchini with some of these dips and main dishes:
Marinara sauce: The tanginess of marinara pairs perfectly with the mild-flavored fried zucchini.
Ranch dressing: Cool and creamy ranch is a classic choice that's great with just about anything breaded and fried.
Grilled meats: Serve them as a side dish with grilled chicken or steak.
Pasta: Fried zucchini also pairs well with a pasta dish like spaghetti or Cajun shrimp linguine.
How to store & reheat fried zucchini
How long will fried zucchini last in the fridge?
Fried zucchini can last up to 3-4 days in the fridge. Once cooled, just transfer them to an airtight container before placing them in the refrigerator.
Can I freeze fried zucchini?
Yes, you can freeze already fried zucchini. First, transfer them to a parchment or wax paper-lined baking sheet and freeze them for a few hours until frozen. Once they're solid, transfer them to a freezer-safe bag for up to 3 months.
Frequently asked questions
Can I make fried zucchini ahead of time?
Fried zucchini is best served fresh, so I don't recommend making them ahead of time.
Can I use other types of squash for this recipe?
Of course! I recommend using yellow squash as a suitable substitute if zucchini isn't available.
Can I bake the zucchini instead of frying it?
Baking zucchini won't offer you the same level of crunch as deep frying or even air frying. However, you can bake them at 425°F for about 20 minutes, flipping at the halfway point.
More zucchini or squash recipes
Fried Zucchini
Fried zucchini, also known as zucchini fries, are crispy, tender, and downright addicting! This recipe transforms simple zucchinis into an irresistibly crunchy appetizer.
Ingredients
1

lb

zucchini

2 large or 3 medium

1 1/2

tsp

kosher salt

plus more, divided

1/2

cup

all purpose flour

1/4

tsp

baking soda

2

large eggs

1/4

cup

buttermilk

1

cup

Italian breadcrumbs

nonstick cooking spray

vegetable oil
Instructions
Cut zucchini in half cross-wise, then cut into 3 ½ x ½ inch batons. Season with 1 teaspoon salt. Let sit for 10 minutes, then pat dry.

Set up a dredging station, with three bowls—mix flour and baking soda in the first bowl; eggs, remaining ½ teaspoon salt, and buttermilk in the second bowl; and the breadcrumbs in the third.

In three to four batches, place zucchini in each bowl, shaking off excess.
For Air-frying
Spray zucchini with cooking spray and place in air fryer.

Cook on 380F for 7 minutes.

Remove from air fryer and season with salt.

Repeat with remaining zucchini (2-3 batches, depending on the size of your air fryer).
For Deep-Frying
Heat 4 cups vegetable oil to 375F in heavy-bottomed 2 quart pot.

Gently lower zucchini into hot oil and cook for 2-3 minutes, until deep golden brown.

Drain on paper towel-lined plate and season with salt.

Wait until temperature returns to 375F. Repeat with remaining zucchini.
Notes
Flavor variations
For zesty ranch, add ¼ teaspoon cayenne pepper and one-1 ounce packet of ranch seasoning to the breadcrumbs.

For cheesy Italian, add 1 tablespoon Italian seasoning, 1 teaspoon garlic powder, ½ teaspoon onion powder, and ½ cup grated Parmesan cheese to the breadcrumbs.
Nutrition