Pickle de gallo is the tangy, garlicky condiment you didn't know you needed in your life! Bring a batch to your next cookout and watch it disappear.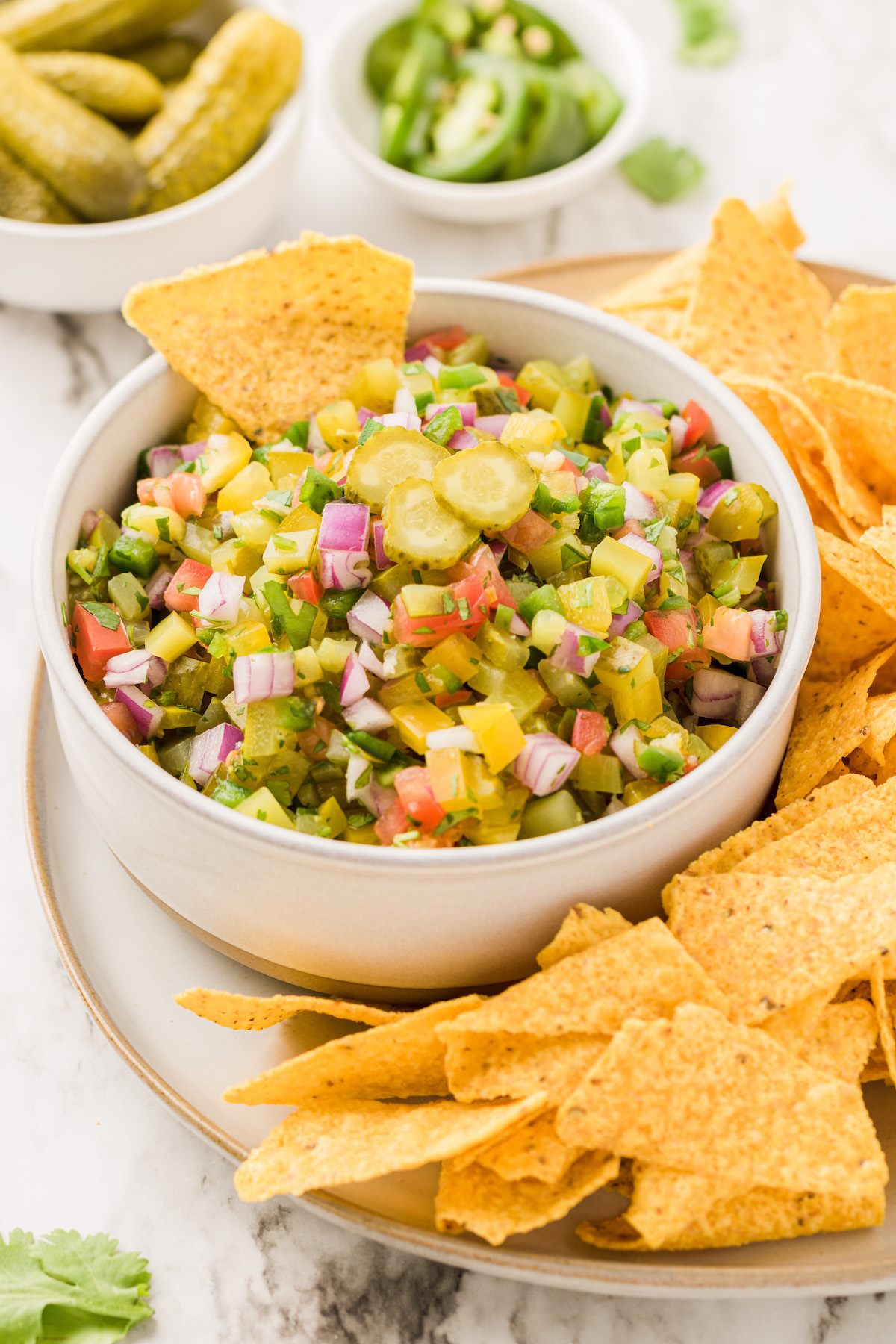 Have you heard of pickle de gallo? You may have seen it at the grocery store, but it's easy to make at home—and when you DIY it, you can customise it to make it your own!
As you may have guessed by the name, pickle de gallo is a spin on pico de gallo, a classic Mexican condiment made with diced tomatoes, onions, cilantro and freshly squeezed lime juice. It's a little bit like salsa, but fresher and chunkier.
While tomatoes are the main ingredient in pico de gallo, pickles are the star of the show in this version. Basically, if you love pickles, this is going to be your new favourite condiment—it's sweet, tangy, garlicky, and just a little bit spicy. Think of it like relish, but miles better because it's fresh, chunky, and much more flavourful.
Just like pico de gallo, you can use pickle de gallo like salsa and dip tortilla chips into it, but you can also spoon it over veggie burgers and vegan hot dogs, add it to potato salad, swap it for a pickle slice on a sandwich, or use it any other way you normally use pickles or relish.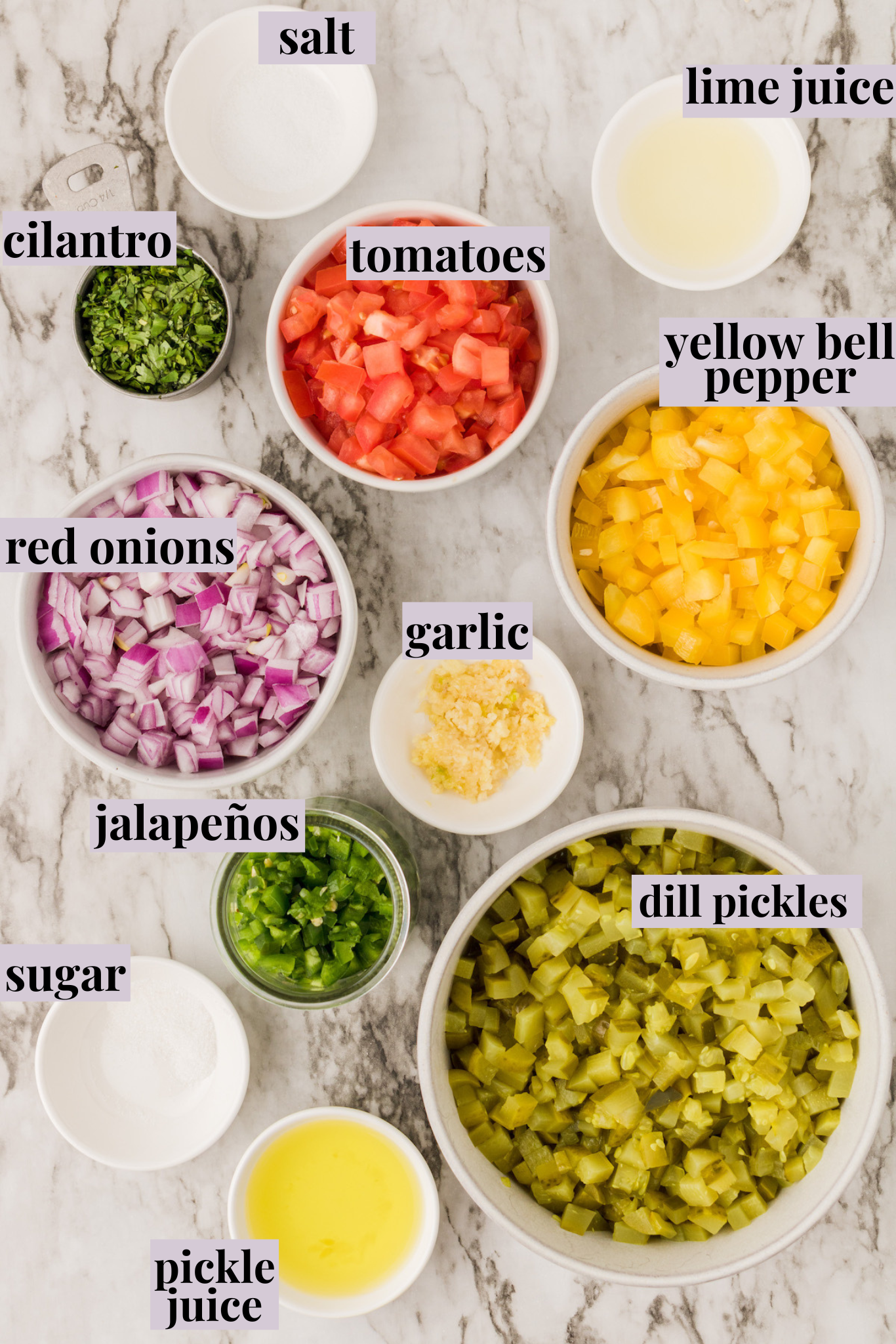 Notes on Ingredients
Scroll down to the recipe card to find the ingredient quantities and recipe instructions.
Dill pickles – You'll need to finely dice a whole 32-ounce jar.
Red onion – The pickle juice and lime juice will mellow some of that sharp fresh onion flavour.
Tomato
Yellow bell pepper – You can swap in an orange bell pepper if you'd like.
Cilantro
Jalapeños – Use more or less to adjust the heat level.
Pickle juice – Don't pour it down the sink when you cut the pickles! You'll need to save some juice for your pickle de gallo.
Fresh lime juice
Garlic cloves
Salt
Granulated sugar – This is optional, for a relish-like flavour.
What Pickles Are Best for Pickle de Gallo?
I recommend using a 32-ounce jar of sandwich-sliced dill pickles for easier and faster preparation.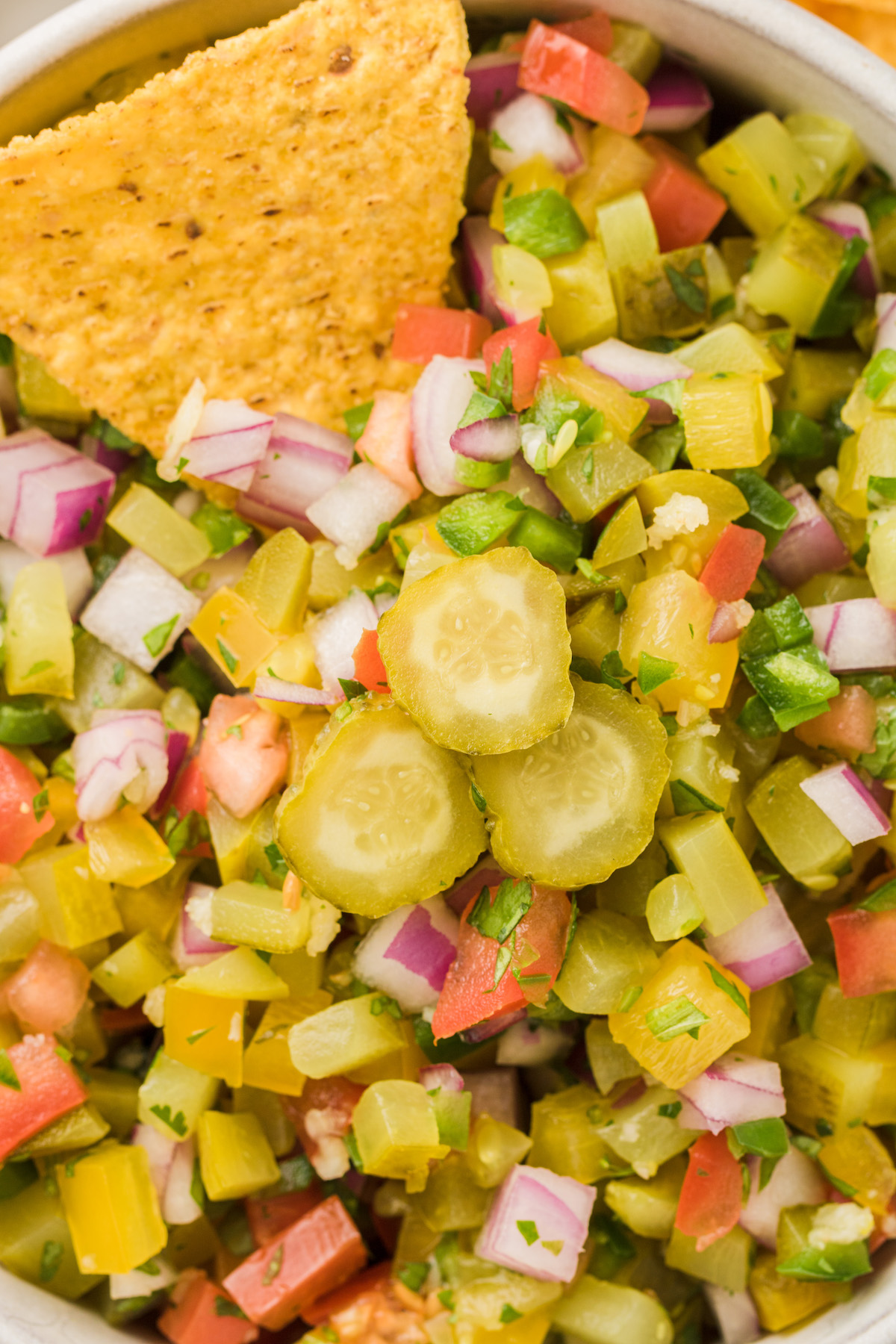 How to Make Pickle de Gallo
This recipe comes together in a snap! You can easily scale it down if you're making it just for yourself, or scale it up for a big backyard get-together.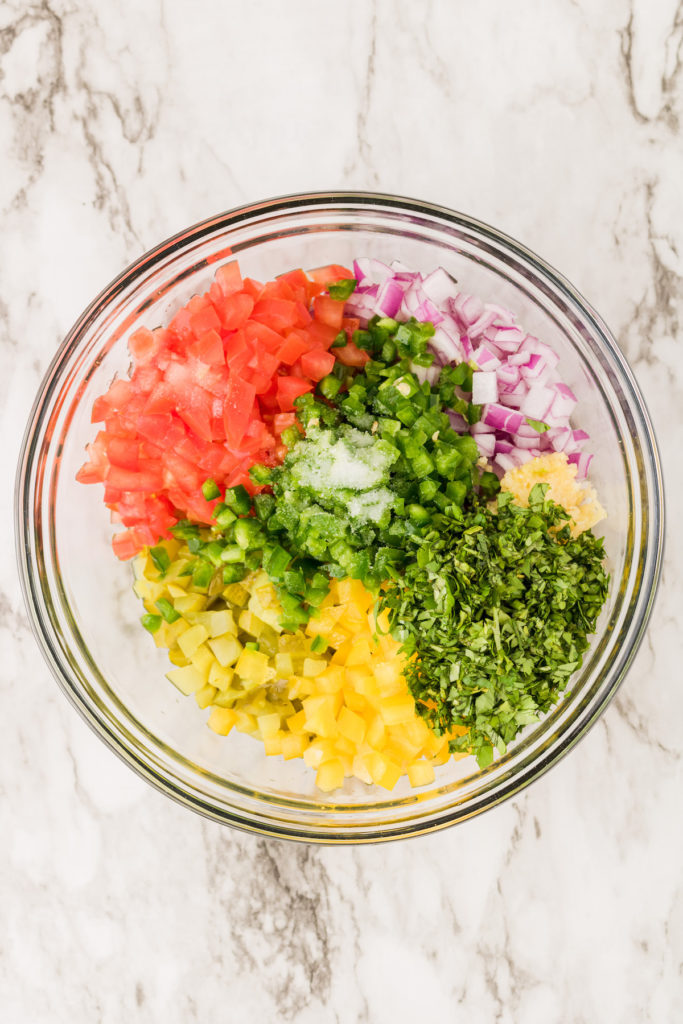 Combine the ingredients. Add all of the ingredients to a large bowl and stir to combine.
Season. Try the pickle de gallo and season to taste.
Serve. You can serve your pickle de gallo immediately or chill it for 1 to 2 hours to serve it cold.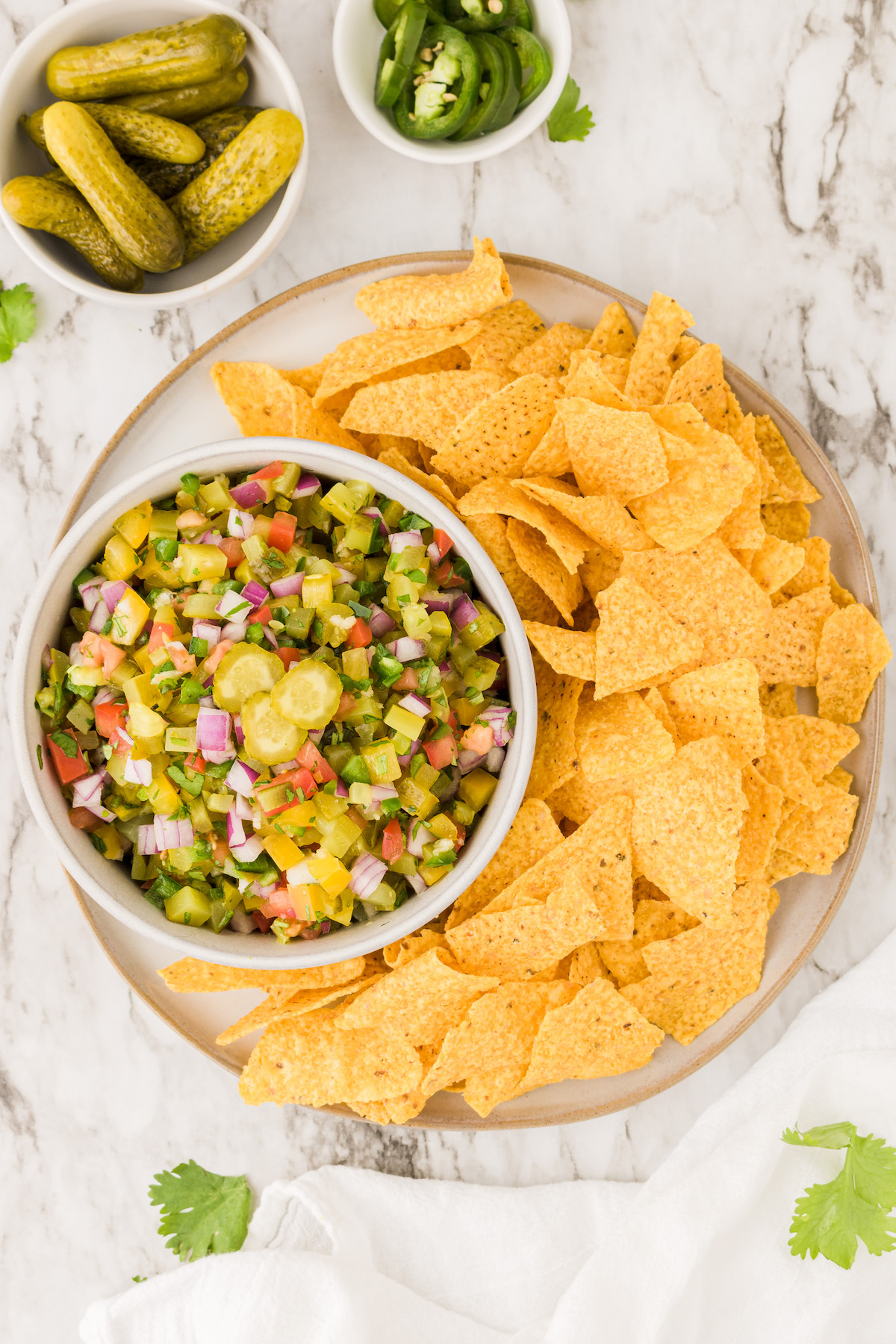 Tips for Success
As you can see, there's really not much to this pickle de gallo recipe, but these simple tips will help make it even easier!
Use a sharp knife. This will help you dice the pickles and tomatoes into small pieces without smashing or crushing them.
Drain the pickles well. Too much pickle juice will overpower the flavour of the fresh lime, so make sure you drain off as much liquid from the pickles as you can!
Chill before serving. Pickle de gallo is even better if you let it chill in the fridge overnight to allow all the flavours to meld together.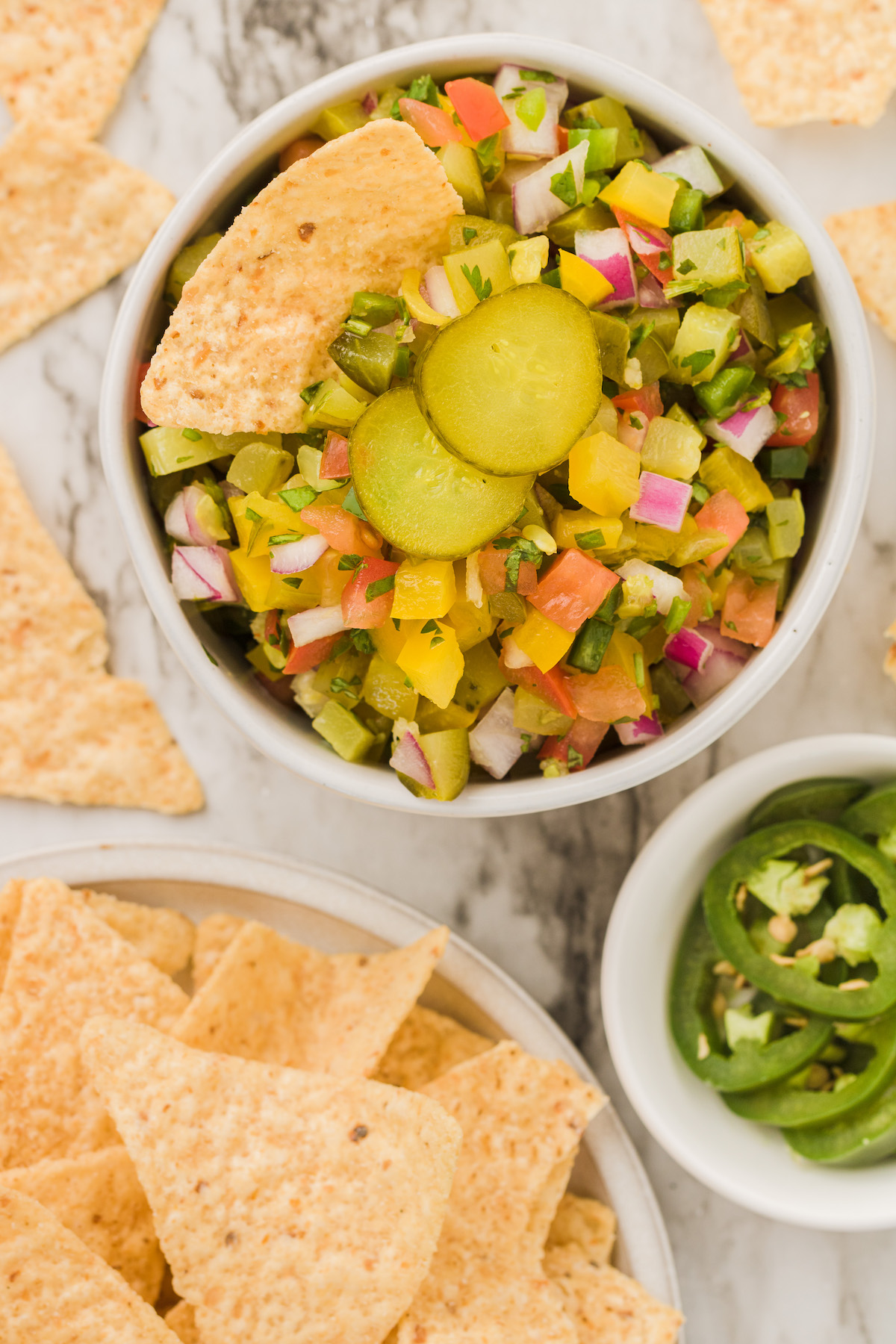 Variations
Not a fan of cilantro? You can substitute fresh dill or parsley, or simply leave it out. Skip the bell pepper and add extra tomato, omit the jalapeño for a milder version, or add an even spicier hot pepper to make your pickle de gallo fiery.
Ideas for Using Pickle de Gallo
In addition to veggie burgers and vegan hot dogs, you can add pickle de gallo to salads, grain bowls, wraps, and even tacos! It's a great side for serving with Fried Oyster Mushrooms and Southern Fried Cauliflower, and I love it spooned onto Vegan Sloppy Joes too.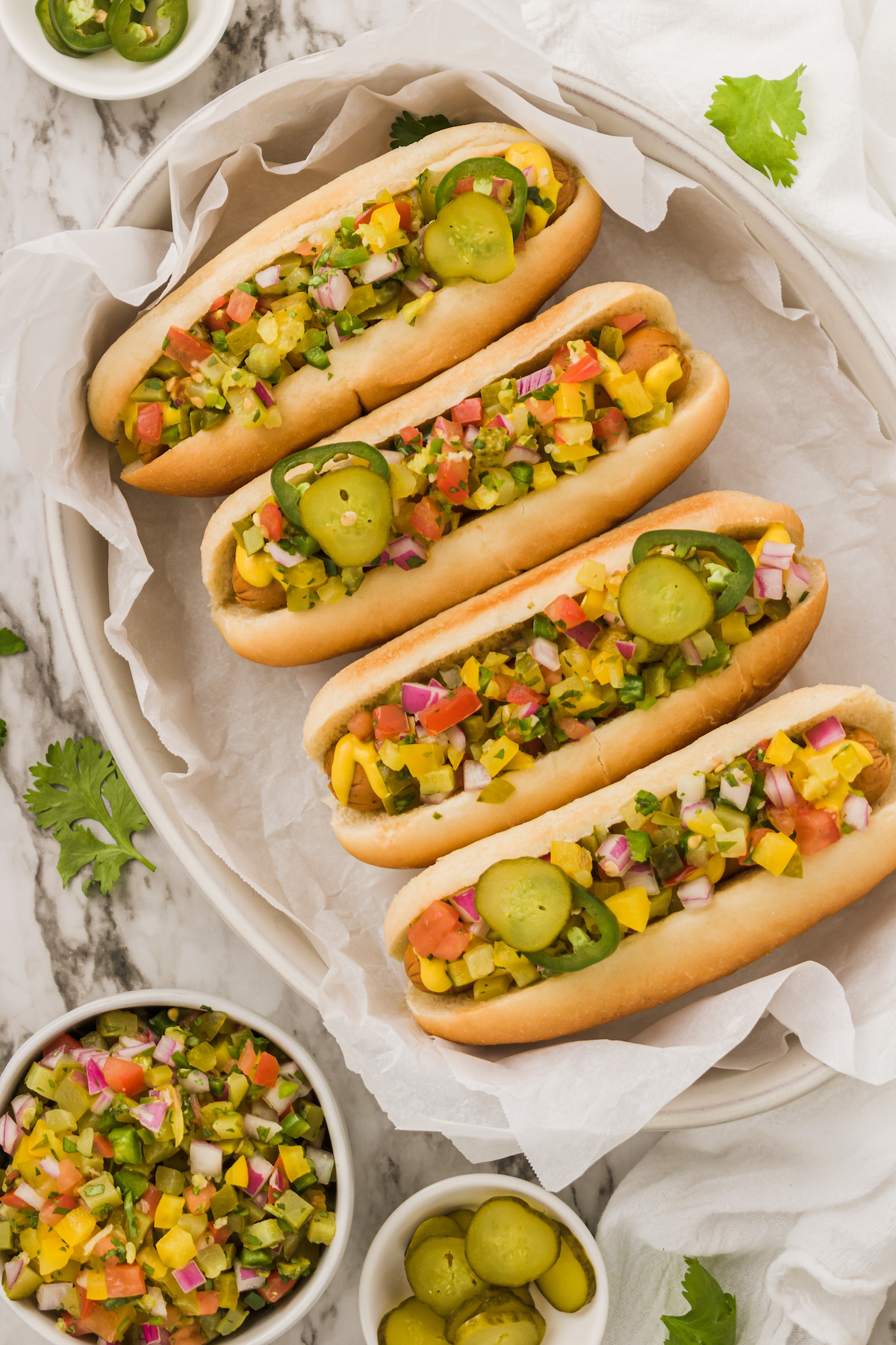 How to Store
Pickle de gallo can be stored in an airtight food-safe container in the fridge for up to 3 days.
Can This Recipe Be Frozen?
With so many fresh ingredients, pickle de gallo does not freeze well. If you don't think you can finish a whole batch in 3 days, make the recipe in half!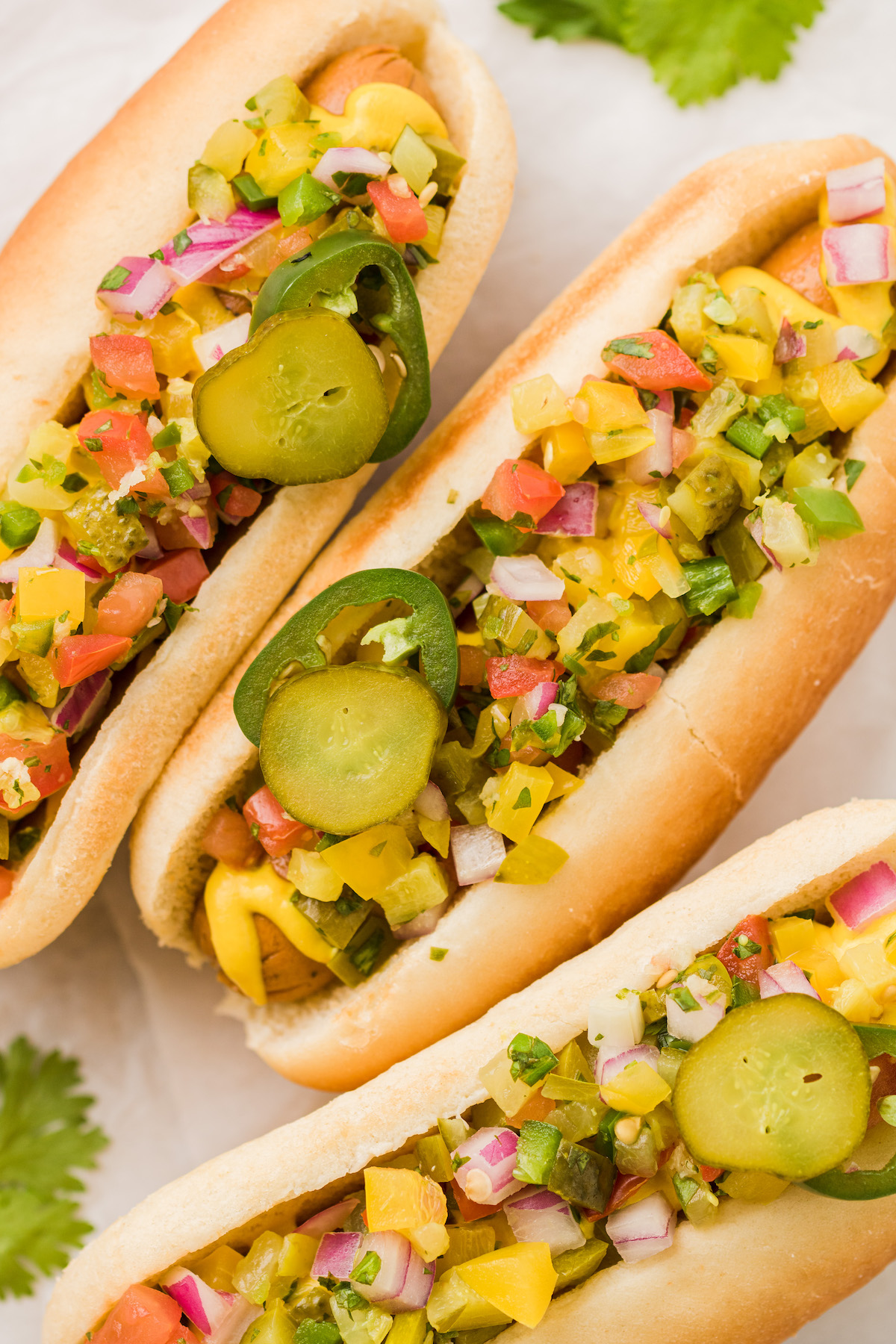 More Vegan Cookout Ideas
Pickle de Gallo
Pickle de gallo is the tangy, garlicky condiment you didn't know you needed in your life! Here's how to make it yourself at home.
Ingredients
2

Cups

Dill Pickles

finely diced (420 grams or 1-32 ounce jar)*

1

Cup

Red Onion

finely diced (130 grams or approximately 1⁄2 onion)

1

Cup

Tomato

finely diced (170 grams or approximately 1 medium garden tomato)

1

Cup

Yellow Bell Pepper

finely diced (145 grams or approximately 1 small orange bell pepper)

¼

Cup

Fresh Cilantro

finely chopped (10 grams)

2

Fresh Jalapenos

seeds removed and minced (40 grams)*

2

Tablespoons

Pickle Juice

28 grams

1

Tablespoon

Fresh Lime Juice

10 grams or approximately 1⁄2 lime

3

Garlic Cloves

minced (10 grams or 1 tablespoon)

½

Teaspoon

Salt

2 grams

½

Teaspoon

Granulated Sugar

optional (1 gram)*
Instructions
Add all ingredients to a bowl and stir to combine.

Taste and adjust with additional salt if preferred. Serve immediately or chill for 1 – 2 hours and serve cold. Store in an airtight food safe container in the fridge for up to 3 days.
Notes
*Pickles: I recommend using a 32 ounce jar of sandwich sliced dill pickles for easier and faster preparation.
*Jalapeno: You can use only 1 jalapeno if you don't want it to be as spicy.
*Sugar: This is an optional ingredient in this recipe because it gives the Pickle De Gallo a slightly sweet relish-like taste. If you're not a fan of relish or don't want to include sugar, feel free to omit this ingredient.
Nutrition