These vegan pot pies are rich, creamy, and packed full of vegetables. They take less than an hour to make, and they're as healthy as they are delicious!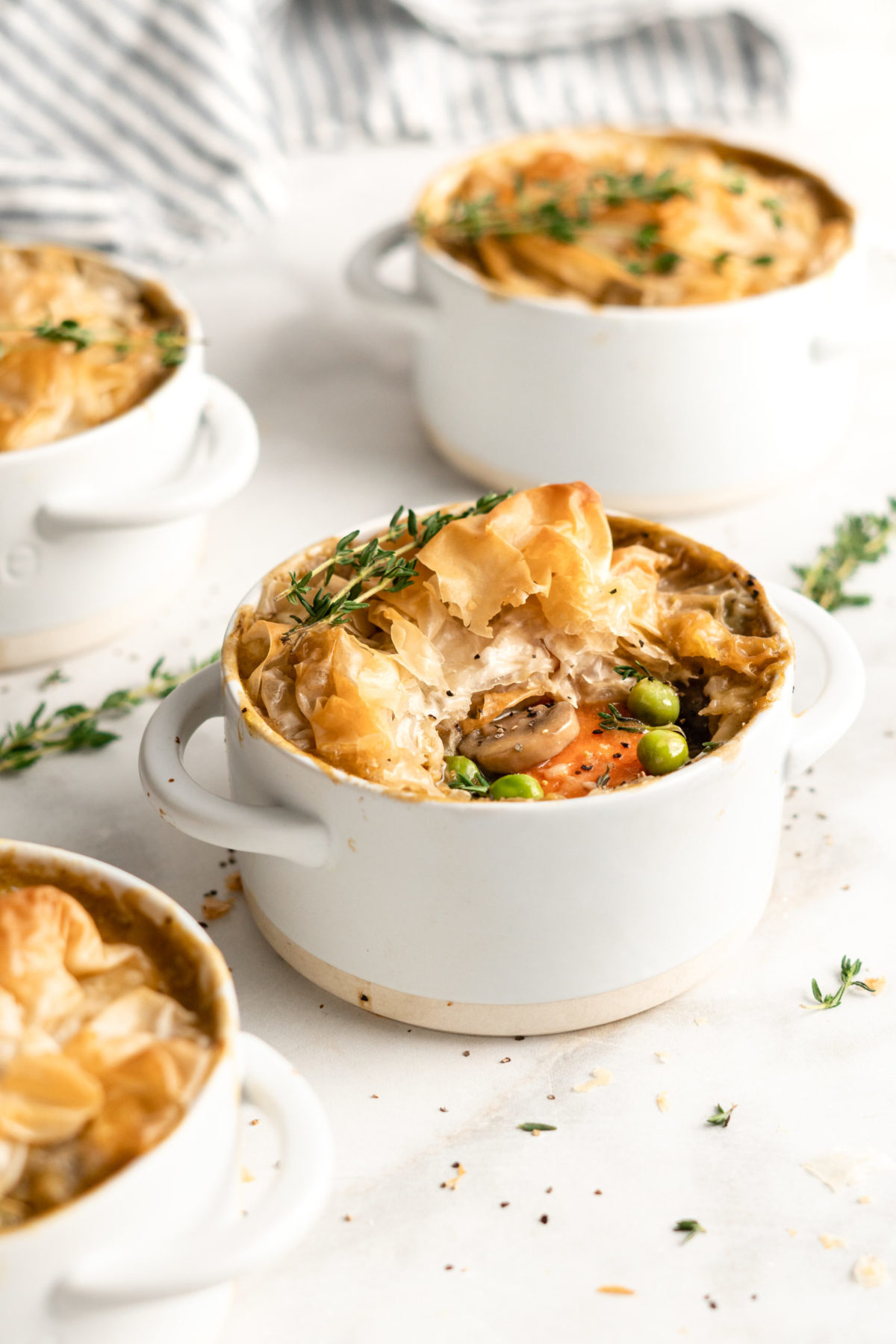 Pot pies are one of my favorite foods. They're comforting, flavorful, and nostalgic, with a warm, rich filling hiding underneath a crispy, doughy top. Most pot pies are pretty unhealthy, and full of dairy and meat products. So I came up with this vegan pot pie recipe, which is just as indulgent as any other pot pie, but a lot healthier.
The combination of veggies in this dish is hearty and rich, with mushrooms, carrots, celery, and peas. Garlic and thyme make the pot pie taste super fresh underneath the phyllo dough top. Not only are these vegan pot pies healthy, but they're really easy to make, and you can finish them in under an hour. Plus, they're super easy to make gluten-free!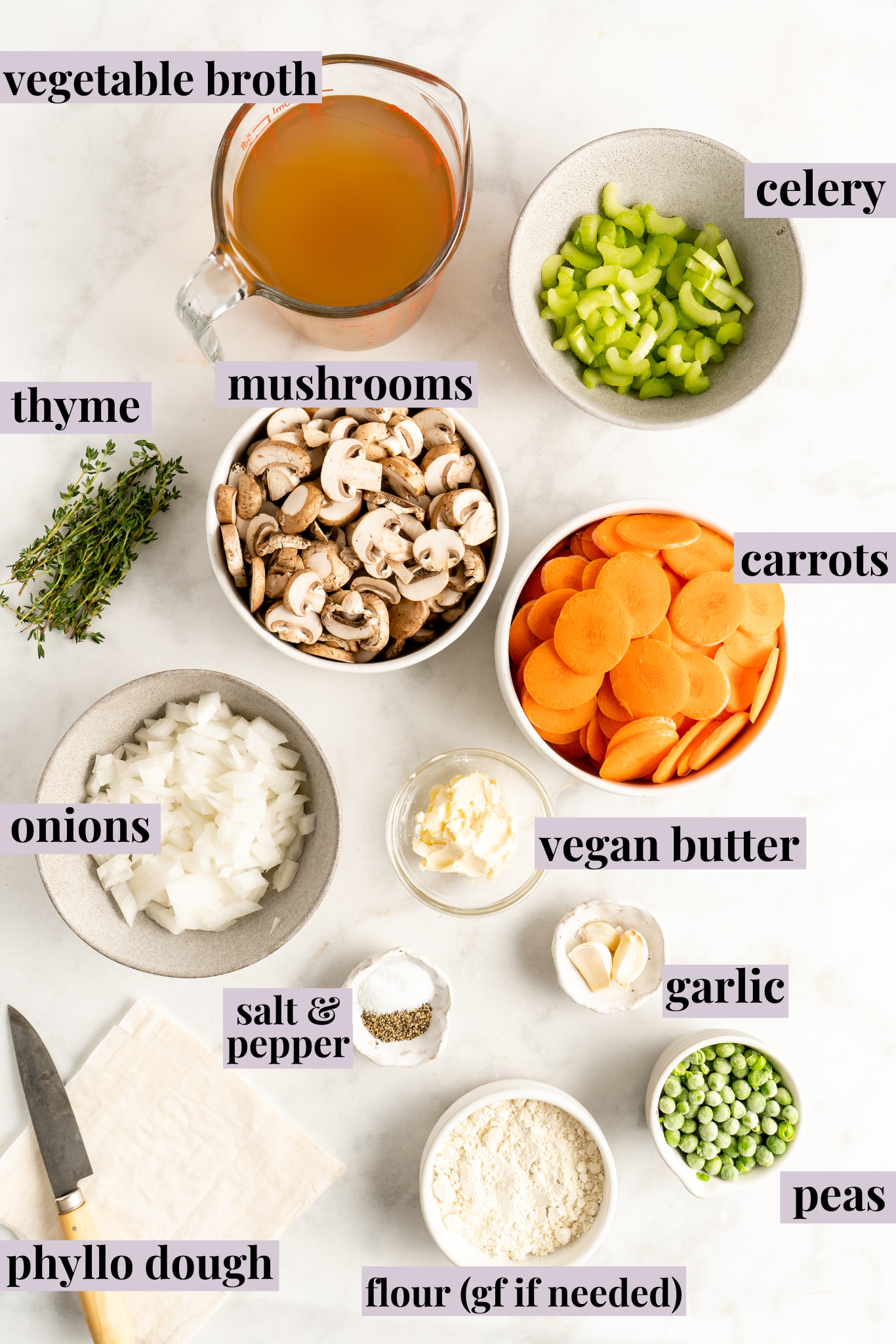 Recipe Ingredients
Here are all the ingredients you need for vegan pot pies. Be sure to check out the recipe card at the bottom of the article for the exact amounts of each ingredient.
Vegan butter – Make sure to use unsalted butter.
Onion – I usually use a yellow onion for this recipe, but a white or red onion will work just fine.
Carrots
Celery
Mushrooms – You can use any type of mushroom.
Garlic
Fresh thyme
Flour – If you want to make this recipe gluten-free, just use gluten-free flour.
Vegetable broth
Salt
Pepper
Peas – You want to use frozen peas for this recipe.
Phyllo dough – If you're making these vegan pot pies gluten-free, you can substitute the phyllo dough with gluten-free phyllo dough, gluten-free pie crust, or gluten-free puff pastry.
How to Make Vegan Pot Pies
Here's how to make these comforting and rich vegan pot pies. They take under an hour to make!
Prep. Preheat the oven to 375F, and set 3 ramekins aside.
Melt the butter. Heat a pan over medium heat, and melt the vegan butter in it.
Cook the veggies. Add the onion, carrots, celery, mushrooms, garlic, and thyme to the pan, and stir to combine. Sauté until the carrots are a little bit soft and the onions are translucent. This should take about 8 minutes.
Add the flour. Add your flour to the pot, and stir to coat the veggies. Cook for about 2 minutes.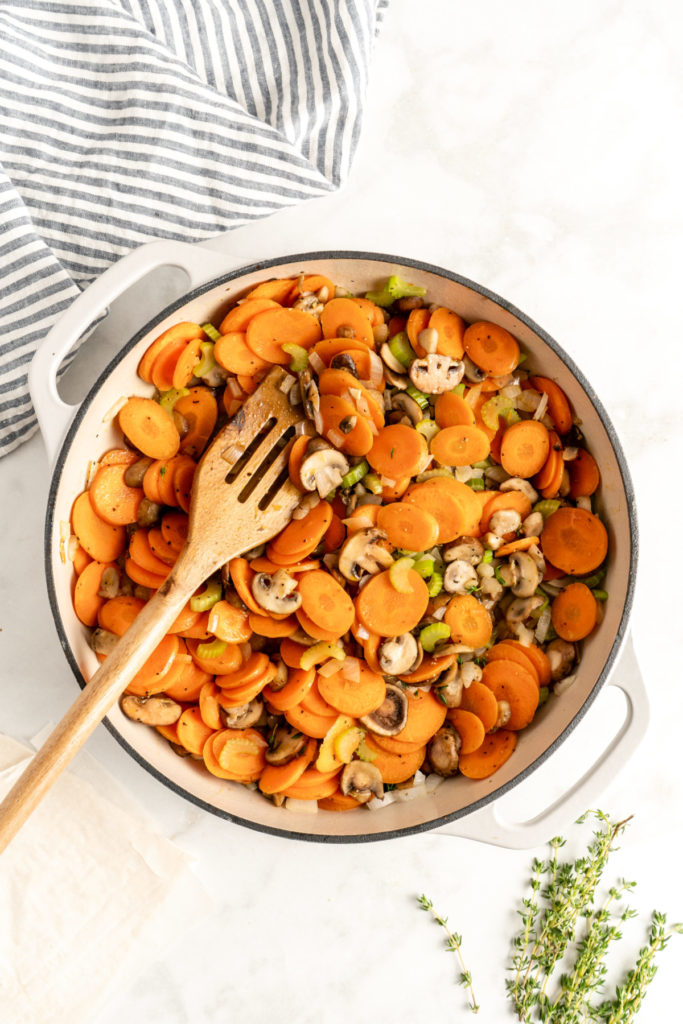 Add the broth. Pour the veggie broth into the pot, and season with salt and pepper.
Boil. Bring the filling to a boil, then lower the heat and simmer until all the veggies are soft, about 5 minutes.
Add the peas. Pour the peas into the mixture and stir to combine. Remove the mixture from the heat, and check the seasonings.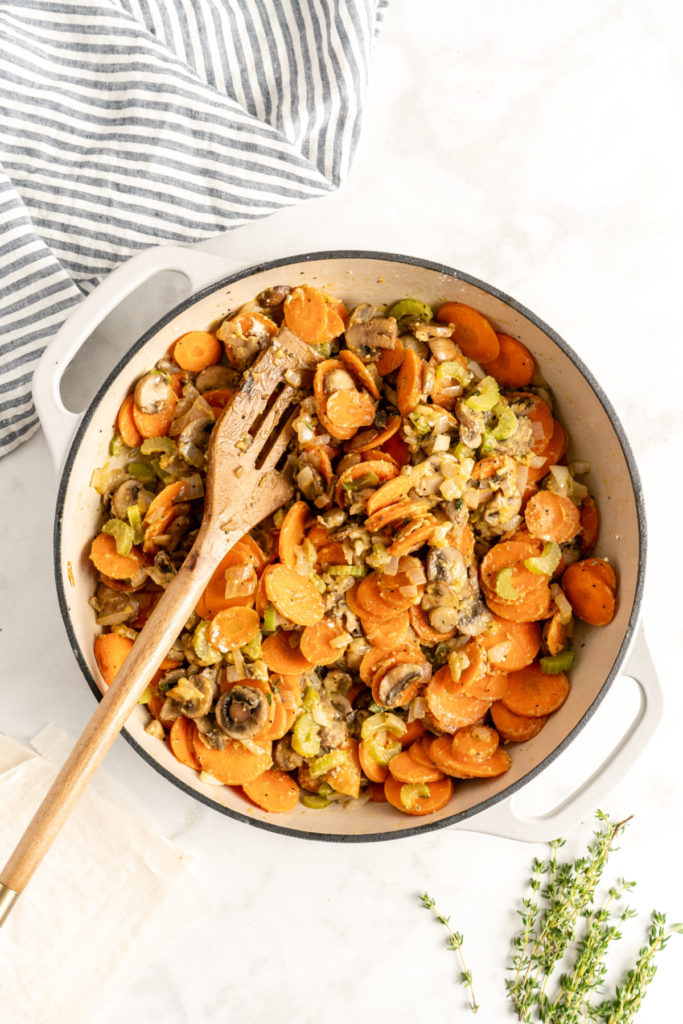 Pour into the ramekins. Carefully pour or ladle your vegan pot pie filling into the ramekins.
Top. Add phyllo dough on top of each ramekin.
Bake. Put the vegan pot pies in the oven, and bake for 30 minutes. If you notice the phyllo dough burning at all, cover the pot pies with aluminum foil.
Broil. Set your oven to broil, and cook the pot pies until the top is perfectly browned.
Serve. Remove the pot pies from the oven, and let them cool for a few minutes, then serve hot.
Recipe Tips
Here are some tricks and tips for making these vegan pot pies.
Cut the veggies consistently. This recipe is a good time to practice some knife skills. Try to cut your vegetables into similarly-sized pieces. That way they'll cook evenly and consistently. If the veggies aren't cut to the same size, you might end up with some pieces of carrot that are undercooked or overcooked.
Use nice mushrooms. You can use pretty much any variety of mushrooms in this vegan pot pie recipe. I usually just use cremini or button mushrooms because they're so affordable. But if you want to get the most flavor out of your pot pie, use a nicer quality mushroom, like shiitakes, portobellos, or wild mushrooms.
Be careful with the broiler. We've all been there. Burning food under the broiler is a rite of passage in the kitchen. Be careful to not let that happen with these vegan pot pies. Once you place them under the broiler, keep a close eye on them until they're finished.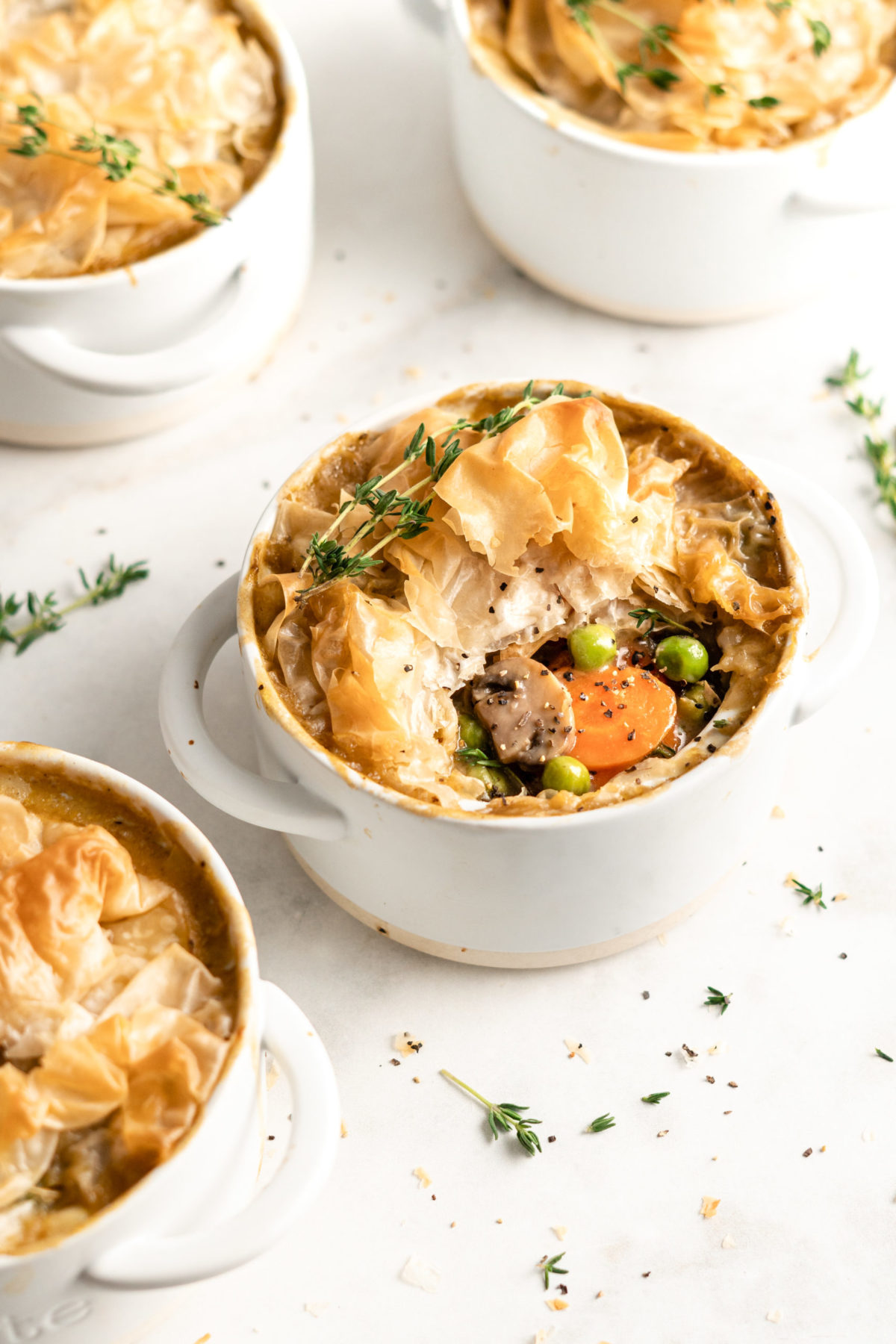 What to Serve With Vegan Pot Pies
I like to serve these vegan pot pies alongside some veggies, potatoes, or salads. Here are some of my favorite recipes to serve with pot pies.
How to Store and Reheat
These vegan pot pies will last in the fridge for up to 3 days. Just make sure that you store them in an airtight container. Reheat in a 350F oven for 10 minutes, or in the microwave.
Can You Freeze Vegan Pot Pies?
You sure can! This recipe will last in the freezer for up to 2 months. Wrap the vegan pot pies in plastic wrap and then aluminum foil before placing them in the freezer. Reheat in a 350F oven until heated all the way through, which will take a minimum of 10 minutes.
Vegan Pot Pie
This vegan pot pie recipe is rich and creamy, with a crispy phyllo dough on top. It's super healthy, takes less than an hour to make, is fully vegan, and can easily be made gluten-free.
Ingredients
For the Pot Pie Filling:
2

tablespoons

vegan butter

1

small onion

2

cups

carrots

, sliced

4

stalks

celery

, finely chopped

2

cups

mushrooms

, sliced

4

cloves

garlic

, minced

1-2

stalks

fresh thyme

¼

cup

flour

, or gluten-free flour

3

cups

vegetable broth

salt and pepper

, to taste

½

cup

frozen peas
For the Top:
phyllo dough

, or gluten-free phyllo dough, pie crust, or puff pastry
Instructions
Preheat oven to 375°F/190°C. Set aside 3 ramekins.

In a pan over medium heat, melt vegan butter.

Add the onion, carrots, celery, mushrooms, garlic and thyme and stir. Allow to sauté until onions are translucent and carrots have softened a bit about 8 minutes.

Add in the flour and mix to coat veggies. I like to set mine set about 2 minutes to brown a bit.

Add the vegetable broth and salt and pepper to taste (just a pinch, taste test later on).

Bring to a boil then lower to a simmer for about 5 minutes to soften the rest of the vegetables. Add in the frozen peas, stir and remove from heat. Taste test and add more salt and pepper if necessary.

Pour mixture into medium sized ramekins and top with phyllo or dough.

Bake for 30 minutes, watching tops to see if burning. If starting to brown, cover with foil.

Broil on low for a few minutes to brown topping. Remove, allow to cool slightly, serve and enjoy!
Notes
This recipe is vegan and easily gluten free.
Here's a recipe for gluten free phyllo dough.You can store these by placing them in the fridge, covered or uncovered with foil. You can reheat by removing topping, microwaving, and them putting on topping and microwaving that for 10-20 seconds. Alternatively, you can reheat in the oven at 350°F/180°C for 10 minutes.
You can make Vegan Pot Pies up to 3 days in advance, then reheat them. For best results, I recommend making the filling and refrigerating it; then when you're ready to bake the pot pies, you can top them with the pastry.
These pot pies can also be frozen. Once they've cooled, wrap them tightly with a layer of plastic wrap, followed by a layer of foil. Pop them in the freezer for up to two months. Thaw the pies in the refrigerator, then bake them at 350ºF for 10 minutes, or until warmed through, or bake them for 40 to 60 minutes if they're still frozen.
Nutrition
Calories:
472
kcal
|
Carbohydrates:
79
g
|
Protein:
13
g
|
Fat:
13
g
|
Saturated Fat:
3
g
|
Sodium:
1623
mg
|
Potassium:
689
mg
|
Fiber:
8
g
|
Sugar:
11
g
|
Vitamin A:
15322
IU
|
Vitamin C:
21
mg
|
Calcium:
67
mg
|
Iron:
4
mg