Try this Cheese Grits Recipe for a creamy, rich, and ultra-savory twist on a Southern classic! Featuring smoked Gouda, they are the perfect side dish for all of your favorite mains. Grits are quick and easy to make, but they are packed full of flavor! Whip them up during busy weeknights, or add them to a Sunday dinner spread. If you love these cheese grits, you have to try my Sweet Potato Grits, Baked Cheese Grits, or these Shrimp and Grits.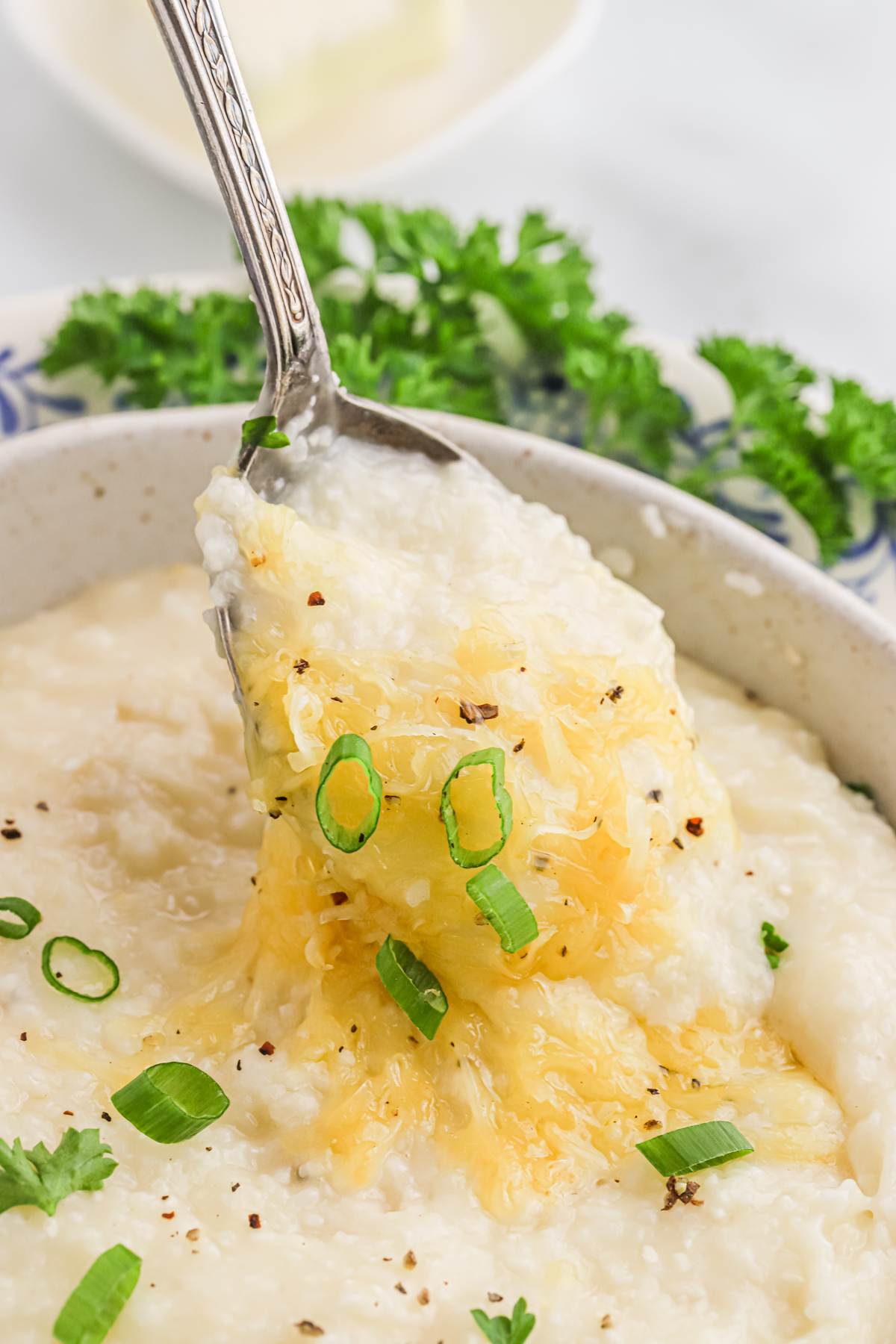 Growing up in a Southern household meant I enjoyed my fair share of grits. Some of my fondest memories are breakfasts filled with eggs, bacon, biscuits, and a big pot of grits.
With so many variations of this dish, I must say cheese grits have to be one of my all-time favorites. If you're new to grits, a melty, creamy, and cheesy version is the perfect place to start!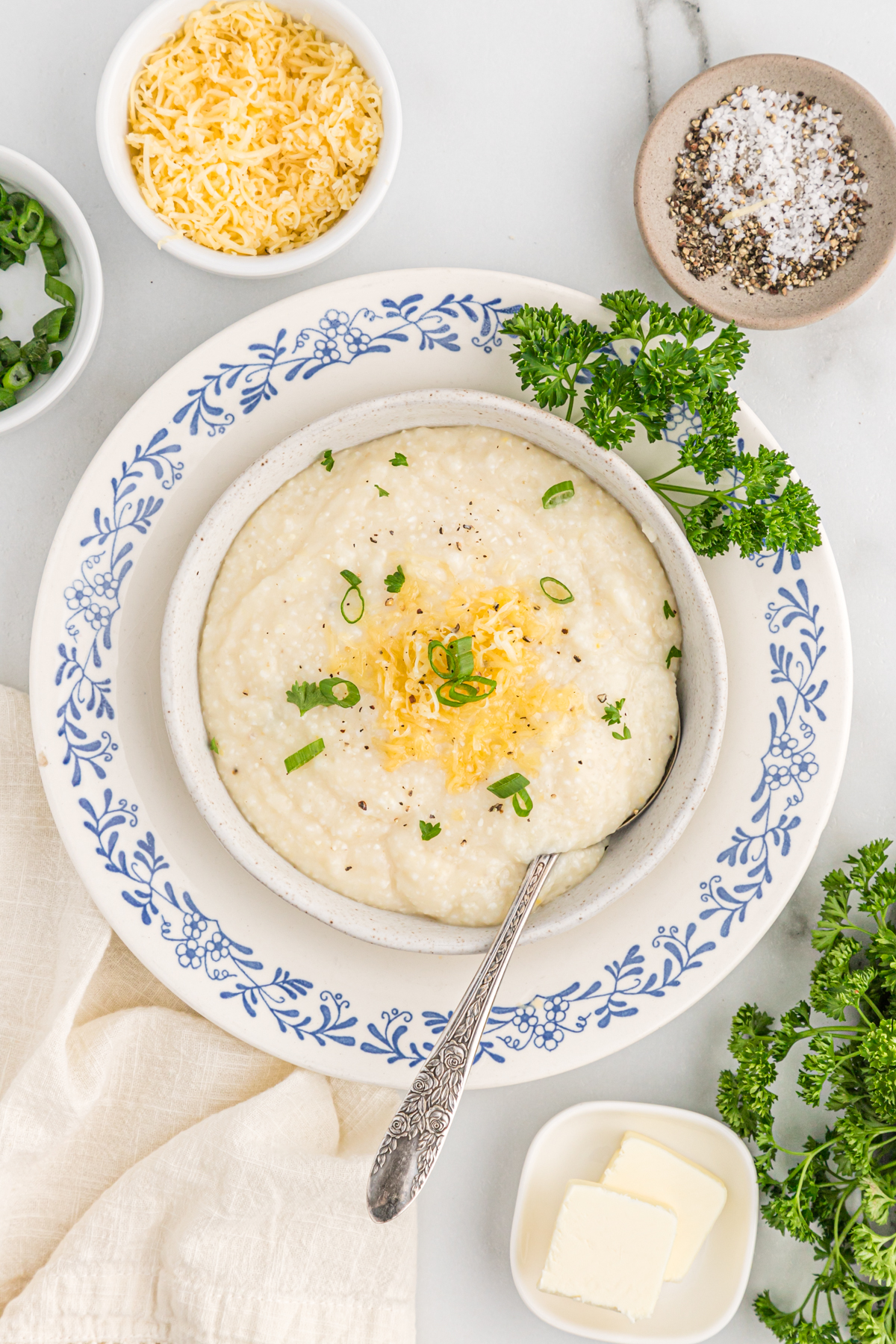 What are cheese grits?
Grits are a popular Southern ingredient made from ground corn. Once cooked, they have a very similar consistency to porridge. Nowadays, there are all sorts of flavor variations, both sweet and savory.
This cheese grits recipe is loaded with smoked Gouda, coconut milk, and butter, making them rich, creamy, and irresistible.
You'll find grits served for breakfast alongside eggs and bacon, with a main course like seafood or ribs, or as the base of a casserole. This versatile ingredient can be paired with just about anything!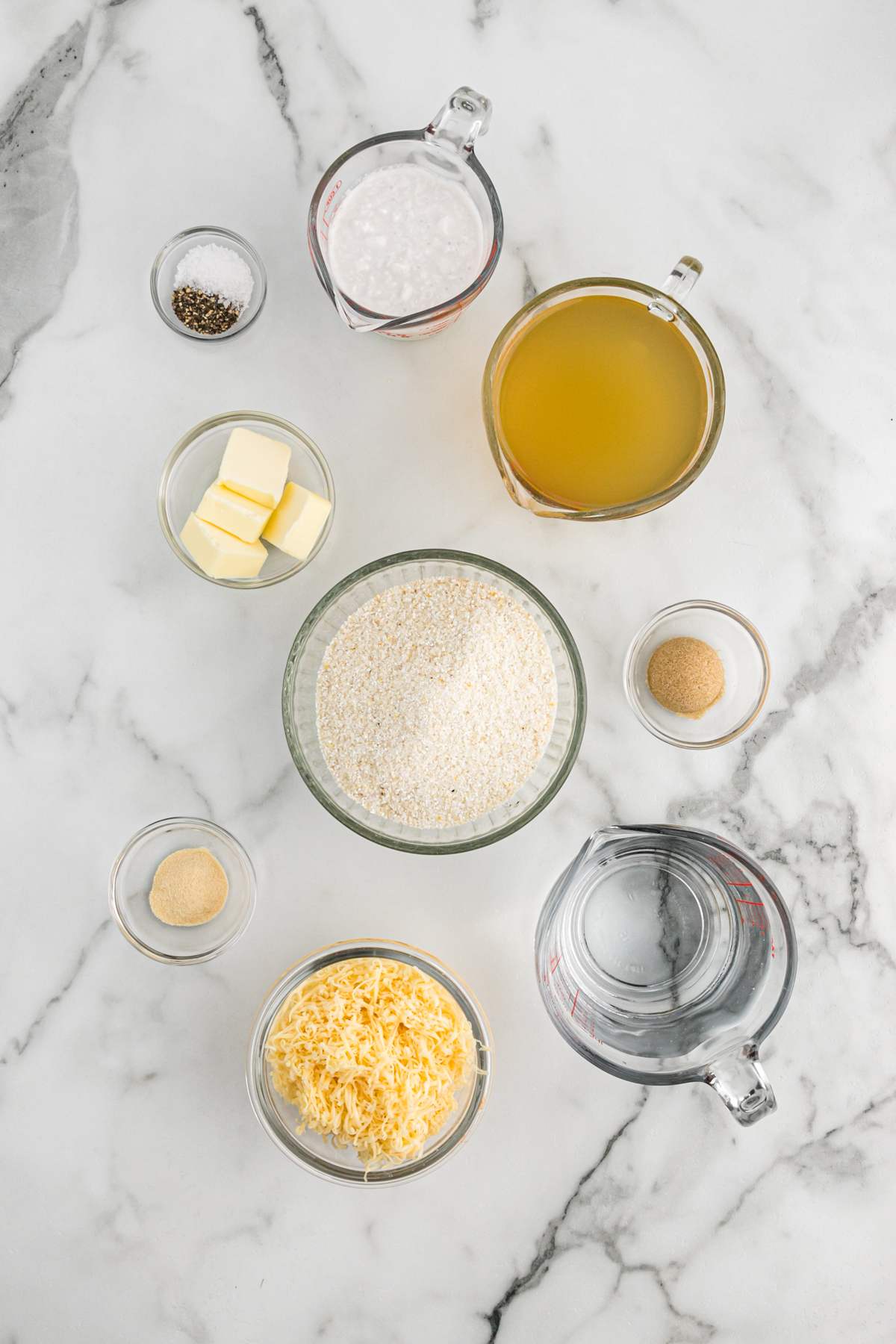 Ingredients
Liquids: I use a combination of water and chicken broth for added savory flavors. Grits can be pretty plain on their own, so the broth is a very welcome addition! Homemade or store-bought broth works.
Quick grits: You should be able to find quick grits in the breakfast aisle of the grocery store next to the other hot cereals. If possible, use a true Southern brand like Charleston Favorites, Dixie Lily, or Jim Dandy.
Unsalted butter: I always recommend using unsalted butter for grits. This way you can adjust the salt level to suit your preferences.
Salt & pepper: Kosher salt enhances the flavor of the grits, and cracked black pepper adds a kick!
Light brown sugar: Adds just a touch of sweetness that balances out the smoky, savory flavors of the Gouda and garlic powder. Feel free to use regular granulated sugar for a lighter taste.
Garlic powder: The combination of toasty, savory garlic powder with smoked Gouda is out of this world, y'all! You can use fresh garlic, but make sure it is very finely minced. Onion powder would also make a delicious substitute.
Canned coconut milk: Gives the grits a rich, creamy, and velvety texture. Feel free to replace coconut milk with half-and-half cream, heavy cream, or whole milk if you prefer.
Smoked Gouda: You'll typically find cheddar in cheese grits, but I can't get enough of the flavors that smoked Gouda adds! You could also use a mixture of each, or replace the Gouda with all cheddar.
How to make cheese grits
Step 1: Boil the liquids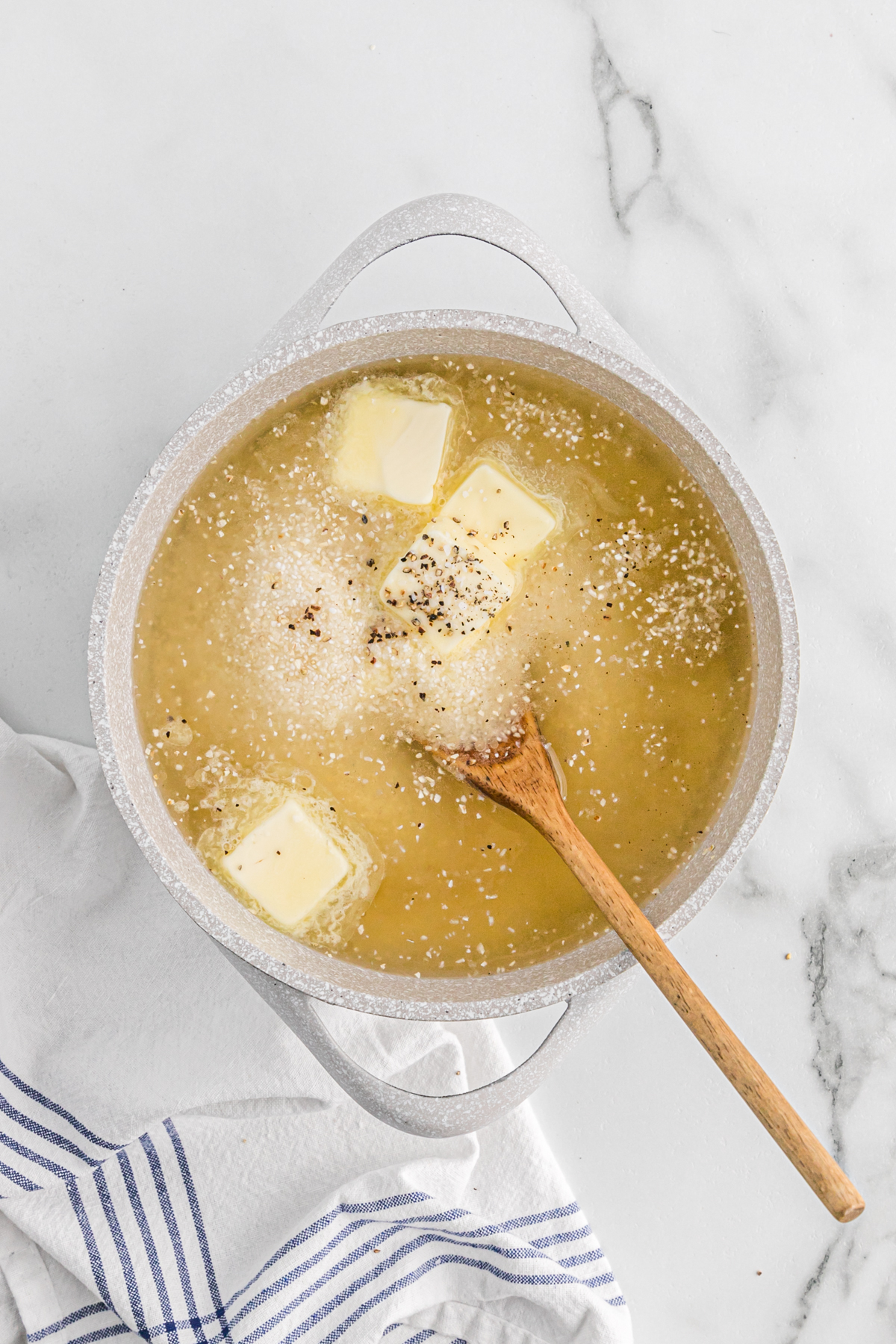 Bring the chicken broth and water to a boil in a medium saucepan. It's important to get the liquid hotbefore adding the grits!
Once it's boiling, add the grits and butter, and season them with salt and pepper to your liking. Briskly stir the mixture until it's combined. This helps prevent lumpy grits!
Step 2: Simmer the grits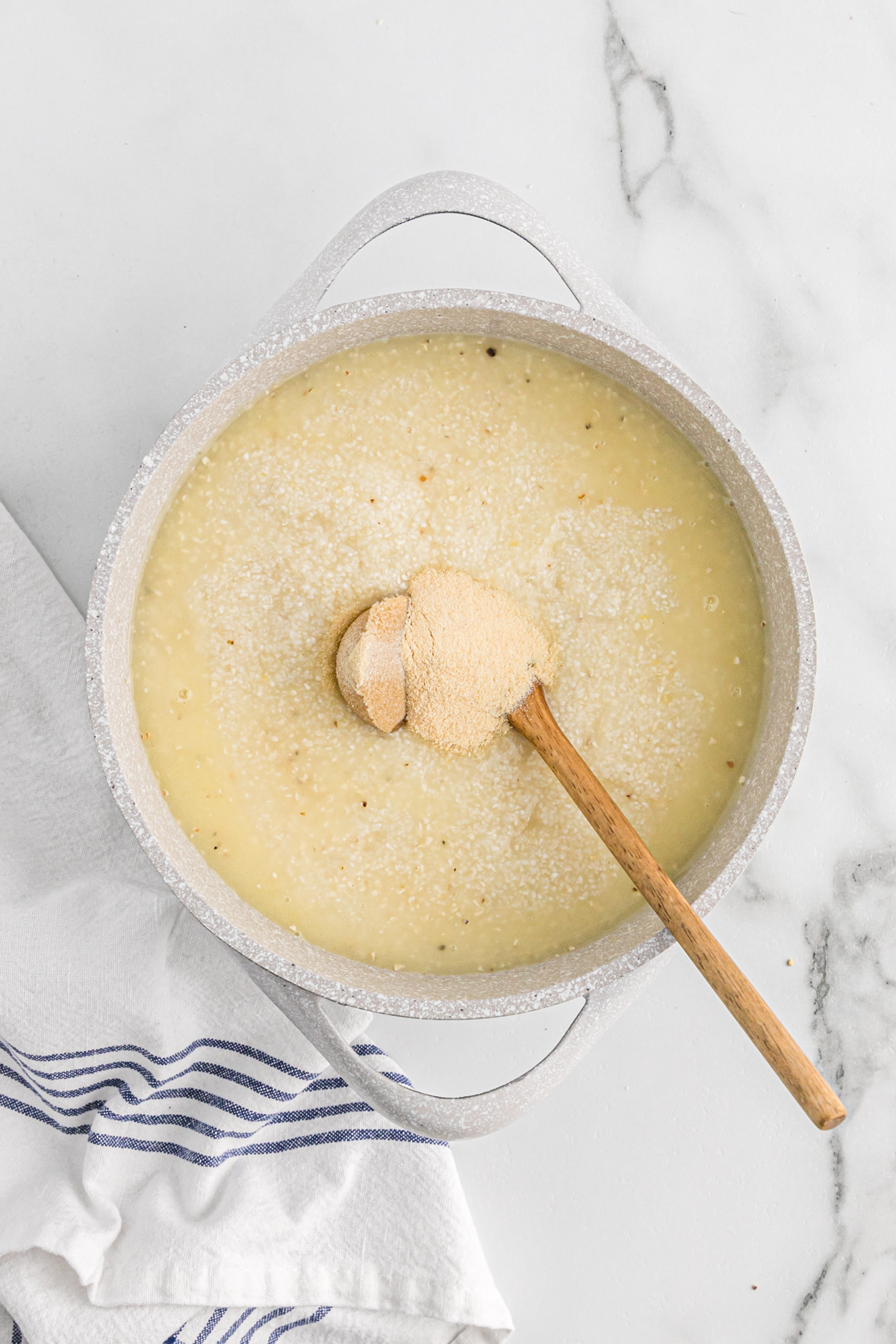 Cover the saucepan, then reduce the heat to medium. You want to bring the temperature down to give the grits time to cook without burning and sticking to the bottom.
Give them a stir occasionally until they look nice and thickened. This process takes about 10 minutes, so be patient!
Step 3: Add the seasonings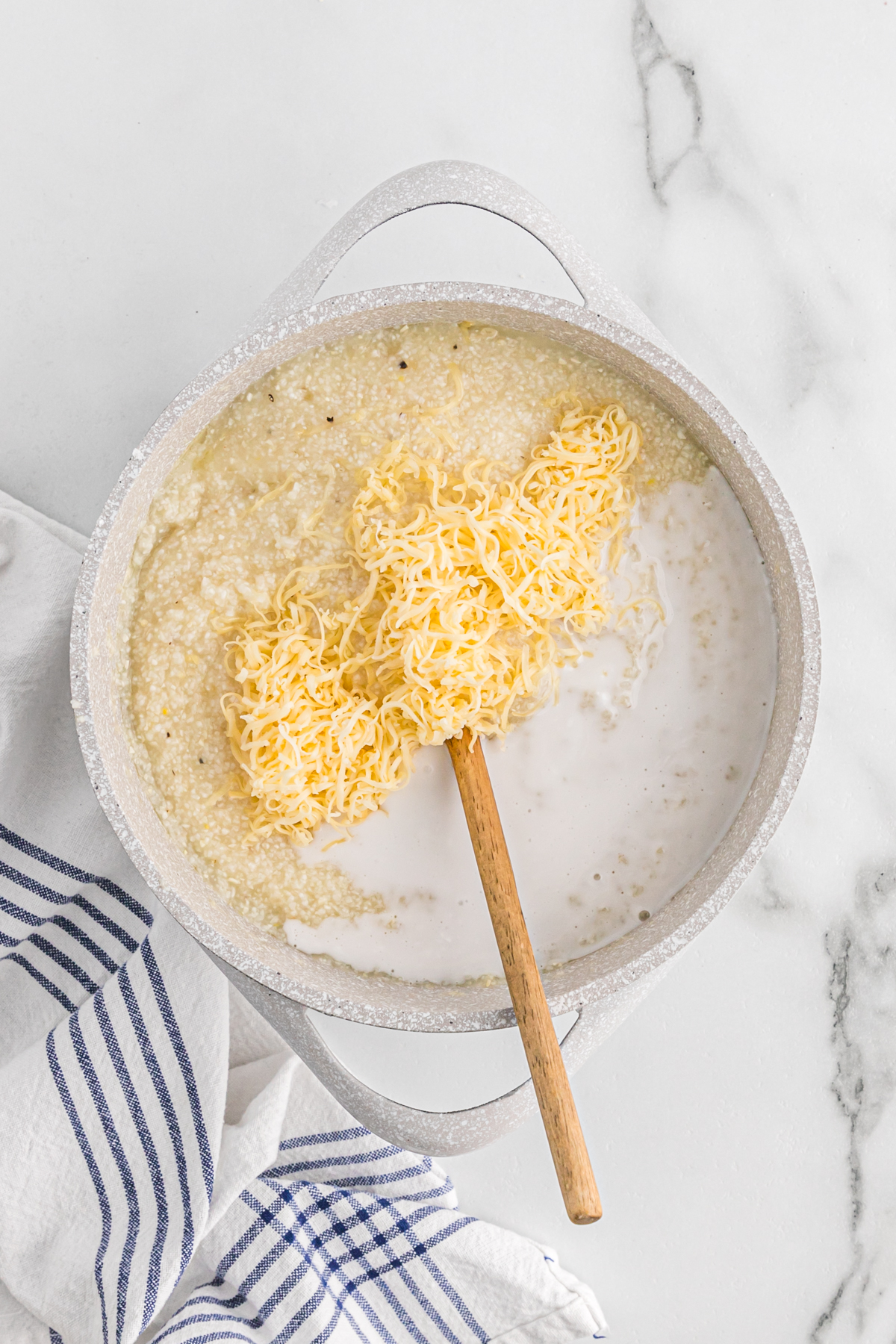 When the grits are close to being done, stir in the brown sugar and garlic powder. Last (but certainly not least), stir in the smoked Gouda and coconut milk!
Leftovers
This cheese grits recipe is best served hot but if you happen to have any leftover, keep them in the fridge for a few days. Reheat gently on the stovetop, adding extra liquid as necessary.
Top Cooking Tips & FAQs
Serve grits immediately: grits are meant to be served creamy. When they sit, the texture changes and they can become thick and lumpy. So, it's best to serve them immediately. You can try to save grits that sit by adding a bit more liquid when you're ready to serve them.
Be creative with the cheese: cheddar is also a really popular choice if you don't like gouda.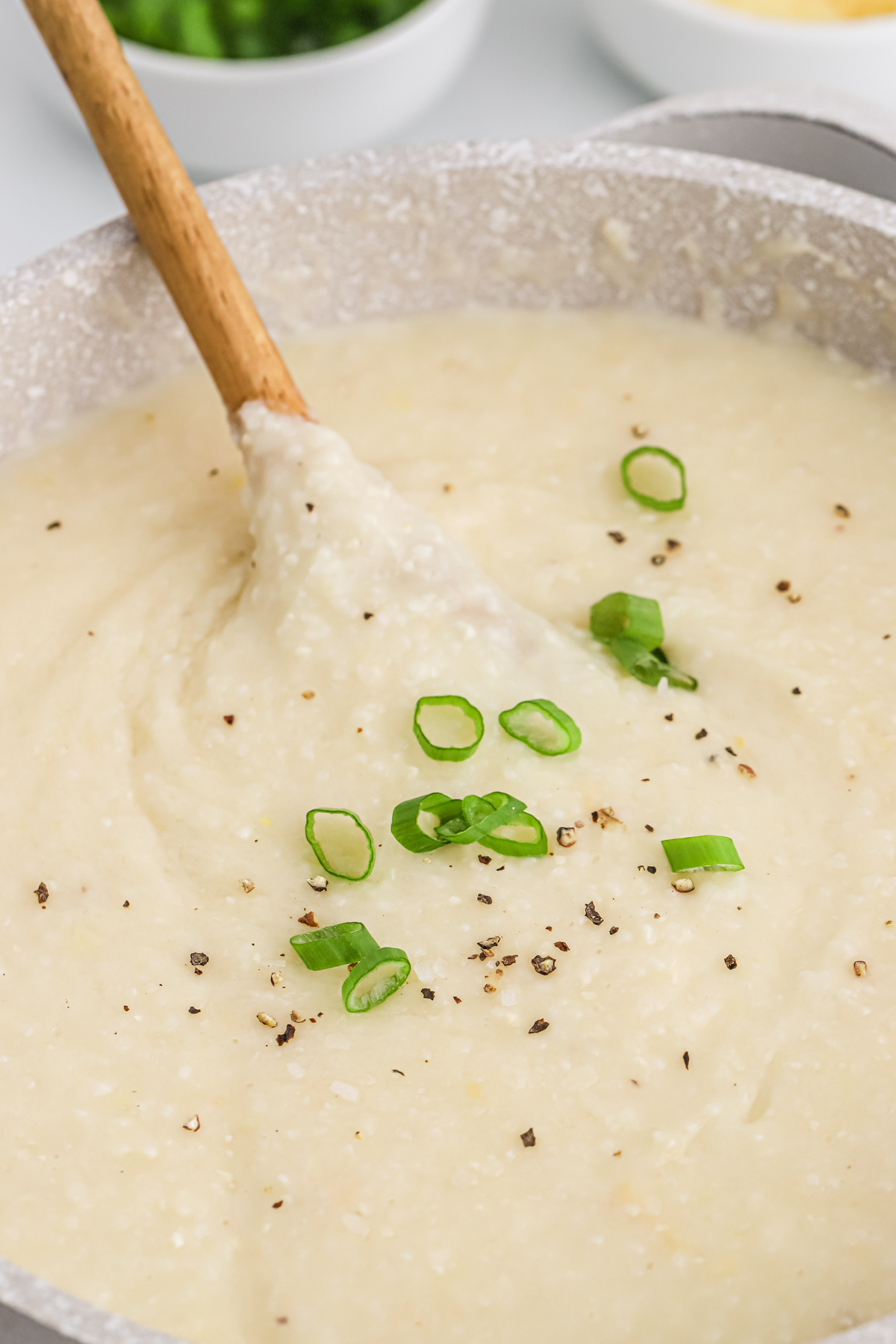 How to Serve
Cheese Grits
Try these Cheese Grits for a creamy, rich, and ultra-savory twist on a Southern classic! Featuring smoked Gouda, they are the perfect side dish for all of your favorite mains. Grits are quick and easy to make, but they are packed full of flavor!
Ingredients
2 ¼

cups

water

plus more to thin out to your liking

2

cups

chicken broth

2

cups

quick grits

4

tablespoons

unsalted butter

Kosher salt

Cracked black pepper

1

tablespoon

light brown sugar

1

teaspoon

of garlic powder

¾

cup

canned coconut milk

2

cups

shredded gouda cheese
Instructions
In a medium saucepan, bring the water and chicken broth to a boil. Add the grits and butter, season with salt and pepper as desired, and stir to combine.

Cover, reduce heat to medium and cook, stirring occasionally until thickened. Once the grits begin to soak up the liquid, stir in the brown sugar and garlic powder.

When the grits are done, stir in the coconut milk and cheese in small increments. Add ¼ cup coconut milk and about ½ cup cheese and stir. Continue this until all the milk and cheese is mixed in. At this point you can also add more water to thin the grits to your liking. Season with salt as desired.
Notes
Best served hot and fresh. If you have leftovers, gently reheat on the stove with a little additional liquid.
Nutrition