This slow cooker vegan chili recipe is rich and comforting. Packed with lots of veggies, tons of spices, and hearty quinoa, this chili is easy to make, and will keep you warm on a cold day.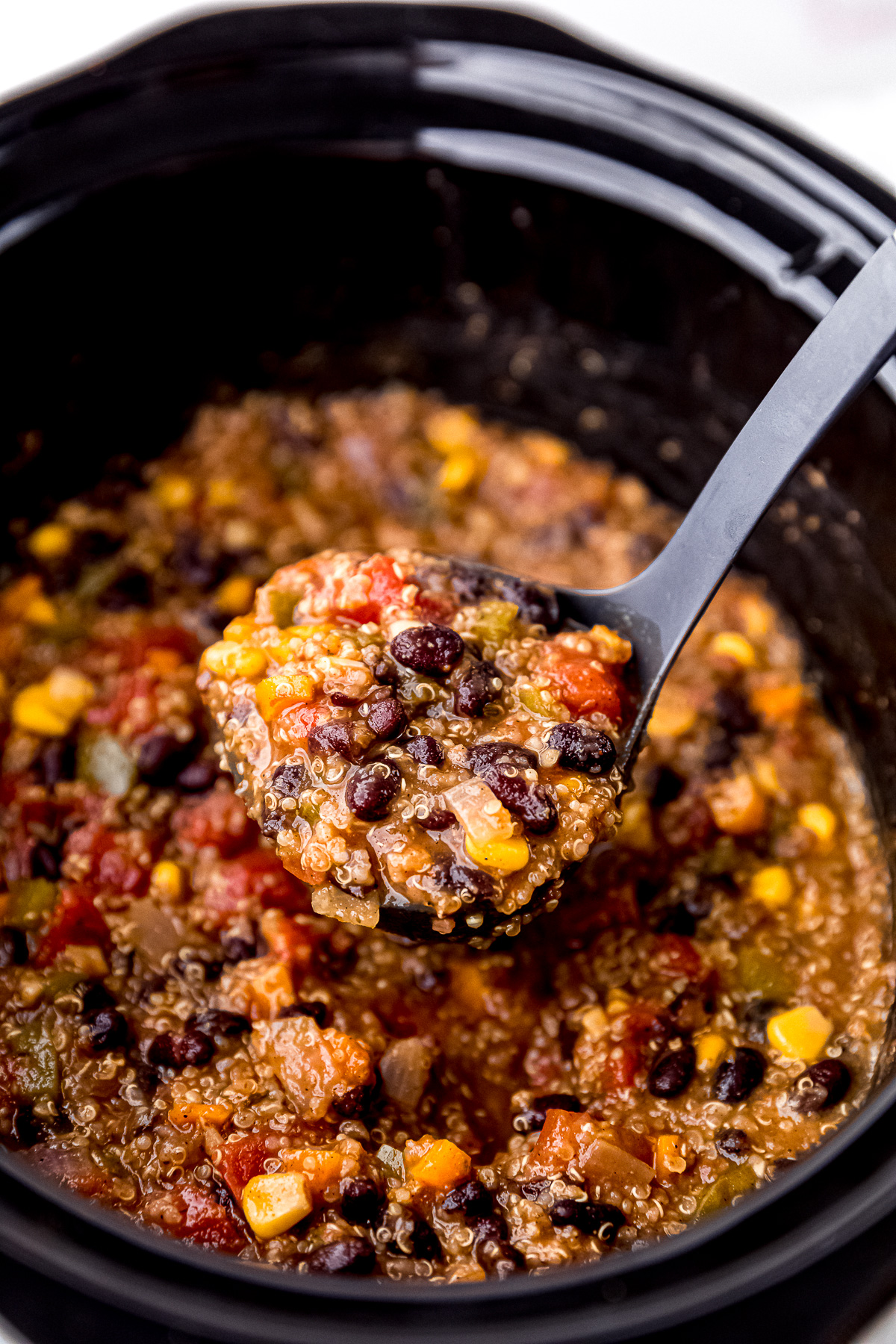 There are few things that can compare to a big, warm bowl of chili on a cold fall or winter day. But don't let anyone tell you that chili needs to be loaded with meat, or a huge effort to make. This vegan chili recipe is as rich, hearty, and soothing as any bowl of traditional chili, but it uses quinoa in place of meat. And it's made in the slow cooker, so it's the definition of a low effort meal.
This recipe is packed full of different veggies, like tomatoes, corn, and bell peppers. And it's heavily seasoned with chilis, chili powder, cayenne powder, cumin, and more spices. It's got the perfect spicy kick, while also being a comforting meal. And it's incredibly healthy!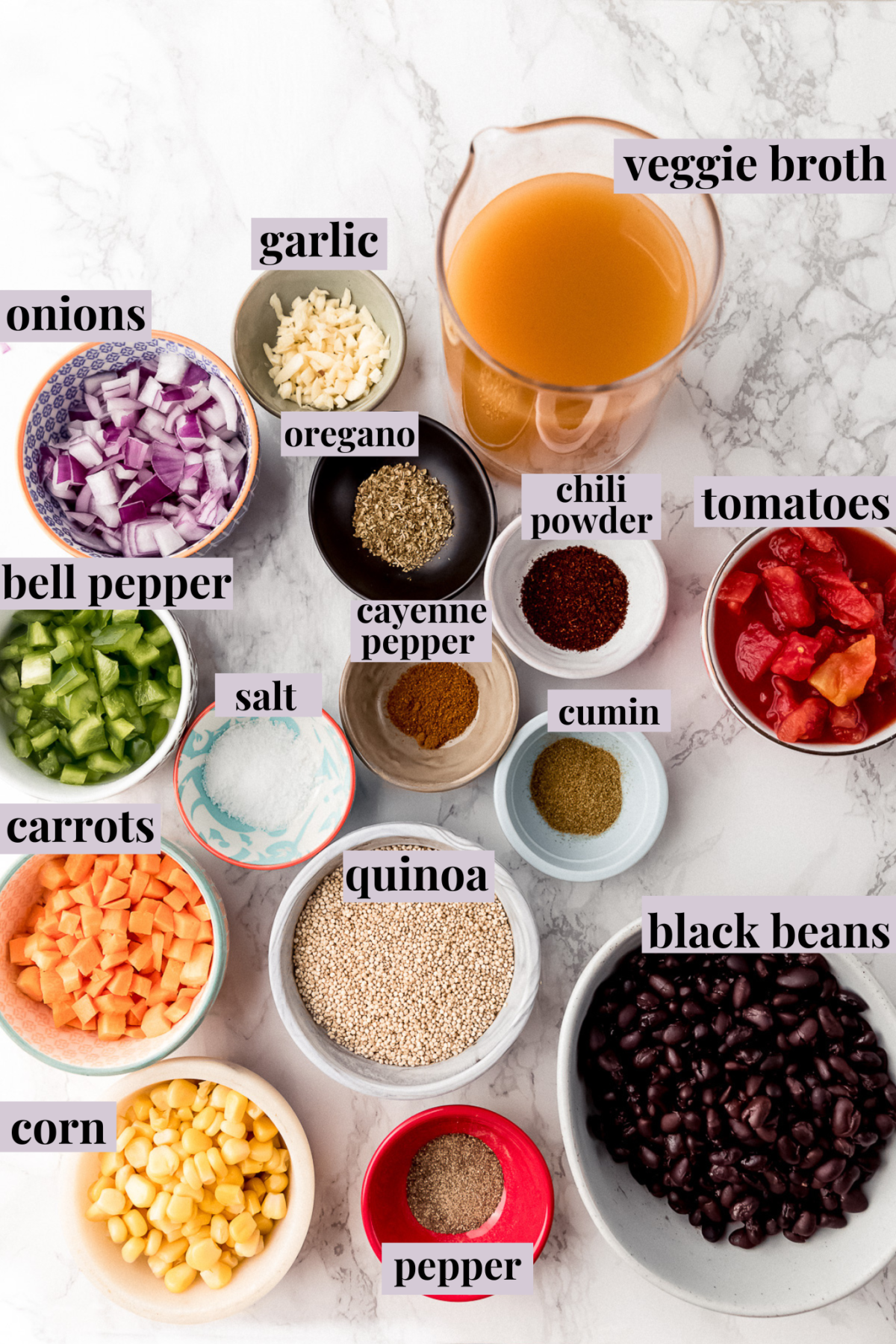 Recipe Ingredients
Here are all the ingredients you need for slow cooker vegan chili. Be sure to check out the recipe card at the bottom of the article for the exact amounts of each ingredient.
Vegetable broth
Quinoa – You can use any type of quinoa that you like, but it should be uncooked.
Black beans – Make sure to drain and rinse your beans. If you don't have black beans, you can substitute kidney beans.
Canned tomatoes – Use diced tomatoes, and do not drain them.
Red bell pepper
Green bell pepper
Carrot
Corn – You can use fresh or frozen corn kernels.
Onion – I prefer red onions for this recipe, but white, yellow, or sweet onions will also work.
Garlic
Chili pepper
Chili powder
Cayenne pepper
Sea salt
Black pepper – Be sure to use freshly-ground black pepper.
Ground cumin
Oregano
How to Make Slow Cooker Vegan Chili
Here's how to make this easy and hearty chili.
Make the base. Add the quinoa, black beans, tomatoes, and veggie broth to the slow cooker, and stir.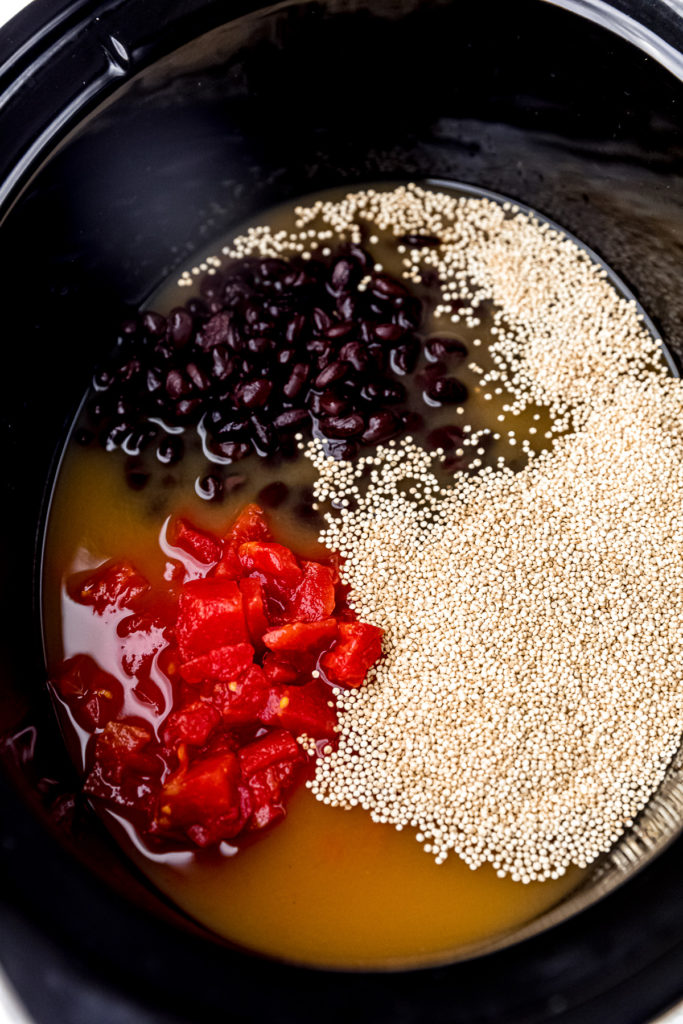 Add the veggies. Put the corn, bell peppers, onion, carrot, and garlic in the slow cooker, and stir to combine.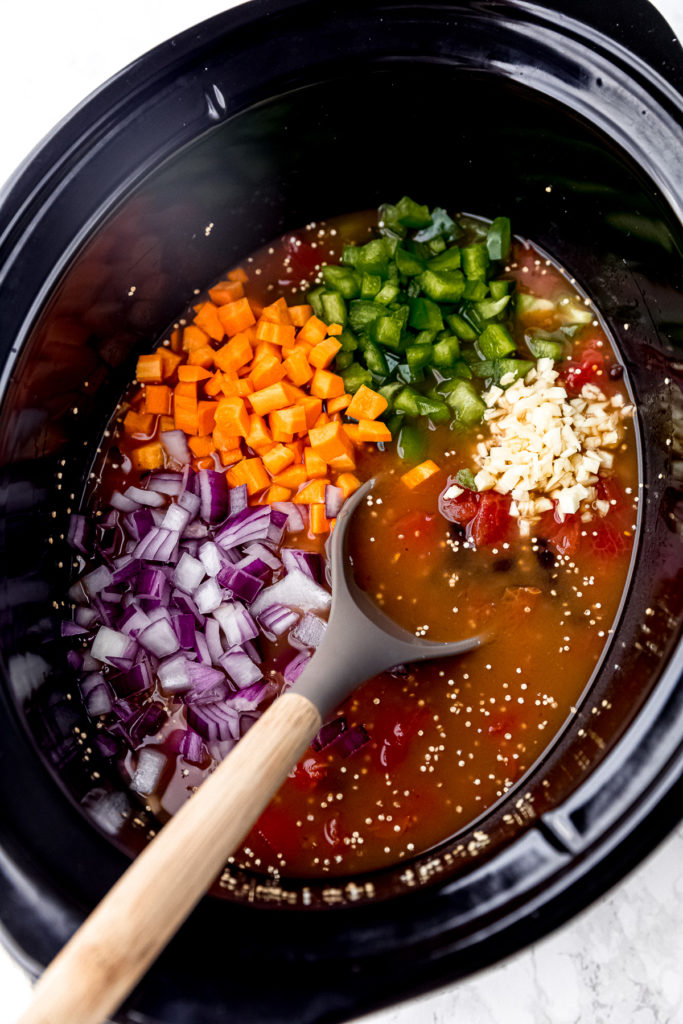 Season. Add all the herbs, spices, salt, and pepper, and stir the mixture.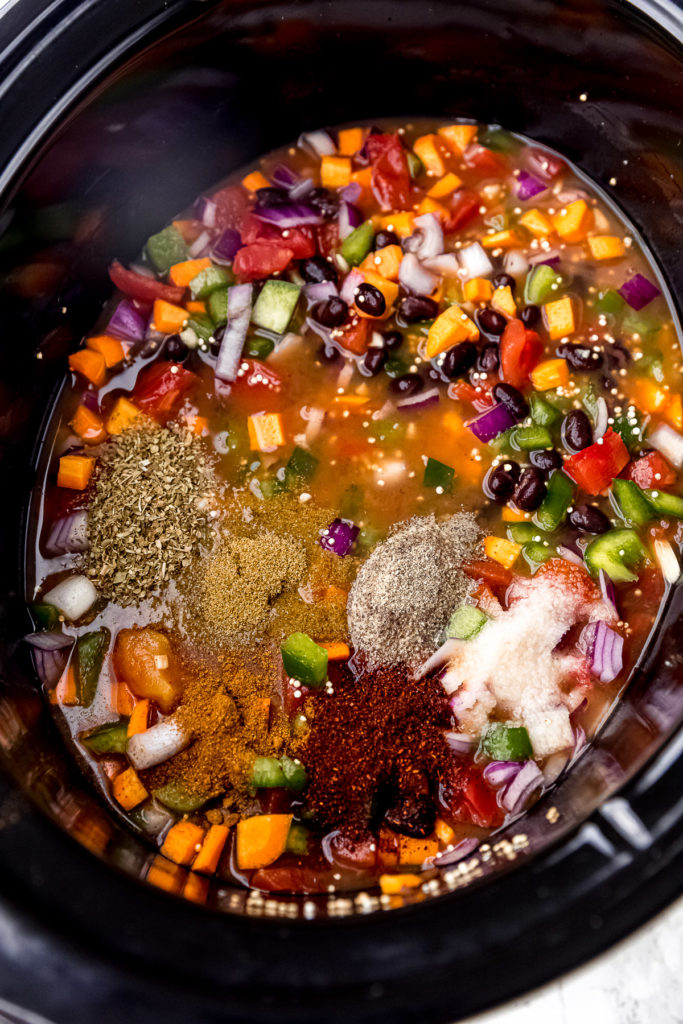 Cook. Turn the slow cooker on and cook the chili. For a thick chili, cook for 3 hours on high, or for 6 hours on low. For a soupier chili, cook for 2.5 hours on high, or for 5 hours on low. Then serve hot!
Recipe Tips
Here are a few tricks and tips for making this slow cooker vegan chili.
Cut the veggies into small pieces. For the best texture, cut the vegetables into small pieces. Try to also cut the veggies into similar sizes, so that everything cooks evenly.
Blend a little. Here's a fun way to make the chili a little creamier. When it's done cooking, transfer a cup into a blender, and blend until smooth. Pour it back into the chili and stir to combine.
Have fun and mix it up. Chili is the perfect recipe for playing with, so make sure you tailor this recipe to your preferences. Add more veggies if you want, or leave out the corn. Use different types of beans or broths, and add more or fewer chili and cayenne depending on how spicy you like your chili. Have fun!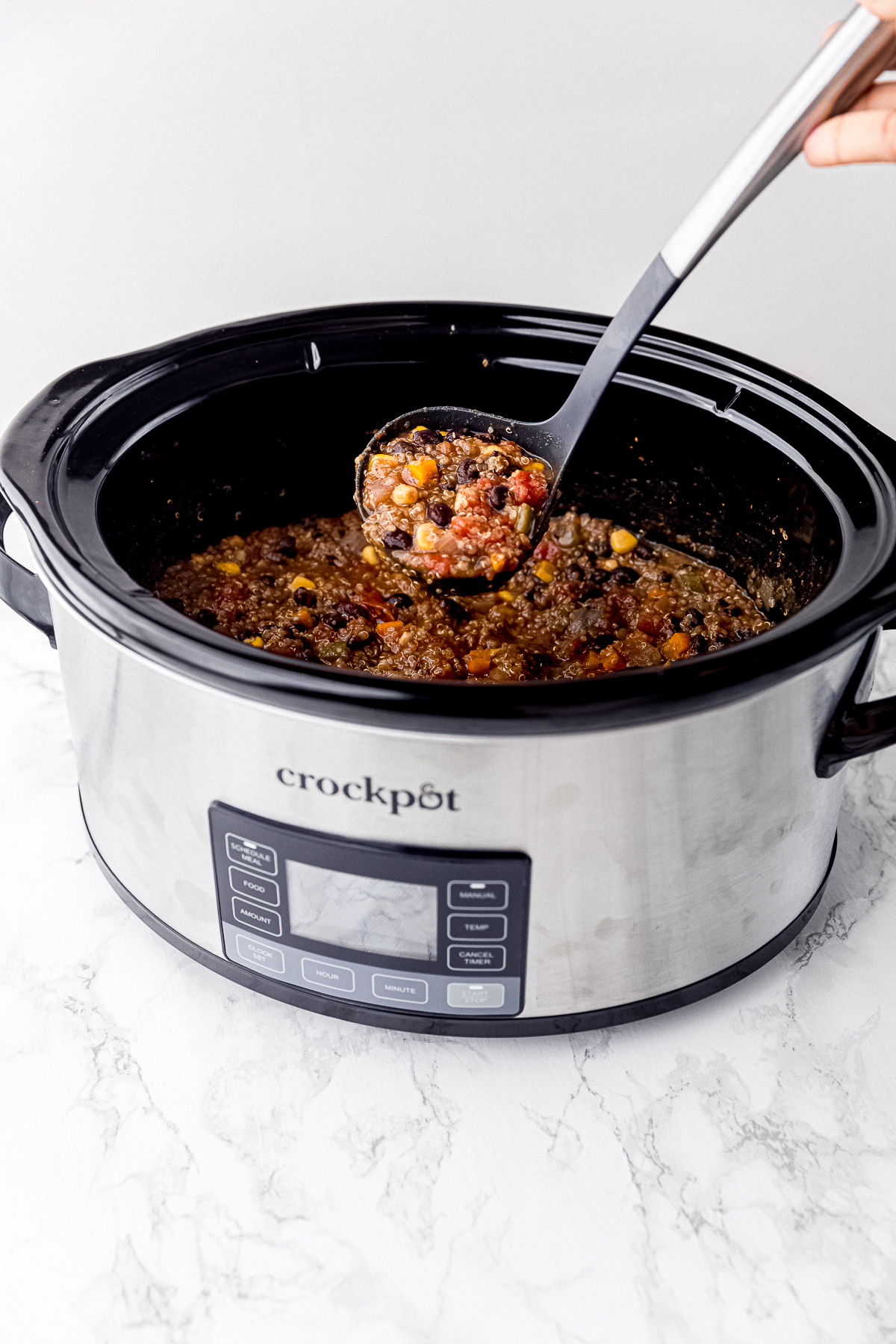 What to Serve With Vegan Chili
You can really take this vegan chili to the next level by adding some fun toppings. My favorites are avocado and homemade vegan sour cream, but it's also delicious with green onions, vegan cheese, shredded carrots, and crumbled up tortilla chips. And you can't beat serving it with the traditional side dish: cornbread!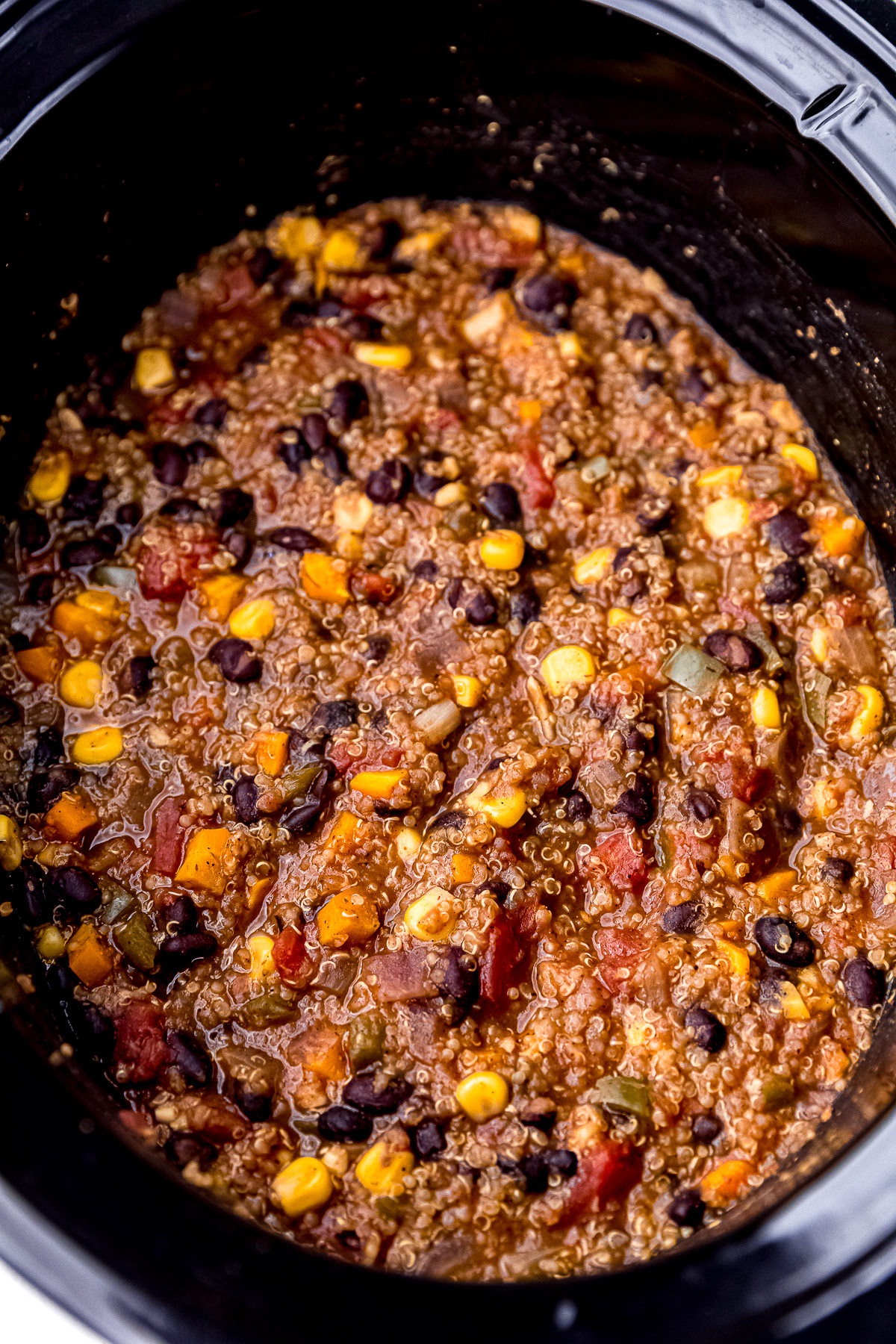 How to Store and Reheat
You can keep this slow cooker vegan chili in an airtight container in the fridge for up to 5 days. Reheat on the stove over medium heat for 5 minutes, or in the microwave on 80% power for 30-second intervals.
Can You Freeze This Recipe?
This is one of my favorite dishes to freeze. Store it in an airtight container in the freezer for up to 3 months, then thaw overnight in the fridge, or defrost in the microwave before reheating.
More Slow Cooker Dishes
Here are a few more slow cooker recipes to try making.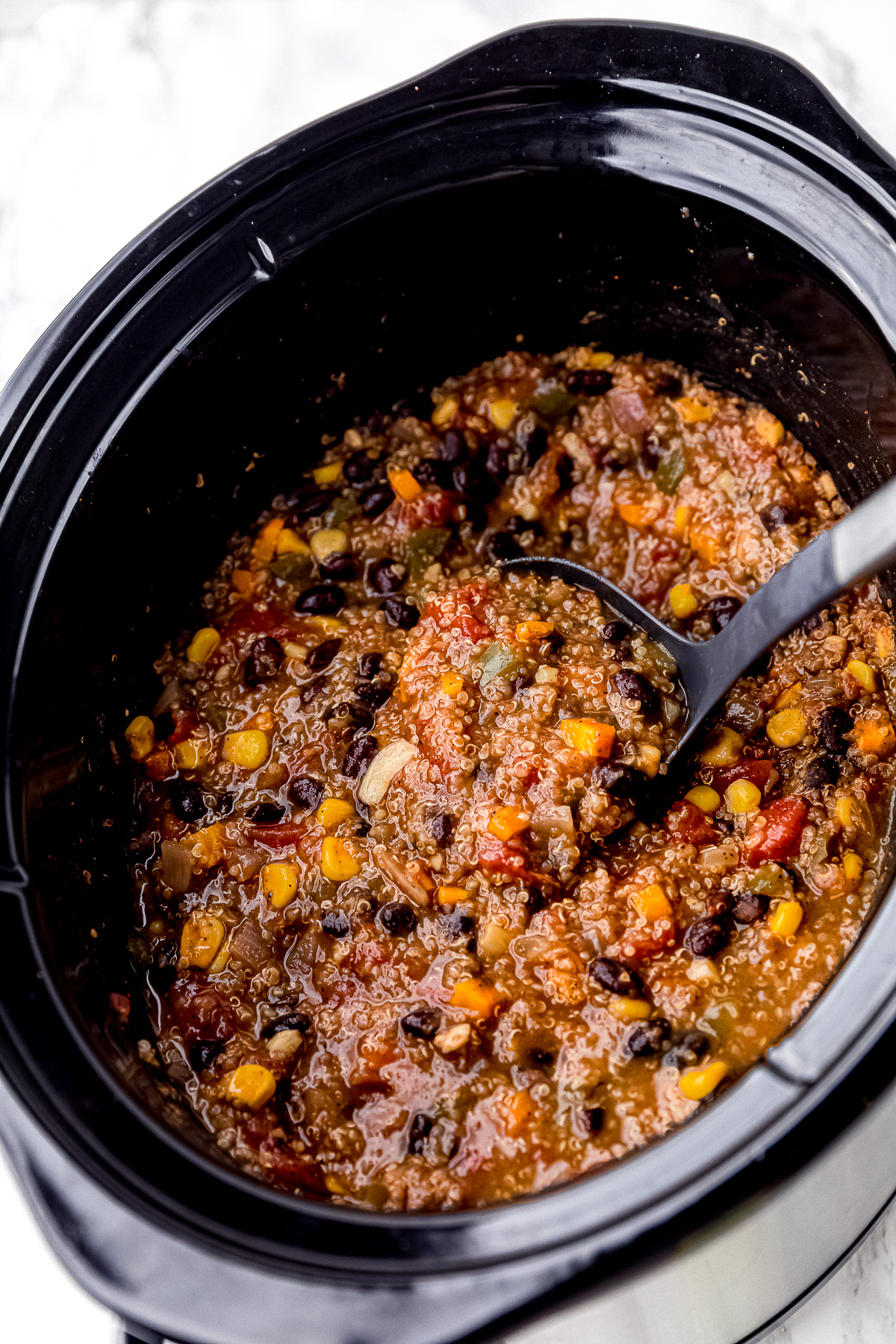 Vegan Chili
This slow cooker vegan chili is healthy and hearty, and packed with veggies, spices, and quinoa. It's every bit as good as a meat chili, and super easy to make!
Ingredients
2 ½

cups

vegetable broth

½

cup

uncooked quinoa

15

ounces

black beans

(1 can, drained and rinsed)

14

ounces

canned diced tomatoes

(do not drain)

¼

cup

red bell pepper

(chopped)

¼

cup

green bell pepper

(chopped)

1

medium carrot

(diced)

½

cup

corn kernels

½

onion

(chopped)

3

garlic cloves

(minced)

½

small chili pepper

2

teaspoons

chili powder

¼

teaspoon

cayenne pepper

1 ½

teaspoons

sea salt

1

teaspoon

ground black pepper

1

teaspoon

ground cumin

1

teaspoon

oregano
Instructions
Add the vegetable broth, uncooked quinoa, black beans and tomatoes to the slow cooker. Stir to combine.

Next add the peppers, carrot, corn, onion and garlic, and stir, then add the rest of the seasonings and stir a few times to combine.

Cover your Crockpot™ and set to high for 2 1/2 to 3 hours or on low for 5-6 hours (for high, monitor the last 30 minutes and for low, monitor the last hour). If you like a chili with more liquid, do the 2 1/2 on high, and 5 on low. If you like thicker and just a little bit it liquid, go with the higher number for each option.

Taste when finished, and add any more salt or heat if needed. Feel free to add more veggie broth too if you want it more liquid.

After your soup is finished cooking, serve and top with your favorite toppings such as vegan sour cream, avocado, scallion, and vegan cheese or shredded carrots. Enjoy!
Notes
Store in an airtight container in the fridge for up to 5 days, or in the freezer for up to 3 months. Reheat over medium heat on the stove.
Nutrition