Here is a collection of the best holiday ham recipes. Easter, Thanksgiving, Christmas…ham is a staple at holiday dinner tables around the world. This list contains contains a variety of ham recipes and different cooking methods.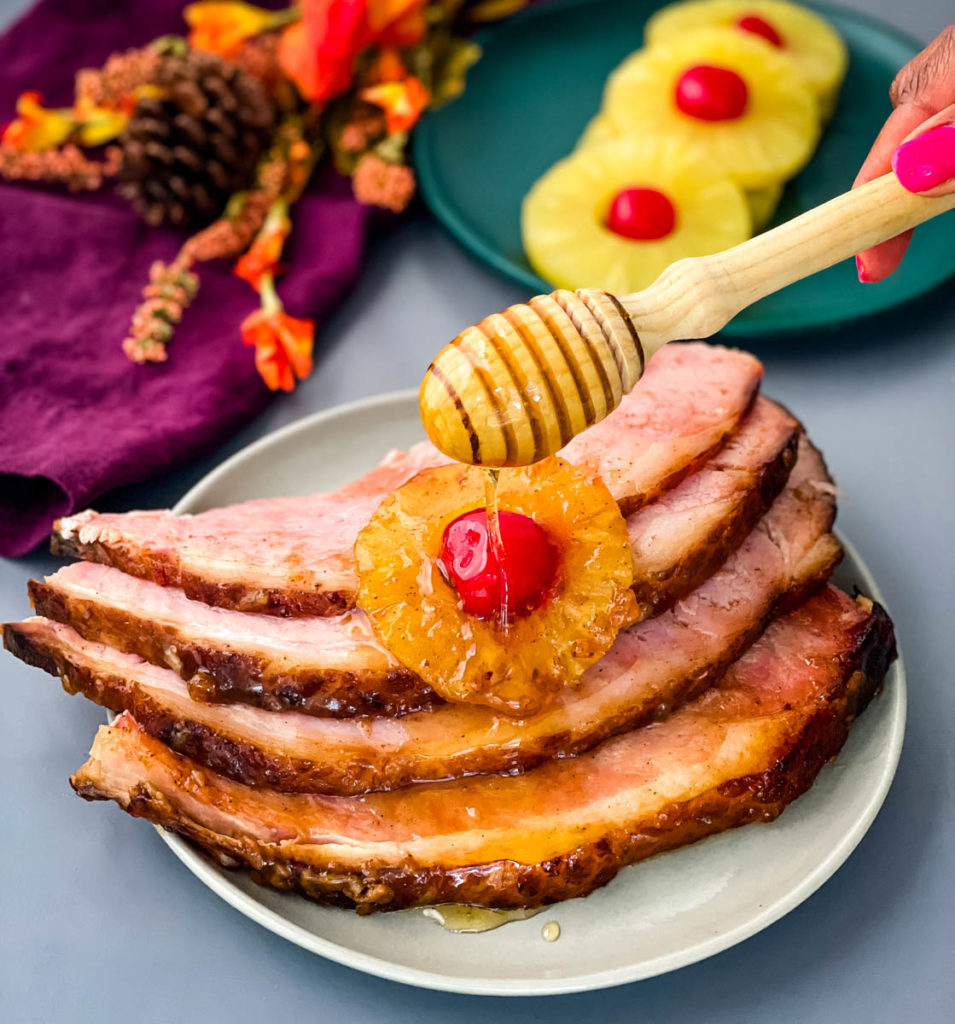 What Is Ham
Ham is the back leg of a hog & it comes in different cuts and sizes. It is a popular cut of pork that is produced and eaten worldwide. While ham can be cooked fresh, if you are purchasing ham from a grocery store, it has most likely already been precooked. Ham is usually cured before it is sold; this is the case whether you're buying a spiraled ham for the holidays or ham lunch meat. When cooking a ham for the holidays, you're essentially reheating the ham and adding flavor like a glaze.
Choosing A Ham
There are a few things you need to keep in mind when choosing a ham for the holidays. First you need to take into consideration how you are cooking the ham. In the list of the best holiday ham recipes below, there are different cooking methods to choose from. For example, if you plan on making ham in the slow cooker, be sure to pick a ham that will fit the appliance.
Another thing to consider when buying a ham for the holiday season is how many people you are feeding. Rule of thumb is to cook approximately 1/2 pound of ham per person. If you anticipate leftovers, then I suggest you plan for 3/4 pound of ham per person.
Other Holiday Collections
How To Cook Ham
Ham can be cooked many different ways. Oven, smoker, slow cooker, air fryer…we have provided a variety of different methods for you to choose from.
What To Serve With Ham
The sky is the limit when it comes to choosing sides dishes to serve with ham. Popular holiday sides dishes that pair well with ham include mac & cheese, green bean casserole, candied sweet potatoes, and greens.
Southern Candied Sweet Potatoes
Southern Green Beans and Potatoes
Southern Fried Cabbage with Bacon
Storing Leftover Ham
In general, leftover ham is stored in an air tight container in refrigerator for up to 4 days or in the freezer for 2 months. To freeze leftover ham portions, wrap them in aluminum foil and freeze. Thaw frozen ham in the refrigerator overnight & use within 2 days. Because there are different ham recipes on this list, I suggest you reference the individual recipe for the proper storing instructions.
Leftover Ham Recipes
I don't know about you but I actually look forward to eating leftover ham. Leftover ham can be used in many different recipes. Breakfast casseroles, sandwiches, soups…the possibilities are endless. Below are some recipes that use leftover holiday ham.
Leftover Ham and Cheese Panini
The Best Holiday Ham Recipes