Holiday recipes and ideas for July 4th typically include a full BBQ spread with main dishes, sides, and of course dessert. This list includes recipes for grilling, summer salads, and no-bake meals. If you are looking to plan your Independence Day menu, you have come to the right place!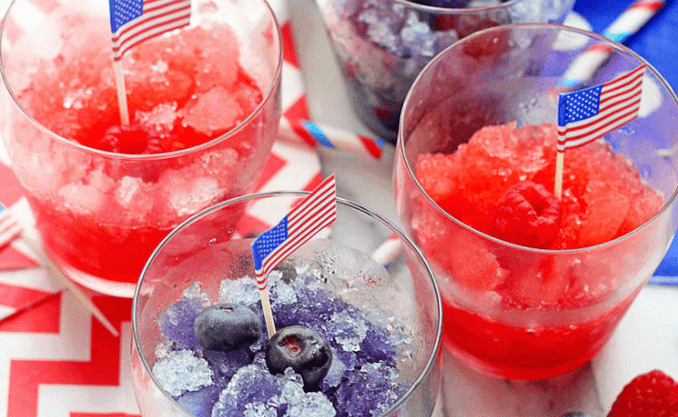 A great 4th of July spread is filled with cold salads, watermelon, great music, and lots of love! You will also hear people asking who made and brought the potato salad! Don't worry, our potato salad recipes are foolproof and guaranteed to please any crowd.
Holiday Planning: Determine How Many People Will Be in Attendance
When planning your July 4th BBQ menu ideas, figure out how many people are coming by. One of the great things about BBQ menus is that you can always make more to share. If you have a small family of three to four, a main dish and two sides are often enough. If you add extras, you will have plenty of delicious leftovers.
If you have a larger family or plenty of guests, it's best to load up on the sides and showcase the best recipes. Plan to have around six to seven dishes on the table.
Menu Planning Tips:
Ask for help and volunteers to cook entrees ahead of time. Enlist the best cooks in the family or friend circle.
Consider trying one new recipe. Traditional recipes are great, but people love to see new additions, too.
Prioritize recipes that can be made ahead of time. You will run out of time and keep guests waiting if you don't.
Ask guests if they have any food allergies or special dietary needs. Safety first!
Relax and enjoy the festivities. Friends, family, and fun are always what matter the most.
More Holiday Recipe Collections
Black Cookout Food Menu
Best Juneteenth Recipes
Soul Food Easter Dinner Recipes
Best Vegan Soul Food Recipes
Main Dishes for July 4th
At a black family cookout, barbecue food makes up most of the main dishes. Nothing beats the aroma of juicy seasoned meat roasting on open flames. These main dish recipes include staples like ribs, but also a few alternative options like vegan and keto versions of some staple dishes.
July 4th BBQ Side Dishes
Even though BBQ foods are the star of the BBQ, the side dishes make up most of the Black Cookout menu. This next collection of easy Soul Food and Southern side dish recipes will make your 4th of July pop.
July 4th Desserts
No July 4th Cookout is complete without some sweet treats. Make these desserts ahead of time and bring them with you for everyone to enjoy.