Are you about to attend a Black cookout and wonder what's on the menu or what you can bring? Are you looking for new recipes to switch things up a bit. This collection of easy Black cookout or BBQ food will have your guests asking for more. You'll find everything from main dishes to drinks, including our Kool-Aid Pie, Hennessy BBQ Wings, Candied Yams, and Seafood Boil.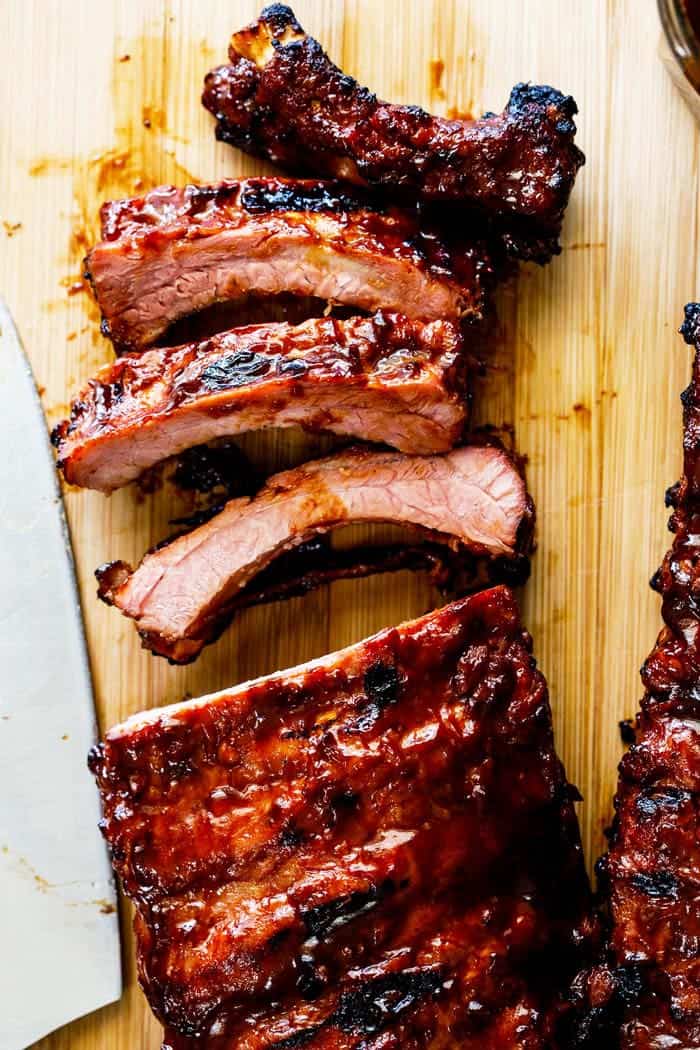 What is a Black Cookout?
A Black cookout is an outdoor event where Black families and friends meet to cook, eat, drink and interact in the open.
It's a potluck of sorts where people bring their best dishes and drinks to the party for everyone to share. The host is almost always in charge of the meat, which gets cooked to perfection on the grill.
Cookouts date back to the 19th century and are deeply rooted in America's origin. Like most Black family gatherings, though, it is an event with good food, good people and good music.
What's On the Black Cookout Food Menu?
If you're wondering about a typical Black folks' cookout menu, then these recipes will give you ideas.
Main Dishes for the Cookout
At a black family cookout, barbecue food makes up most of the main dishes. Nothing beats the aroma of juicy seasoned meat roasting on open flames. These main dish recipes include staples like ribs, but also a few alternative options like vegan and keto versions of some staple dishes.
Black Family Cookout Side Dishes
Even though BBQ foods are the star of the BBQ, the side dishes make up most the the Black Cookout menu. This next collection of easy Soul Food and Southern side dish recipes will make your BBQ pop.
Desserts to Bring to a Black Cookout
No Black Family Cookout is complete without some sweet treats. Make these desserts ahead of time and bring them with you for everyone to enjoy.
Black Cookout Menu: Appetizers and Drinks
While the main dishes cook on the grill and everyone listens to music, enjoy these easy appetizers and refreshing drinks.
Cookouts are all fun and games, so enjoying a cup of sweet iced tea will keep your whole body in the right mood and energized. Some people use regular sugar, while others prefer sugar substitutes.
This three-ingredient recipe takes about 5 minutes to make. Unlike traditional lemonade, this one uses limes as the star.
This staple black cookout appetizer is a blend of assorted flavors but the heat carries the day. Deviled eggs are made from boiled eggs, sweet pickle relish, mayonnaise, mustard, creole seasoning, pepper, and hot sauce.
FAQs
What is usually at a cookout?
Good food, people, and music. Here you'll find tried and tested recipes that you can use when planning or going to a Black family cookout.
What do you serve at a Southern BBQ?
This collection of recipes include Southern BBQ staples like ribs, seafood boil, pie, collard greens, macaroni and cheese and potato salad.
Why is food so important to Black culture?
Food brings people together and as some of my elders say, it is also the key to the heart. In Black families, like mine, food is a way to show someone else that you care for them. Adding to one of the points in our article about why Black people was chicken, I'd also say that food is also a symbol of our resilience and ability to make a great dish with little resources.
Bottom Line
Though outdoor BBQs have a long tradition in American history, cookouts are a commonplace in the modern Black community. The options discussed here are great ideas for anyone planning to attend or host a cookout.
More Holiday Recipe Collections
Soul Food Easter Dinner Recipes
Best Family Reunion Food Ideas
Best Vegan Soul Food Recipes
Best Family Reunion Food Ideas
July 4th BBQ Menu Ideas